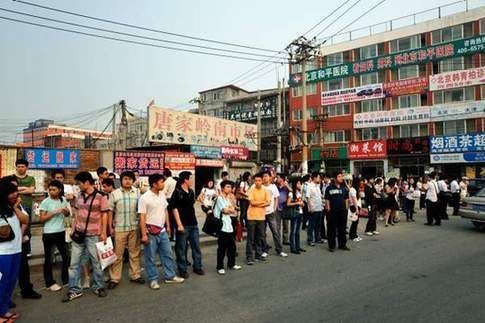 The term "ant tribe" was coined by Lian Si, the author of a book about China's post-80s generation, to refer to recent graduates who crowd into slums in the country's big cities in search of work. The high cost of living and skyrocketing rents have left them struggling on the margins of society.
"蚁族"指的是成千上万刚毕业不久的大学生,他们为了寻求自我发展的机会来到大城市过着聚居的生活;然而,高昂的生活成本及飞涨的房价却让他们挣扎在社会的边缘。针对中国80后这一群体,作家廉思写了一本书,"蚁族"一词便由此而来。
According to a survey in the Blue Book about the country's talents, which was released by the Social Sciences Academy Press, more than 1 million such 'ants' live in the big cities of China.
由社会科学文献出版社发布的《中国人才蓝皮书》透露,据调查,在中国各大城市生活着100多万这样的"蚁民"。
Beijing has the largest number with more than 100,000, and numbers not far short of this can be found in Guangzhou, Xi'an, Chongqing, Taiyuan, Zhengzhou and Nanjing.
北京地区这类大学毕业生人数最多,有10万人以上;与北京情况类似的城市还有广州、西安、重庆、太原、郑州、南京等。
The areas around the shabby houses inhabited by the "ant tribe" are usually crowded with tiny restaurants, Internet bars, hair salons and clinics.
在"蚁族"聚居的破旧房屋周围,通常密布着小饭馆、网吧、发廊和诊所。
The "ants" often don't have stable jobs and their average salary is below 2,000 yuan (US$301.07) per month.
"蚁民们"没有稳定的工作,他们的月平均收入在2000元(约合301.07美元)以下。
"They have all the characteristics of ants," Lian said. "They live in colonies in cramped spaces; they're intelligent, hardworking, yet anonymous and underpaid."
廉思表示,"这个群体与蚂蚁很相像。他们聚居在狭窄的空间里,有着高智商,很勤奋,但不为人知,收入也很低。"
(China.org.cn Wendy 译)