An undated file photo of a church on Heixiazi Island at the confluence of Heilongjiang River and Wusulijiang River that serve as a natural border between China and Russia.

Heixiazi Island thriving on the China-Russia border lies between China's Fuyuan county and Russian's Khabarovsk, the biggest Russian city in the Far East. Like many islands caught in between the two countries it has lived through disputes, tension and even displays of armed forces. But through joint efforts by the Chinese and Russian governments, the island is ready to re-emerge as a tourism destination.
This huge swathe of wet land will welcome its first bunch of visitors in July.
Some remaining military zones seem to remind us of past tension, but the stone stands out as a sign of fresh peace.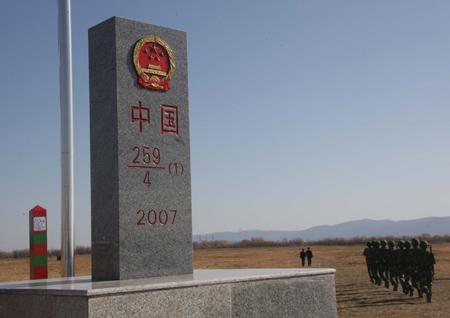 Chinese soldiers begin border patrol near the newly unveiled boundary marker for eastern section of China-Russia border at Heixiazi Island, October 14, 2008.

The area covering 350 square kilometers used to belong to China. The former Soviet Union took the place in 1929. After long-running negotiations, China and Russia were able to draw a final line in 2008: the west half of the island would be returned to China.
Feng Yujun, director of Institute of Russian Studies, said, "The island has become another word for good neighbor. It's emblematic of how the two countries can cooperate."
A blueprint has also been drawn up on how to develop this area.
Maksim Tarasov, director of Bureau of Industry, Trade and Development of Khabarovsk, said, "Khabarovsk city government has approved the plan to develop the island. We intend to turn the island into a visa-free eco-tourist zone where visitors will be able to appreciate cultures and traditions from both China and Russia."
According to their plan, the two countries will each build a bridge across the island so people can just drive across the border.
Xie Lijian, staff of Frontier Station of Fuyuan county, said, "If the bridges are built, there'll certainly be a surge in human flow and we'll be able to increase supplies to Khabarovsk."
The Chinese invested bridge is scheduled to come into use in October 2012. Then, what used to be a desolate place is expected to replicate the prosperity of many other border cities.