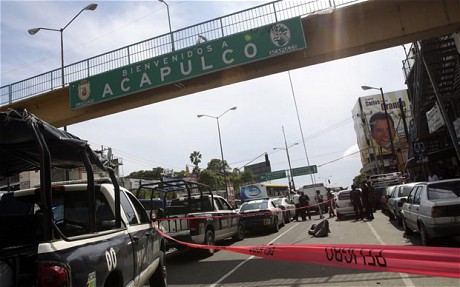 In recent years Acapulco has turned into a battleground in Mexico's increasingly violent drug war. [Reuters]

阅读难度:

Five decomposing human heads have been dumped outside a primary school in the Mexican city of Acapulco, the Daily Telegraph reported.
The heads were left in a white bag on top of a wooden box and were found in full view of pupils and pedestrians.
Soldiers and police removed the gruesome remains and cordoned off the area.
The heads are not the first macabre finding in the major port and tourist resort on Mexico's Pacific coast.
On Monday police found five decapitated bodies, three of which were badly burned and left in a pick-up truck, while the other two were outside the vehicle.
Acapulco was once a popular destination for Hollywood stars, but in recent years it has become a battleground in Mexico's increasingly violent drug war.
(点击英国《每日电讯报》查看原文)
墨小学外惊现五颗人头
       据英国《每日电讯报》报道,墨西哥阿卡普尔科一所小学校外惊现五颗腐烂的人头。
       这些装在白色袋子中的人头被放置在一个木箱子上,学生和路人都看得见。
       士兵和警察已经将可怕的人头弄走,并在现场拉起了警戒线。
       据悉,这并不是阿卡普尔科第一起骇人的发现。
       本周一,警察发现了五具无头尸体,其中三具在一辆轻运货车里,已经严重烧伤,另外两具则在车外。
       作为墨西哥太平洋沿岸的重要港口和旅游胜地,阿卡普尔科曾令好莱坞影星们趋之若鹜。但近年来,该城市上演的毒品战争日趋激烈。
(China.org.cn September 30, 2011)