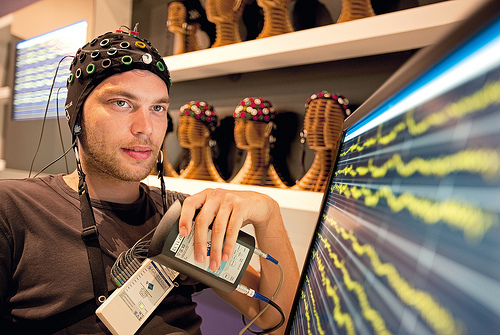 Researchers proved that they could tell what someone was hearing by decoding brain waves. [Agencies]

阅读难度:

Scientists claimed that a device which reads the thoughts of brain-damaged patients could become a reality, the Daily Telegraph reported.
Researchers proved that they could tell what someone was hearing by decoding brain waves.
Researchers demonstrated that the brain breaks down words into complex patterns of decodable electrical activity. The study was published in the Public Library of Sciences Biology journal.
Prof Robert Knight, one of the researchers from the University of California, said: "If you could eventually reconstruct imagined conversations from brain activity, thousands of people could benefit." (点击《每日电讯报》查看原文)
读心设备或问世
       据英国《每日电讯报》报道,科学家表示,一种设备有望读懂脑部受伤病人的想法。
       实验证明,别人能听到的内容,研究人员通过脑电波解码也可以知晓。
       科学家称,大脑可以将文字转化为复杂但可破解的电活动。这项研究发表在《公共科学图书馆》杂志上。
       来自加州大学的罗伯特·奈特教授表示:"假如最终能通过大脑活动重现某人想表达的内容,将有很多病人受益。"
(China.org.cn February 6, 2012)