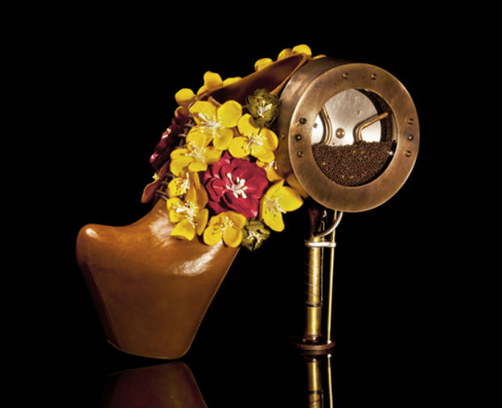 The shoes designed by Masaya Kushino are for planting rapeseeds. [Agencies]

阅读难度:

A Japanese shoe designer is developing high heels that automatically deposit seeds in the ground as the wearer walks in them, Discovery News reported.
The shoes are part of a project to help rebuild Fukushima.
The shoes designed by Masaya Kushino are for planting rapeseeds whose plants can remove the radionucleotides caesium-137 and strontium-90 from the soil.
The mechanical heels sink back when the wearer walks. Pressure from the movement causes a tube within the heel to emerge. The compartment containing rapeseeds turns and a single seed emerges from the end of the tube. Lifting the foot starts the process again.
(点击探索频道新闻网查看原文)
新奇高跟鞋可边走边播种
       据探索频道新闻网报道,一名日本的鞋子设计师正在研发一种高跟鞋,可让穿着者边走路边自动播种。
       该鞋是协助福岛重建项目的一部分。
       鞋子由串野真也设计,用来播种油菜籽,因为油菜可以移除土壤中的放射性核素铯-137、锶-90。
       当穿着者走路时,这种机械鞋跟向后倾。运动产生的压力使得一根导管从高跟中伸出。装有油菜籽的小室转动,一粒籽便从管端落出。抬起脚此过程便重新开始。
(China.org.cn April 9, 2012)