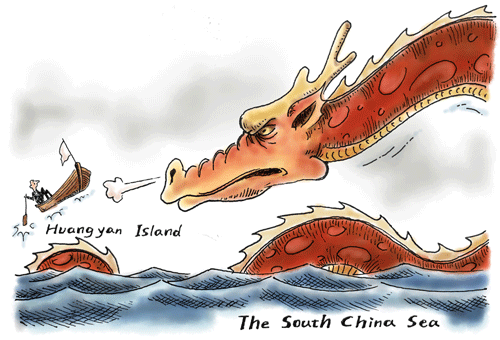 The shrill with the dragon to-do [By Zhai Haijun/China.org.cn]
The South China Sea has been a performance stage of a few countries and the external powers behind them for quite a period. The oil prospecting and development projects that have been launched successively, the well-targeted joint island-landing military drill and intense diplomatic coordination have made the big drama noisier.
Without doubt, this drama is played for China to watch, though it will not be able to force a great power to compromise its principle and standpoint. In their opinion, the countermeasures China will take will further "magnify" China's "impact and threat" to the outside world, and therefore, the big net containing the rise of China will be tighter and stronger.
This drama is the internationalization of the South China Sea issue. In the depth of their hearts, they like the phrase "the internationalization of the South China Sea issue." It is simple but has some modern color of global governance, and even has the sense of calling for the world to protect a small country from being bullied by a big country.
Small waves will not capsize the big diplomatic boat of China
A just cause gains great support, an unjust one gains little. China will not have many enemies as it loves peace and shares the development opportunity sincerely with the world. In the complicated external environment, it is not easy for China to walk from the edge to the center of the international stage. However, China is never narrow-minded or short-sighted. Those who are talking about the "pressures" and "a difficult situation" China is facing actually think too much.
On the South China Sea issue, China has its own principle and standpoint, which are consistent and unchangeable. The dispute must be solved through bilateral negotiation with claimant countries. The South China Sea issue must not be internationalized.
Internationalizing the issue means enlarging the contractions among a few countries and will damage the hard-earned achievements of regional cooperation.
Internationalizing the issue means forcing the surrounding countries to take sides and irresponsibly shifting the pressure to irrelevant countries.
Internationalizing the issue means inviting external forces to arbitrate Asian affairs and giving an opportunity to those who are trying to realize their "hegemony" dream.
Internationalizing the issue means further complicating the situation and even making it uncontrollable.
Internationalizing the issue is a strategic short sight, an action of indulging the emotion at the price of damaging the peace and stability, a state of mind of spending all one has in a single day, and an adventure of trying to disturb China's peaceful development course.