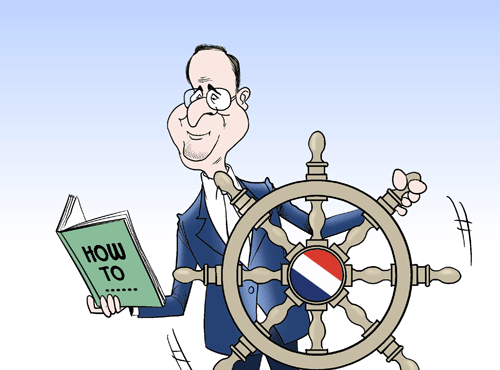 Fresh hand on deck [By Jiao Haiyang/China.org.cn]
As had been widely predicted and anticipated, Socialist candidate François Hollande defeated conservative incumbent Nicolas Sarkozy on Sunday, taking 52 percent of vote to become France's next president. Hollande's victory is a sign that France has taken in left turn where politics is concerned.
The Sarkozy-Hollande tussle was an election war without suspense. As early as one year ago, public opinion polls predicted that Sarkozy would be defeated and that the Socialist Party (SP) would return to the Élysée Palace. And so it proved following the second round of the presidential election, in which 44.5 million registered voters cast their ballots. The only thing the predictions got wrong was which Socialist candidate would defeat Sarkozy. Most had envisaged that it would be Dominique Strauss-Kahn entering the Élysée Palace and not Hollande.
Hollande is the second Socialist President of France, following in the footsteps of Francois Mitterrand. Following Jacques Chirac's election to the presidency in 1995, the right-wing Conservative Party held on to power for 17 years. The SP gave an indication of what was to come in March 2008 when it held on to Paris and also took control of a number of big cities, including Strasbourg and Toulouse in the municipal elections.
In the regional elections held in March 2010, SP scored wins in 21 of the 22 local regions. Last year, the left-wing parties led by SP won more seats than France's right wing parties in the Senate Election, which was a milestone victory for SP.
The rise of France's left-wing parties also involved Jean-Luc Mélenchon, the former Minister of Vocational Education (2000-2002). He broke with SP in 2008 to form the Left Party, which emulated the formation of the Left Party in Germany. The French Left Party joined together with the French Communist Party (PCF) to form a united Left Front. Surprisingly, Mélenchon won 11 percent of the vote in this year's presidential election, ranking him 4th in polling. The growth of the traditional left-wing movement has reinforced the power of SP.
When Mitterrand became France's first Socialist president in 1981, he held a solitary red rose - the symbol of the French socialists. It seems that today's France is dominated by red roses.
France's "rose whirlwind" has caused a great disturbance in neighboring countries. Except for Belgium, the other neighboring countries are led by right-wing conservative parties. France's left turn will doubtless start alarm bells ringing in these countries. Not long ago, the government leaders of Germany, the UK, Spain and Italy refused to meet with France's Socialist presidential candidate. At the same time, Hollande invited the leaders of Europe's Social Democratic Parties to Paris to show the united power of left-wing strength. In my opinion, the reactions of all parties involved were largely impulse and ideologically-driven, and it is time for all European countries to unite in these troubled times.
Hollande's election saw an exuberant and diverse crowd fill the Place de la Bastille. However, does Hollande feel relieved now that he has finally won the big prize? Sarkozy has gone, but the public debt, unemployment and social problems did not go with him. If Hollande is unable to address these problems in the months ahead, the cheers of victory may finally turn into shouts of anger.
The author is an analyst with Xinhua's Center of World Studies.
(This post was originally published in Chinese and translated by Xu Lin.)
Opinion articles reflect the views of their authors, not necessarily those of China.org.cn.