As a series of big screen works shined during the past National Day holiday, a small screen production became a hot topic on social media.
It was a nine-episode TV adaptation of Chinese literature classic "The Dream of the Red Chamber." Although the book has had heaps of TV, film and opera adaptations, the latest one is performed by a group of children aged 6-12 years old.
Despite their young age, the cast skillfully portrayed the characters and won much applause.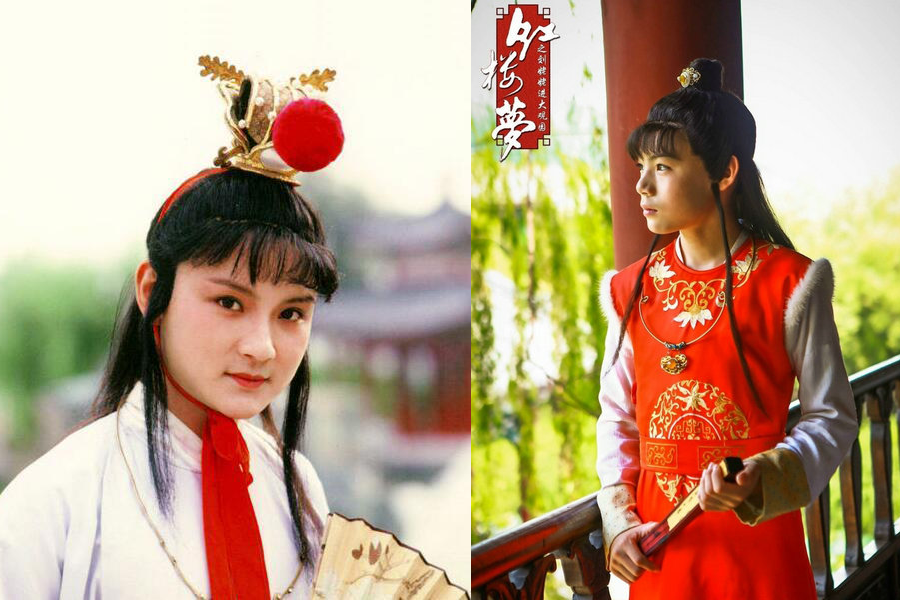 Ouyang Fenqiang (left) plays Jia Baoyu in the 1987 TV adaptation of "The Dream of the Red Chamber;" Shi Xiaosong plays Jia Baoyu in the latest children's version of "The Dream of The Red Chamber." [Photo/Mtime, Official Weibo Account of Xiao Xigu]
Released on Oct 1, the TV drama scored 9.3 points out of 10 on Douban, a popular movie rating platform in China.
To many faithful readers of the book, the young actors and actresses brought the characters alive again.
"I was overwhelmed by their perfect acting in the TV drama. I never expected they could play so well. This one is as good as the 1987 TV adaptation," Douban user Weiruoliuxu said.
The TV version that premiered in 1987 has been praised as the most classic among the adaptations of the book. Directed by Wang Fulin, the 36-episode series took three years to complete.
The latest children's version is in honor of the 30th anniversary of the 1987 work .The cast's costumes and makeup were based on advice from composer Wang Liping and costume designer Shi Yanqin for the 1987 TV adaptation.
Ouyang Fenqiang, who played the leading protagonist, Jia Baoyu, in the 1987 version, also was invited to guide the young actors.
"The acting skill of these young children is excellent; I must give them many praises," the actor posted on his Sina Weibo, Ouyangbaoyu 1987.
The work belongs to a program titled, Xiao Xigu (literally, young artists), which is supported by the Hunan Broadcasting System.
Launched in 2015, the program has reshot a series of classic TV series that are performed by children, including "Liu Sanjie," "Jiao Yulu," "Red Guards on Honghu Lake" and "The White-haired Girl." Its children's version of "Lady White Snake," based on the 1992 namesake TV adaptation, also was a hit on small screen in 2016.
The program claims to let children "Learn from Classics, Act in Practice", yet the works played by the young people also triggered many concerns besides countless praises on the internet.
On Zhihu, a popular Chinese Q&A website, a question on the children's version of "The Dream of the Red Chamber" attracted about 6,000 users and has been viewed more than 3 million times.
Some netizens said such works played by children should be limited, since young people just imitated adults in these productions. Some even connected these children's versions with child exploitation.