A 523.8-gram male crab from Anhui Province and a 361-gram female crab from Jiangxi Province were crowned as "king and queen crabs" at a hairy crab competition held on Tuesday in Shanghai.
About 70 aqua farms around China had brought more than 1,800 crabs to participate in this year's competition, the 11th of its kind — known as the Oscar for hairy crabs.
Organized by Shanghai Ocean University, the competition measures the size, weight, appearance and taste of the crabs.
Hairy crabs are considered a delicacy by many people across China and autumn and early winter is the best time to taste the delicacy.
Wang Chenghui, a professor at Shanghai Ocean University, said the national output of the hairy crab was expected to set a new record at over 830,000 tons this year as the breeding area had been increasing year by year in China and breeding technology had also improved.
As a result, the national wholesale price of crabs dropped to 90 yuan (US$13.50) a kilogram from 120 yuan, Wang said. But consumers in Shanghai pay more because of limited breeding areas.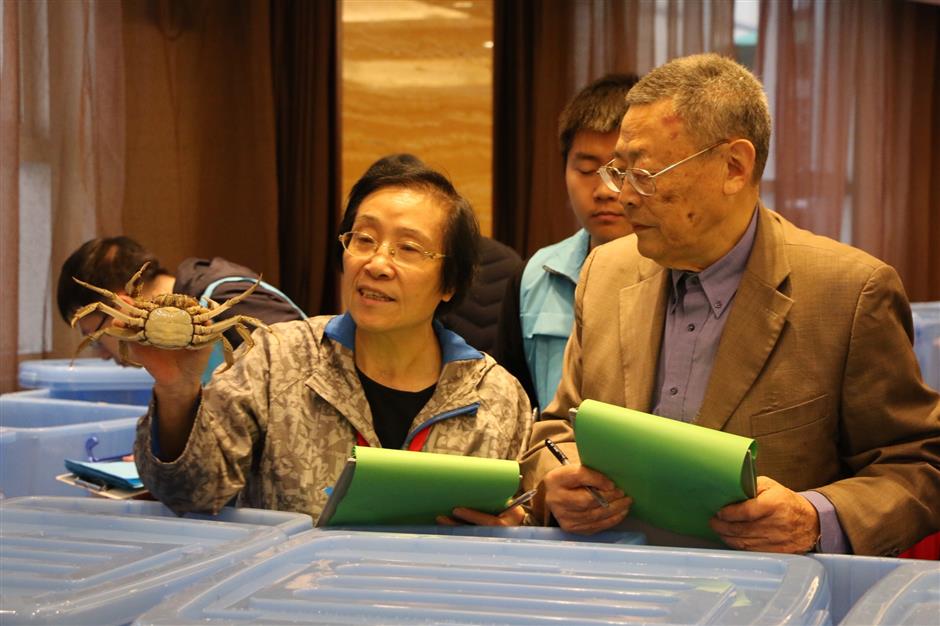 Judges examine crabs at the national hairy crab contest held in Shanghai on Tuesday. [Photo:Dong Jun/SHINE]