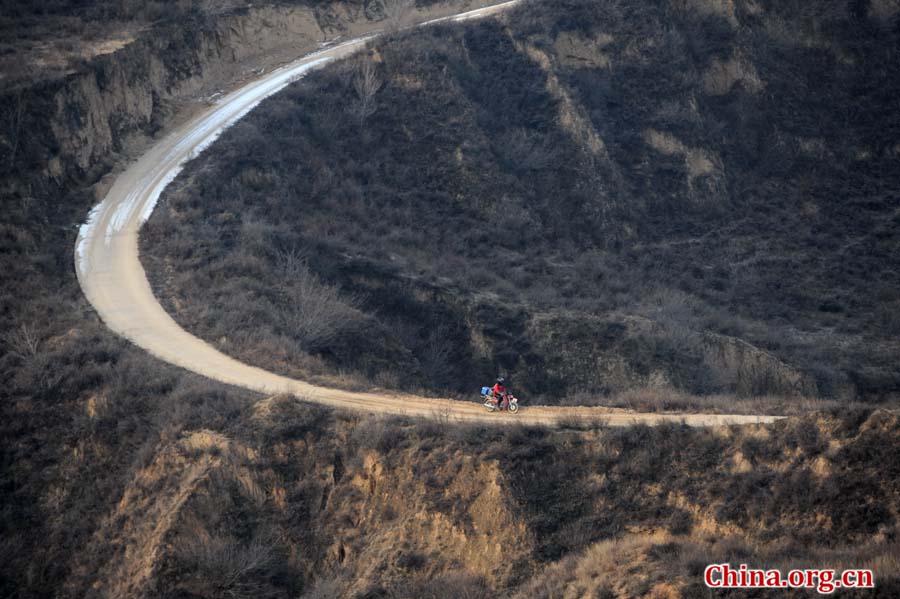 He Xinglong rides a motorcycle on a mountainous road on his way to visit a patient. [Photo by Pan Songgang/China.org.cn]
He Xinglong, 37, is a doctor serving rural people in a mountainous area of north China's Shanxi Province. Over the past 17 years, he has traveled more than 400,000 kilometers riding a motorcycle, and has made about 165,000 home visits.
From a poor farmer's family in Letang Village of Daning County, Linfen City, in 1996, he received an admission notice from a medical school in Taiyuan, the provincial capital. However, the 6,800-yuan (US$1,023.3) tuition fee was too high for the poor family, so he had to give up the first choice and choose a privately-run medical school in Yuncheng Town.
Sadly, the 3,000-yuan tuition was still too high. The family had to ask for help from the villagers, who clubbed together to make up the amount. At that moment, the young man made up his mind to study hard and repay the kindness of the villagers.
After three years, He graduated from the medical school with an excellent academic record. Then, he faced with another choice in his life – to leave the mountain village or stay. Remembering the promise he had made, the young man resolutely gave up a possibly easy life in towns and returned to his poor home village.
The young man made up his mind to use his newly-gained knowledge to help the locality overcome its backwardness in healthcare.
In the Spring of 2000, his clinic opened to villagers. He immediately printed 4,000 posters and sent them to all the neighboring villages. "A phone call means an emergency," the posters read. He made a promise to villagers that he would always be ready and available whenever he was needed.
He works very hard and has accumulated a wealth of experience through years of practice. With the improvement of his medical skills and by offering good service, He and his clinic has become very popular among local people and enjoys a high reputation.
Along with the continuous expansion of his business, He has to travel across mountains and rivers amid many difficulties to reach his patients. At first, his family spent 40 yuan buying him a bicycle, so he could shuttle around three villages in a day. Later, a bicycle couldn't meet the needs of the growing business. He then sought a 4,000-yuan bank loan to buy the first motorcycle in his life.
With the newly-bought machine, his business has expanded.
He said what worries him most are the children who are left alone at home by parents seeking jobs in other cities and towns, as well as childless elderly villagers living alone in the villages. After consultation with the township hospital, He took over responsibility for serving these particular groups of people. The job includes epidemic prevention for 1,028 children, nutrition package distribution for more than 200 children, and healthcare cover for all the elderly villagers in the county.
On New Year holidays or other festivals, He always pays visits to poor families and delivers rice, flour and other grains to them, or invites them to his home for dinner together. He even bought clothes for them.
Years of hard work and irregular life have seriously affected He's health. Scratches and bruises have become a matter of daily occurrence. On a cold winter's day in 2013, on his way to visit an old man named Zhang Lijun suffering from asthma, He slipped and tumbled from a high steep hillside into a ditch, damaging his ankle. Despite severe pain, he managed to get up, hurried on with his journey and finished the home visit with amazing stamina.
Several days later, the unbearable pain forced him to go to the township hospital for an examination, which showed a severe fracture of the right ankle. He bought some plaster powder home and created his own plaster cast. After a two-week rest, he limped off on another home visit.
In the past 17 years, He has diagnosed more than 4,600 patients and made about 165,000 home visits, involving 350,000 yuan in free visits and 40,000 yuan in the free supply of medicines. He has also helped the villagers build roads, plant trees, repair computers and cure their sick farm animals. Being on the go all day, he has worn out six motorcycles and 12 medical packs.
In the eyes of villagers, He is a nice doctor of ability and virtue. He has never complained and regretted about his original aspiration.
"Although I haven't made any money in the past years, it is worthwhile to serve my villagers," he said.
As long as he has a motorcycle, he will devote himself to patients wholeheartedly and leave all his own worries and trifles behind. "Only when the villagers working outside feel relieved of their troubles back at home and the left-behind villagers are healthy and happy, can I feel relieved and happy," he insists.
He Xinglong became a member of the Communist Party of China (CPC) in July 2008 and is a delegate to the 19th CPC National Congress.