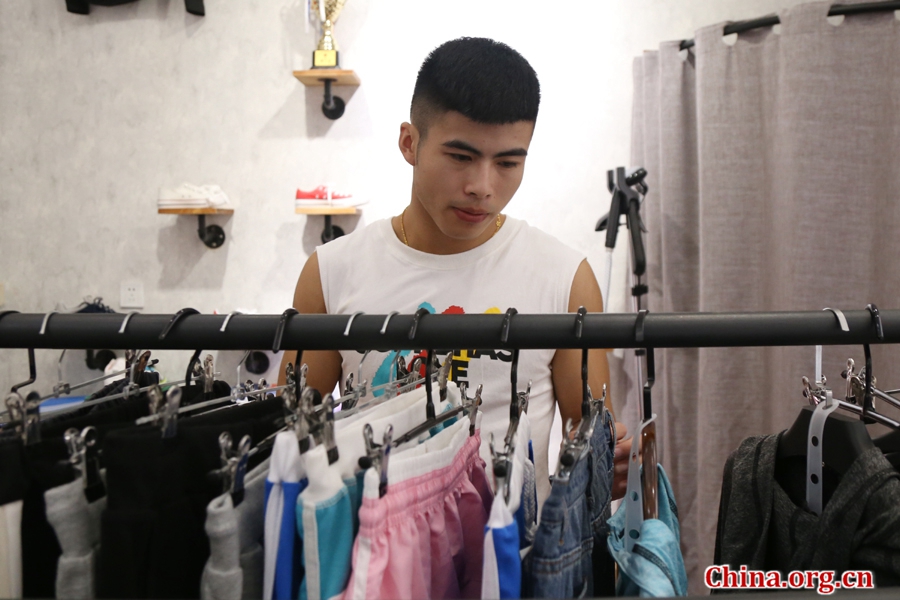 This is a story every aspiring student entrepreneur should know about. Yan Jianfan, a 21-year-old student who started his own business in his first year of college, has successfully earned 300,000 yuan (US$45,442) so far, becoming an enviable young entrepreneur on campus.
Yan is currently a junior majoring in physical education in Anqing Normal University in Anhui Province. Handsome and with a strong body, good character and now a remarkable entrepreneurial experience, Yan is often called an "inspirational young man" by the people around him. Despite the praise, Yan is sober-minded and keeps a low profile.
"Entrepreneurship is not as easy as many people think. It contains too many uncertainties. To be successful, you must exert your utmost brains and efforts," Yan said.
In his freshman year, Yan planned to start his own business while continuing to study. He has tried a variety of businesses in the past two years, including opening an e-shop, mentoring micro-businesses, being a fitness coach and running a clothing store. Yan said the biggest challenge at the beginning was lack of money and experience. As a busy student, he had very limited spare time as well. He didn't have a laptop, so he had to go to internet cafes after class every day to take care of his e-shop business.
As both shop owner and customer serviceman, Yan had to spend three or four hours a day to replenish his supply of goods and update the real-time information. Despite all his effort, the first e-shop ended in failure after only a month. Then, he started to act as a healthcare product agent.
Yan became more diligent and hardworking. Every day, he pored over many books and other information sources, consulted professionals in the industry, and attended marketing-related classes. All these laid a solid foundation for him to become a micro-business trainer for a team of several thousand people later.
Yan earned a total of 200,000 yuan in the first year of his entrepreneurship. With this, he opened a clothing store near his school in the second half of his sophomore year.To attract more customers, he also sells shoes. Given his good operational ideas and service, the business was promising and he was able to afford to buy himself a red car in his junior year.
"When I drove home from school, my family couldn't believe I could afford to buy the car by myself," he said.
Yan said that two years of entrepreneurship has helped him keep on learning and improving. "Compared with before, I'm now more patient and persevering in doing things."
Yan never neglects his schoolwork. In addition to entrepreneurship, he's also keen on running, playing volleyball and fitness training. In his sophomore year, he passed the examination for the qualification to become a part-time private fitness coach.
Yan is satisfied with his current situation, which he describes as "enriched and full." "While taking good care of my store, I go to the gym several times a week to serve as a fitness trainer."
Moreover, the young man has recently been obsessed with making short videos, which he believes will have a huge market potential. Now, he often takes interesting short videos together with his friends and sends them to big social media platforms.
Always eager to try something new, Yan said he doesn't have any long-term plans yet. He revealed that his recent goal is to get a teacher's qualification certificate next year, so that he would have more choices in future entrepreneurship.
Speaking of life after graduation, Yan replied: "The next thing is hard to tell. I'd better try more and gain more experience. I'd better work hard when young, so that I won't have any regrets when old."