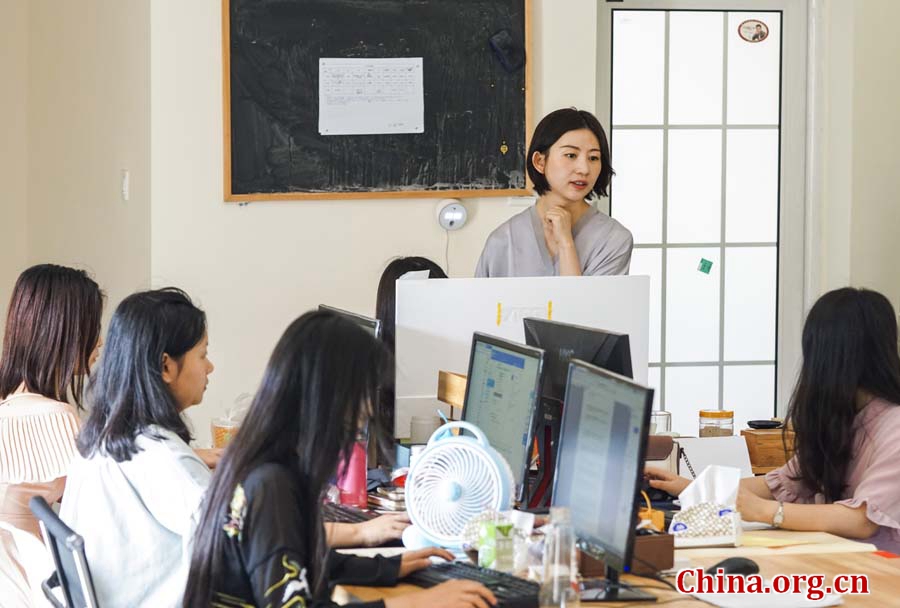 While more and more young people leave their home towns to hunt for jobs in large cities, 30-year-old Feng Liyuan has chosen to stay put in Jingdezhen and carve out a big career.
Located in east China's Jiangxi province, Jingdezhen has been famous for its delicate porcelain since ancient times, becoming regarded as the national "porcelain capital." Born and growing up in the small city, and under its daily influence, Feng is passionately attached to porcelain ever since her childhood.
Ten years ago, she graduated from the Jingdezhen Ceramic Institute, majoring in English. She registered an online shop and began to sell porcelain handicrafts. Half-a-year later, she opened a brick-and-mortar shop in a downtown area, becoming one of a few female bosses in this trade.
Recalling her early entrepreneurial days, Feng stressed it was not always plain sailing. "My mother gave me 10,000 yuan as start-up capital. She thought I would probably lose it and once that happened, I would definitely give up and find a new job, like registering for the civil servant examination."
However, the young woman was determined. With the 10,000 yuan, she bought a camera and an electric motorcycle to photograph the porcelain handcrafts she was developing and do the delivery between customers and shops.
As the ancient city struggles to preserve its world-famous traditional craftsmanship in the modern age, it has been difficult to find ways to pass on the unique craft from generation to generation. The market competition is fierce, and it is not easy for a small shop like Feng's to survive without a good operational mode.
Feng believes that quality and creativity is key for such a business to survive. She broke the traditional method of porcelain making and marketing. Despite the expressed doubts and even criticism from some old craftsmen, she just presses ahead.
"Exquisite porcelain products made by hand take much time and effort, so they are much more precious. As they are not from a large mechanized production process, there are relatively few [such products] in the market."
Feng cited an example – it usually takes a craftsman a whole day to make a spout by hand and 20 days to paint a spot on the porcelain surface by hand.
"A craftsman can easily make 200 or 300 sets of ceramic wares by hand in a short time. However, if the amount increases to 1,000 or more, he will think it a stressful work and the quality can't be guaranteed," Feng said.
So, in order to expand output, mechanized production was inevitable. In September 2016, Feng and her husband, Zhu Peng, developed a factory of their own. With 110 employees and a complete production line, the factory is now ranked top three in Jingdezhen in terms of scale.
They combine handcraft with mechanized production to guarantee the quality and quantity of products. In this process; craftsmen were also asked to refine the products created by the machines to ensure a more distinctive kind of visual artwork as well.
Feng said she has a very good team engaged in research and development. They have created new elements in colors and the design of porcelain artworks to attract customers of different ages and levels. For example., porcelain ware featuring leopard prints adds a sense of personality and style.
In the eyes of colleagues, Feng is friendly and passionate about her work. For those craftsmen who cannot use the internet, and thus have no idea of how to trade porcelain products online, Feng taught them step by step.
The porcelain sales of Feng's online shop have exceeded 10 million yuan, with the business expanding continuously. However, a shortage of funds is still a big problem faced by the couple. They have to buy and upgrade machines and necessities and pay good salaries to keep their employees.
"Our monthly salary expenditure alone is close to 900,000 yuan," Zhu Peng said.
Speaking of the future, Feng is cheerful and full of confidence. "Porcelain is the characteristic of Jingdezhen, and we should work hard to preserve this traditional art," she said, adding "actually, we can do much better than our forefathers in this regard."
"Porcelain represents the culture of an era from both ancient times and nowadays," she insists.
Chinese version: http://news.china.com.cn/2018-06/23/content_53106339.htm