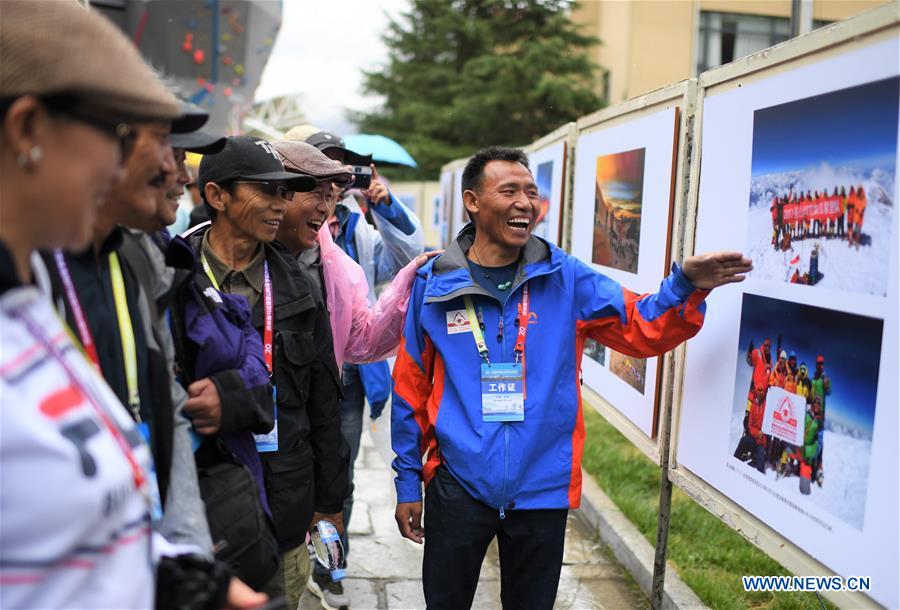 Zhaxi Cering (1st R) introduces his pictures at his personal photography exhibition themed on Mount Qomolangma in Lhasa, capital of southwest China's Tibet Autonomous Region, July 12, 2019. (Photo/Xinhua)
It wouldn't be hubris to say that Zhaxi Cering's photography career started on a high: The photograph that shot him to fame just over a decade ago was taken on top of the world's tallest mountain.
In 2008, Zhaxi was a member of the Chinese climbing team that carried the Olympic torch to the summit of Mt. Qomolangma. Barely 26 years old at the time, Zhaxi had been inducted into China's professional mountaineer guild, and had already scaled the summit six times.
On this occasion, not only was he tasked with carrying the Olympic torch, he also had a special mission -- to capture the moment that the flame was lit on the top of the world. "I'd never imagined so much would be changed by that picture," he said. That award-winning photograph has been written into the history books, and gave Zhaxi a chance to start a new chapter in his own life. "I had played around with the idea of photographing mountains for many years," said Zhaxi. "I might not be the best photographer, but I can climb higher than most." To date, Zhaxi has reached the summit of Qomolangma 14 times, more than anyone else in China.
His photographs have taken on a new meaning over the years, as they have tracked the changes to the mountains and glaciers in the area. "It may not be obvious now, but in the decades to come, my photos will be of great importance to scientists and researchers."
Zhaxi published an album of some of his favorite shots, and donated all the proceeds to a local environmental foundation, which works to raise awareness of the impact of littering on the mountain. "You could say that my life really began on Mt. Qomolangma," he said. "I can't think of a better way to return that favor than protecting the mountain."