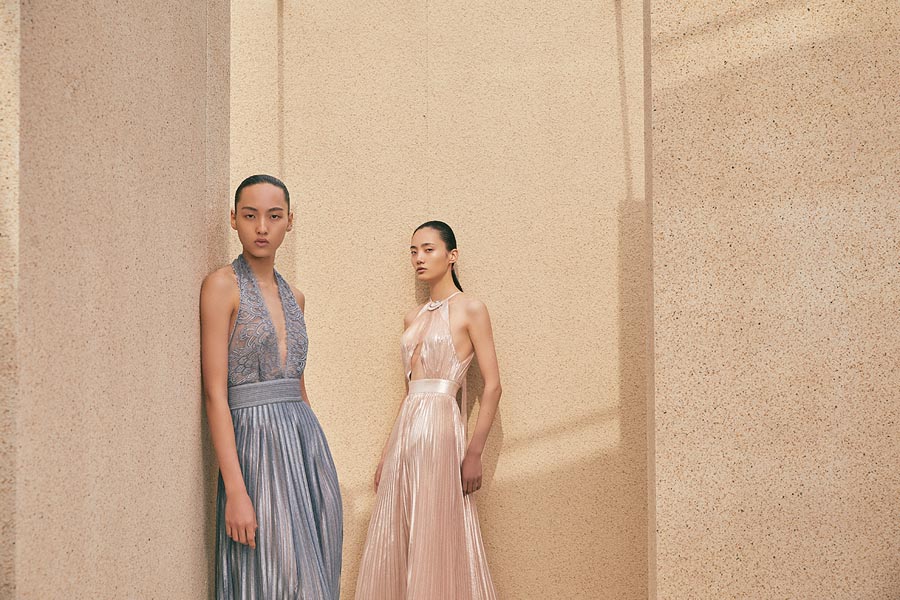 [Photo provided to China Daily]
Rooted in arts and culture
To keep pace with the market, in 2016, the group reinvented its main brand EP Yaying, launching a dual-brand development strategy, "The World's EP, China's Yaying".
EP, which focuses on producing ready-to-wear clothing, offers contemporary fashion styles that harmoniously integrate Oriental and Western aesthetics and artistic elements, reflecting both global fashion and contemporary Chinese lifestyle.
Yaying, meanwhile, is the company's haute couture line, tracing its Chinese roots and focusing on the deep exploration of China's traditional culture, aesthetics, fashion and craftsmanship-integrating contemporary aesthetic tastes into its designs for the modern women, but with a clear, exquisite Chinese cultural identity.
Yaying's 2017 Spring/Summer collection saw the debut of its imperial robe-themed series, which met with rave reviews, firmly establishing its "Eastern royal aesthetics" credentials. The brand continues to draw inspiration from Chinese culture, not only for creative inspiration but also in the hope that it can help connect the past with modern fashion, injecting new energy into the industry and enabling a new generation of fashion-conscious women to rediscover that culture.
"In the age when fashion designer is no longer an unusual occupation, Chinese fashion seems to be a concept that is getting confusing and contradictory. However, if I have to define Chinese fashion, Yaying is one of the first brands that jumps into my mind," says Xu Fengli, a Chinese fashion blogger.
To celebrate the company's 30th anniversary last year, EP Yaying premiered its dual-brand 2019 Spring/Summer collection at the closing ceremony of the China International Fashion Week Spring/Summer 2019. Themed "Convergence & Creation", the two collections displayed the balance between mankind and nature, art and culture, tradition and the contemporary. Both the show and collection received unanimous acclaim from the media and the public alike.
In order to preserve and develop traditional handicrafts, the group set up a workshop in 2012 that gathers many professionals who have been practicing traditional craftsmanship for decades, such as embroidery, beading, weaving and hand painting. It also grooms their successors; young and new talent to inherit and innovate these traditional crafts.
"What makes excellent Chinese haute couture? Only those who know how to both inherit and innovate can witness and create the future," Xu concludes.
It is an area in which another homegrown fashion brand is looking to excel. Like the other Chinese fashion houses mentioned, Jefen-established by Xie Feng-used the recent China Fashion week to present a clothing line that introduced elements of traditional culture in a modern context. In this case, rather than motifs and symbolism, the brand took a rather more practical approach, combining fabrics and materials, such as silk gauze and linen, with western-styled tailoring.
The future direction
Today, EP Yaying is represented in more than 210 cities with over 500 stores across China and Malaysia, including Beijing, Shanghai, Guangzhou, Shenzhen, Macao and Kuala Lumpur.
In 2020, the brand will enter the American and Australian markets, and continue to share its contemporary, elegant fashion aesthetic with the world.
Looking forward to the next 30 years, Zhang notes: "We will continue to cultivate a higher degree of cultural self-confidence, rooted in Eastern culture with a global perspective.
"The Chinese believe in harmony and the world is home to all. We will continue to create more value for our customers and contribute to the great rejuvenation of Chinese culture in the global fashion industry."