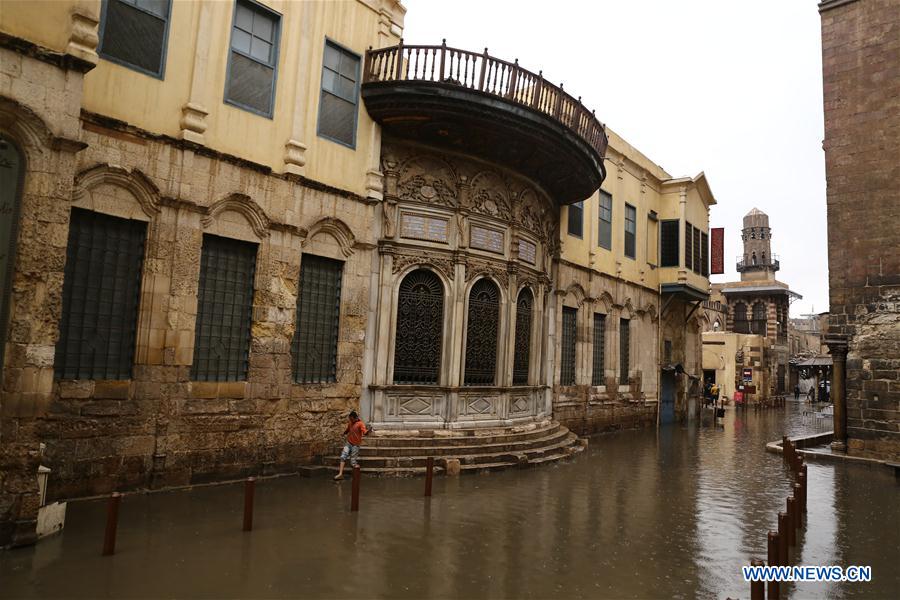 Photo taken on March 12, 2020 shows a flooded street in Cairo, Egypt. Egyptian capital Cairo witnessed a thunderstorm and heavy rains on Thursday. (Xinhua/Ahmed Gomaa)

Most Egyptians stayed at home on Thursday as schools, universities and public institutions were closed due to a thunderstorm and heavy rainfalls.
The storm caused several deaths, including a 6-year-old child who was hit by a fallen tree in Upper Egypt's province of Qena, and an electrician who was fixing an electric shock in Al-Wadi al-Gadid province southwestern Egypt, authorities said.
Meanwhile, six people were injured in southern province Sohag after a fallen palm tree hit their car, and 16 passengers were wounded as their minibus overturned in Gharbiya province due to the bad weather.
The thunderstorm was anticipated by the Egyptian Meteorological Authority that warned citizens to stay at home on Thursday and Friday for safety reasons.
"The thunderstorm and the heavy rains are caused by the confrontation of a southern seasonal trough coming from Sudan carrying surface hot air and northern upper atmosphere cold air coming from Europe," Ahmed Abdel-Aal, former chief of the Egyptian Meteorological Authority, told Xinhua.
"The thunderstorm is expected to continue until Friday, gradually decline on Saturday and vanish on Sunday," the meteorologist added.
The Egyptian cabinet announced on Tuesday and Wednesday that Thursday would be a day off for schools and universities as well as the public and private sectors nationwide. Fridays are usually days off in Egypt.