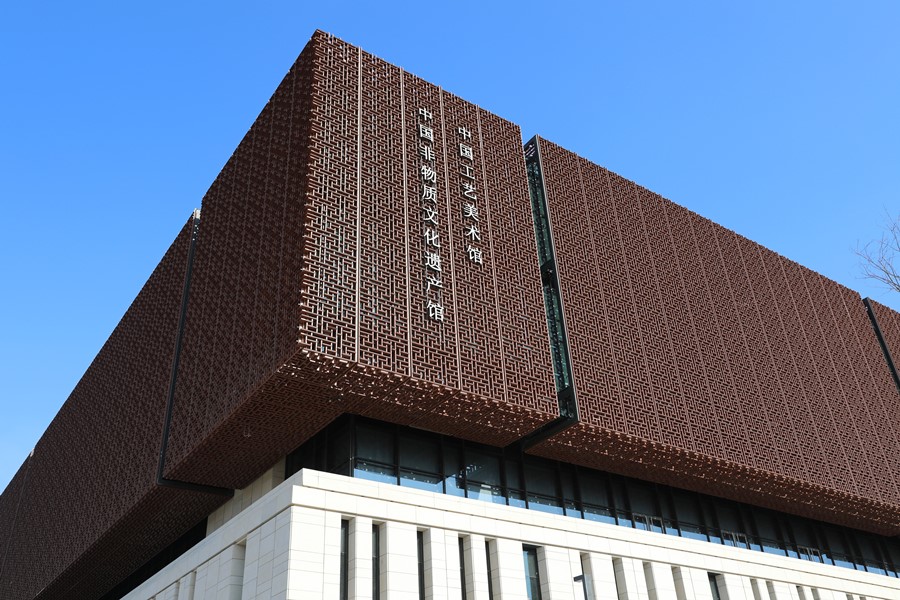 China Intangible Cultural Heritage Museum and China National Arts and Crafts Museum, China's first national-level intangible cultural heritage museum, opened on Feb. 5, the second day of the Beijing Winter Olympics.
The museum in Olympic Green covers a construction area of 91,126 square meters. A total of 1,298 exhibits are on display for its first exhibition, "Treasures of China: An Exhibition of Chinese Intangible Cultural Heritage and Arts and Crafts." Of these exhibits, 80% are unveiled to the public for the first time. The Chinese National Academy of Arts collected most of them over seven decades.
As one of the major cultural activities of the Beijing 2022 Olympic and Paralympic Winter Games, the exhibition starts with a specially designed Winter Olympics-themed work named "From Altay to Beijing," said Han Ziyong, curator of the museum.
The exhibition includes arts and crafts, guqin (Chinese zither), copies of Silk Road murals, inscription and seal cutting, woodblock New Year paintings, traditional musical instruments, opera, and performing arts.
There are also ethnic instrument performances and high-tech devices facilitating diverse experiences in the museum.
Visitors can get access to the introductions of the exhibits by simply scanning QR codes and can hear beautiful sounds when getting close to the guqin.
According to a plan released by the Ministry of Culture and Tourism last year, China will build 20 national-level intangible cultural heritage museums during the 14th Five-Year Plan period (2021-2025).