The Nepali leg of the Hangzhou Asian Games Fun Run kicked off on Friday morning at Patan Durbar Square, attracting about 600 participants.
Jeevan Ram Shrestha, president of the Nepal Olympic Committee, and Chen Song, Chinese Ambassador to Nepal, took part in the run along with the representatives from the Olympic Council of Asia and the Hangzhou Asian Games Organizing Committee.
"It is our great honor to host the Asian Games fun run for the second time," Shrestha said. "I believe all of us will enjoy the fun run and play a significant role in the promotion of the Asian Games."
"A good number of" Nepali athletes will participate in the 19th Asian Games scheduled for Sept. 23-Oct. 8 in Hangzhou, China, he added.
The Hangzhou Asian Games fun run had been held in Cambodia, Thailand, Uzbekistan, Kuwait, Saudi Arabia, the Maldives, Sri Lanka, Bhutan and Qatar.
Hangzhou will be the third Chinese city to host the Asian Games, following Beijing in 1990 and Guangzhou in 2010.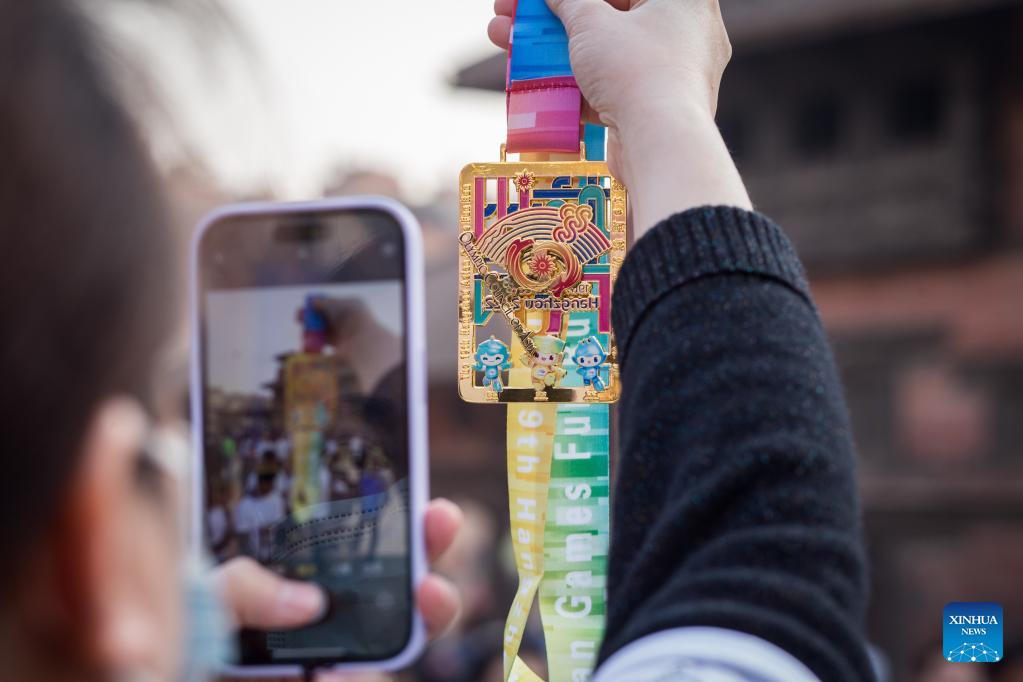 A participant takes photos of a medal after the Hangzhou Asian Games Fun Run at Patan Durbar Square in Lalitpur, Nepal, Feb. 17, 2023. The Nepali leg of the Hangzhou Asian Games Fun Run kicked off in Nepal on Friday morning, attracting about 600 participants. (Photo by Hari Maharjan/Xinhua)