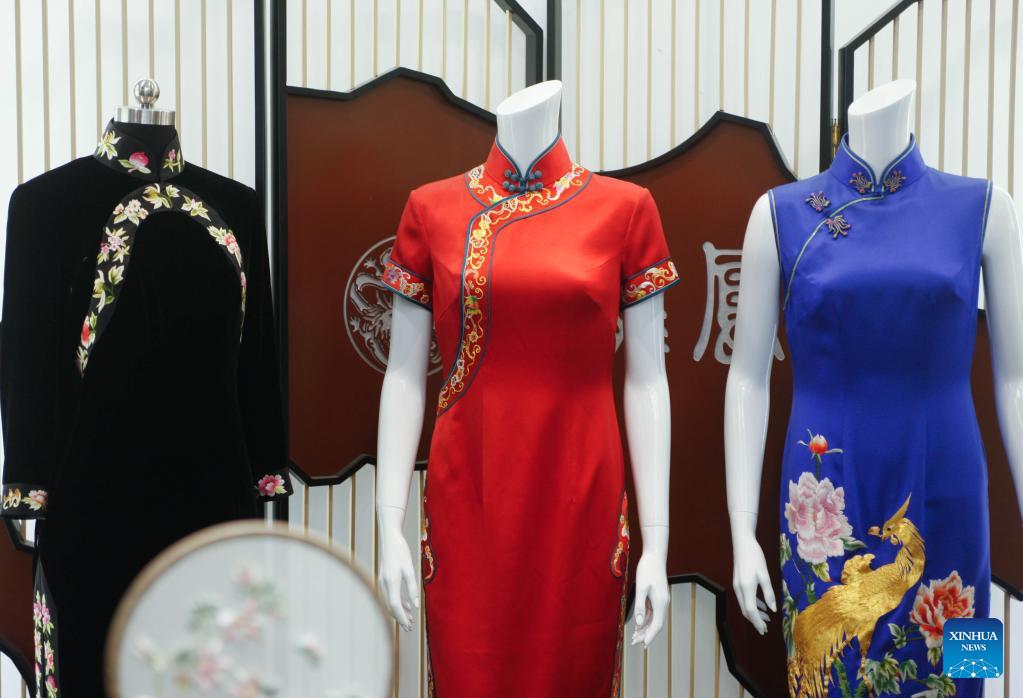 This photo taken on May 30, 2023 shows cheongsams at the Longfeng Cheongsam store in east China's Shanghai. (Xinhua/Zhu Weixi)
Cheongsam, or Qipao, is a traditional wearing of Chinese women which takes inspiration from the ethnic clothing of Manchu people. Evolving with the time, it nowadays represents a new fashion for Chinese women who value the tradition and elegance.
As a representative of Shanghai-style cheongsam which emphasizes the beauty of woman's curve, the Longfeng cheongsam traces back to the reign of China's Qing Dynasty Emperor Qianlong (1736-1795). In 2011, the hand-making crafts of Longfeng cheongsam was listed as one of the national-level intangible cultural heritages. In the same year, the Longfeng cheongsam amazed the whole world during an international cultural heritage expo held at the Louvre Museum in Paris.
Longfeng cheongsam mainly has nine crafts, namely inlaying pieces, rimming the inlaid pieces, making fringes, sewing curving lines, embroidering, painting, hollowing, carving, and making knot buttons. The knot buttons of Longfeng cheongsam are famous for their exquisite crafts and distinctive styles. Nowadays they are not only a decoration part on the dress, but also independent artworks that showcase the traditional and modern culture.
Jiang Manzong, born in 1966 in Jingjiang City of east China's Jiangsu Province, is the fourth-generation inheritor of the hand-making crafts of Longfeng cheongsam. Jiang has been engaging in making Chinese costume and cheongsam for nearly 40 years since 1984 when he began to work in Longfeng after graduating from high school. In order to stick out from the crowd, he continuously practiced the crafts until late at night and often hurt himself with the needle. Three years of being apprentice allowed him with skillful handwork. "The workshop at that time usually ran out of light, but I can make the same work even in dark thanks to my arduous practice, " said Jiang Manzong. One treasure in his store, a cheongsam called "Jixiang Ruyi" , is his most satisfied work which embodies seven of the nine crafts of Longfeng cheongsam. The artwork is now one of the collections at the China National Silk Museum and is the main dress to go on exhibitions at home and abroad.
Nowadays, Zhang Qinwei and Wu Yuting, two apprentices of Jiang Manzong, have become the fifth-generation inheritor of Longfeng cheongsam. In order to promote the cheongsam culture, Jiang also brings his apprentices to take part in events in communities, schools and cultural centers. He cooperates with Qingyun Middle School to give knot button classes for students every term. Moreover, a Longfeng cultural and creative team led by Jiang seeks for cooperation with various professions, making handmade artworks based on intangible cultural heritages.
Jiang said he often met people who lack confidence in their figures as to wearing a cheongsam, and he told them that everyone could wear a cheongsam in his guidance and with his professional crafts. "I hope that more people will get to know Longfeng cheongsam, and our traditional culture," said Jiang Manzong, "It is said that a woman forever lacks a clothing at her wardrobe, and I hope it will be the cheongsam."