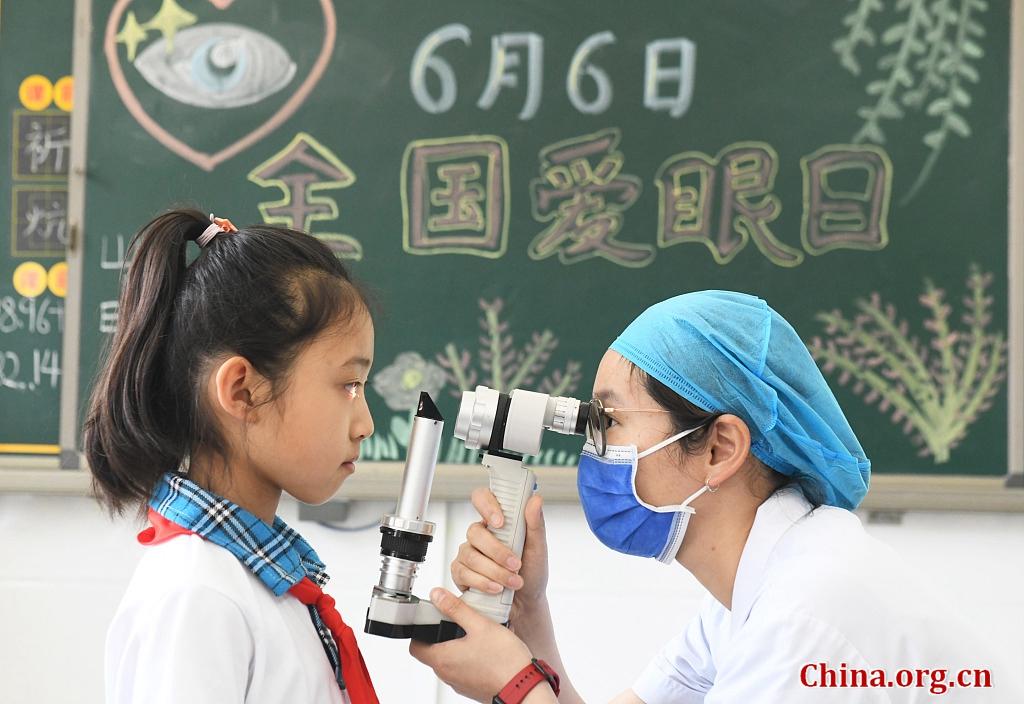 A medical staff member performs an eye checkup for a pupil at an elementary school in Shijiazhuang, north China's Hebei province, June 5, 2023. [Photo/CFP]

Editor's note: Tuesday marks the 28th National Eye Care Day in China. Focusing on universal eye health, this year's event seeks to promote public understanding of tips for maintaining healthy eyesight and enhance general awareness of eye care, particularly among children and older people.
China has 700 million people who have myopia and the myopia rate among youngsters are staggering. According to the National Health Commission (NHC), the prevalence of myopia or nearsightedness among Chinese teenagers reached 53.6% in 2022. Specifically, the myopia rates among six-year-old, primary school, middle school and high school students were 14.5%, 36%, 71.6% and 81%, respectively.
To address this public health issue, the country's education and health authorities have implemented various plans to help students develop healthy living and learning habits.
In 2007, the State Council released guidelines on strengthening physical education among teenagers, followed by a work plan with specific measures to protect teenagers' eyesight released by the Ministry of Education (MOE). In 2018, the MOE and the NHC published an implementation plan to reduce the myopia rate by half a percentage point each year by 2023. The target was then reiterated in 2019 in the State Council's guideline for advancing the Healthy China initiative.
These documents also outlined arrangements for teaching methods and facilities in schools. For example, they stipulated that schools should not excessively rely on electronic products to teach classes and assign homework. The use of electronic products should not exceed 30% of the total teaching hours, and homework should be finished using non-digital methods.
Additionally, China's aging population has led to an increase in vision problems such as cataracts, glaucoma and macular degeneration. According to the Chinese Medical Association, the incidence rate of cataracts among people aged 60 to 89 in China is approximately 80%.
In response, the NHC released a national eye health plan (2021-2025), with one of the goals being to raise the national cataract surgical rate, which measures the number of procedures per million people, to over 3,500 by the end of 2025. Most recently, ophthalmologists from the country's top hospitals launched free clinics and lectures for senior citizens in 10 major cities, such as Qingdao and Hangzhou, to raise public awareness of these issues.
Here, China.org.cn presents a selection of images from eye care and test services, free clinics, and eye health lectures across the country this week.