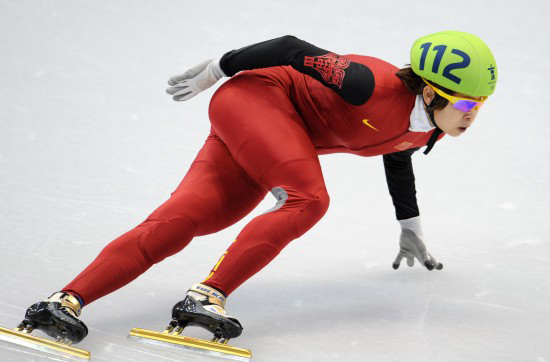 A file photo of short track speedskater Wang Meng.
China's 10-strong short track speedskating team arrived Russia on Monday afternoon without injured Olympic champion Wang Meng, who'd expected to cheer her teammates up alongside the competition rink for Sochi 2014 Winter Games.
"We do understand how Wang Meng's eager to be with the team in Sochi, but a long travel won't do any good for her health and we persuaded her to stay home," said Zhao Yinggang, director of China's winter sports administrative center.
Zhao, also the secretary general of China's delegation for Sochi 2014, flew with Russian airline Aeroflot from Beijing to Sochi, while part of the figure skating team followed him to transfer on Sunday evening and the whole short track team made a short stay in Moscow.
"According to an old Chinese saying, it takes at least 100 days to recover from a broken bone," said Zhao. "After consulting with sport medicine experts, we decided to give Wang the most help in possible for her to rehabilitation."
The 29-year-old Wang has been ruled out of the 66-athletes delegation of China for the Winter Olympics in Sochi, Russia slated on Feb. 7-23 after the country's most decorated winter sportsperson sustained a serious ankle injury during training with the national team in Shanghai on Jan. 16.
She was diagnosed with radius and ulna fractures in her right ankle and ruled out a possiblity of regaining fitness in at least six to eight weeks after an internal fixation surgery.
Wang thus loses the chance to defend her 500 meters, 1,000m and 3,000m relay titles in Sochi Games.