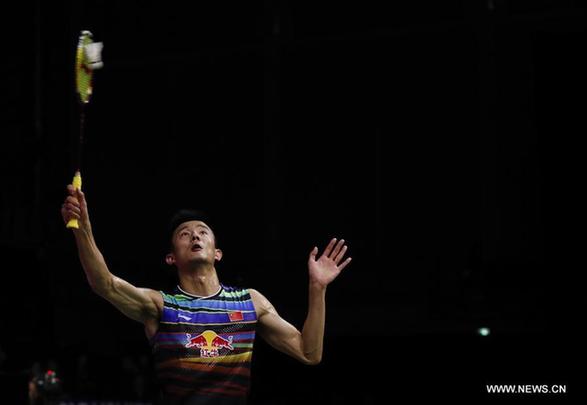 Olympic champion Chen Long [Photo/Xinhua] 
Olympic champion Chen Long went through the men's singles first round at BWF World Superseries French Open in Paris, France on Wednesday.
Six of seven Chinese pairs managed to secure their places in last 16 of men's and women's doubles.
Chen suffered a disappointing first-round exit last week at the Denmark Open, while bouncing back in Wednesday's 21-12, 21-17 victory over Mark Caljouw of the Netherlands.
"Always a bit difficult in the first match. The opponent didn't get into the match quite well at the start, but he performed better in the second game, from the start until a 17-all," commented Chen.
Chen will meet Anders Antonsen of Denmark, who beat chen's teammate Huang Yuxiang 21-12, 21-18.
Fourth-seeded Shi Yuqi earned a hard-fought victory of 21-19 in both games over Japanese shuttler Sakai Kazumasa. Qiao Bin was involved in a tougher battle as he beat host player Thomas Rouxel in full games.
Top seeds experienced a bitter day in their opening match at the tournament. No. 2 seed Son Wan Ho of South Korea was overshadowed by Hans-Kristian Solberg Vittinghus of Denmark. Seventh-seeded Lee Chong Wei of Malaysia and No. 5 seed Chou Tien Chen also bid early farewell to the tournament.
In an encore of last year's final, China's He Bingjiao once again got past Zhang Beiwen, who was born in China's Liaoning Province while representing the United States in international tournaments.
He came from a 21-18 loss in the first game to take away the victory at 21-16, 21-15 in 55 minutes.
"We are quite familiar with each other, and I can see her improvement," commented He, expressing her hope to defend the title at the same time. "I hope that I can do that if possible," she said.
He's teammate Chen Xiaoxin, 19, showed much resistance against world No. 1 Tai Tzu Ying of Chinese Taipei. After conceding the first game at 21-9, Chen bounced back to tie the score with her 21-19 victory in the second.
Trailing 7-6 in the decider, Chen called for a medical timeout, before being involved in the tight contest and losing the decider at 21-16.
Another Chinese women shuttler Chen Yufei overcame Natalia Perminova of Russia in straight games.
Women's singles title favorites Sindhu Pusarla, Sung Ji Hyun and Carolina Marin made into the second round in an unsurprising manner.
China's Liu Cheng and Zhang Nan, men's doubles No. 5 seeds, saw off Mathias Christiansen and David Daugaard of Denmark 21-18, 21-16, and were joined by teammates He Jiting and Tan Qiang in last 16.
However, fourth-seeded Li Junhui and Liu Yuchen were stopped by Indonesian duo of Fajar Alfian and Muhammad Rian Ardianto.
Huang Yaqiong and Yu Xiaohan, who secured their berths in main draw through women's doubles qualifications on Tuesday, eased past home favorites Mathilde Ligneau and Marine Ruano 21-10, 21-10 in just 26 minutes.
Three other Chinese women's pairs, fifth-seeded Huang Dongping and Li Yinhui, defending champions Chen Qingchen and Jia Yifan, youngsters Du Yue and Xu Ya, all overcame their respective opponents in straight games.
The French Open, the 10th leg of 12 BWF World Superseries of the season, is underway until Sunday, with a total prize money of 325,000 U.S. dollars up for grabs.