China's vision of a historic 2022 Winter Olympics got a big boost on Thursday when the International Ice Hockey Federation voted to allow the host to enter its men's and women's teams in the Beijing tournament.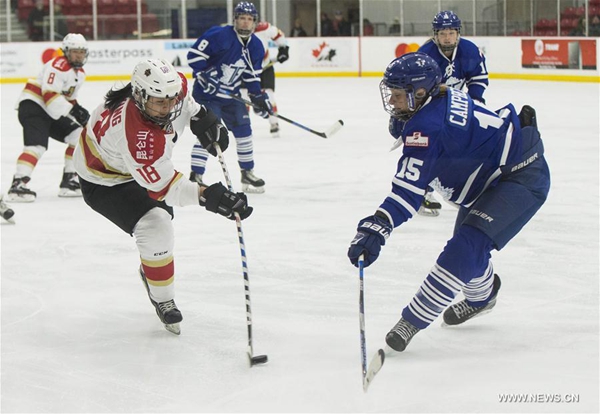 Yu Baiwei (L) of Chinese Shenzhen Kunlun Red Star and Brittany Zuback (R) of Toronto Furies battle for the puck during the 2017-2018 Canadian Women's Hockey League (CWHL) game in Toronto, Canada, Jan 14, 2018. Chinese Shenzhen Kunlun Red Star won 6-0. [Photo/Xinhua]
The IIHF vote took place during the ongoing world championships in Copenhagen, Denmark, and was announced by Rene Fasel, president of the global sanctioning body.
The direct pass means China won't be required to go through the challenging qualification process to send its world No 20 women's and No 33 men's national squads to the Games.
"This is definitely a historic moment for Chinese hockey," Yu Baiwei, captain of the women's national team, said at the Olympic development camp in Shenzhen, which wraps up on Sunday.
"It's a testament to the improving international image of Chinese hockey and a reward for our efforts promoting the sport since winning the bid to host the Olympics three years ago.
"We just can't wait for the opening of the Games. We will for sure work harder in the next four years to achieve good results at home in 2022."
The development camp, which opened on May 12, has attracted 22 North American players with Chinese ancestry to practice and compete with local players as a trial for future Olympic teams through naturalization.
"I am just so excited to be able to go to the Olympics, especially in the Chinese uniform," said Canadian defender Jessica Wong, whose grandmother came from Guangdong province.
"China has changed so much since the time when my grandma was here and the improvement of Chinese hockey over the past year has been incredible. I believe the Olympic appearance will only make it better."
Led by a reshuffled Chinese Ice Hockey Association, which has separated from the State-run system to become a nongovernmental organization, Chinese hockey has stepped up to professional platforms overseas while expanding its talent search in Canada and the United States.
China now has a men's team, Shanghai-based Kunlun Red Star, participating in the Russia-based professional KHL, plus two entries in the second-tier VHL and a junior squad in the Russian MHL.
On the women's side, Shenzhen-based Kunlun Red Star and Wanke Ryes joined the Canadian Women's Hockey League last season as expansion entries, with Red Star finishing in second place.
Ao Meng, executive director of Kunlun Red Star Sports & Entertainment Investment Ltd, expects the Olympic spotlight to galvanize hockey's rise to mainstream status in China.
"The Olympics will put hockey on a bigger platform to make both domestic and international audiences understand and appreciate it more," she said, adding that the club will provide more support in talent development and coaching for the country's Olympic program.
China's men's team has never competed at the Olympics or in any top-level international tournaments. The Chinese women's squad finished fourth at female hockey's Olympics debut in 1998 in Nagano, Japan, followed by two more Olympic appearances, in 2002 and 2010.
China also played in the top-level IIHF women's worlds from 1992 to 2009, reaching fourth place in 1994 and 1997, and hosted the 2008 world championship in Harbin.