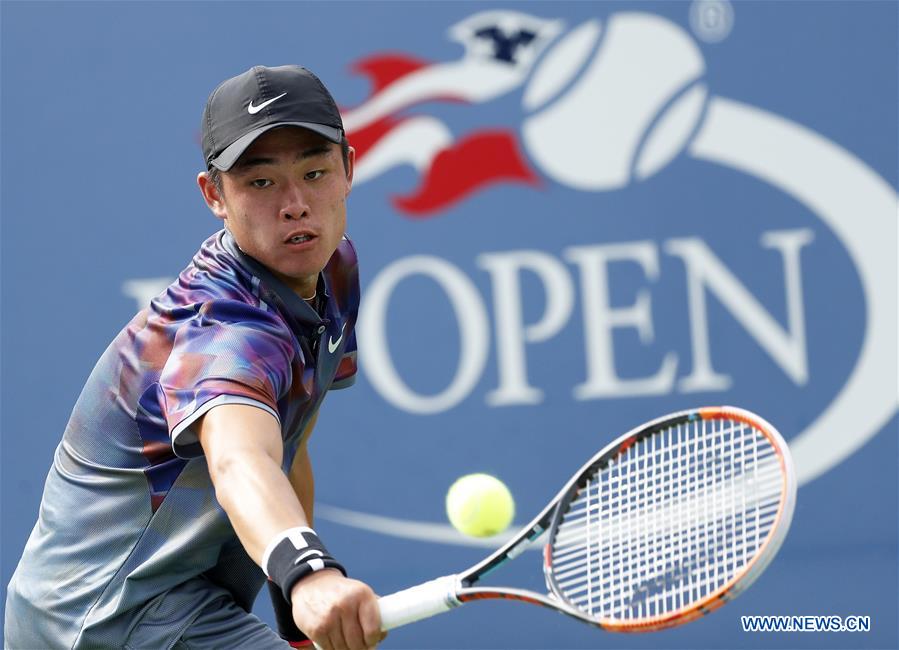 Wu Yibing has signed on with some heavy hitters in global tennis.

After winning the 2017 US Open boys' event, the 18-year-old from Hangzhou, Zhejiang province, has emerged as a promising game changer-so much so that he recently signed a marketing and management agreement with the US-based International Management Group (IMG).
Max Eisenbud, a veteran agent who has represented Chinese tennis legend Li Na for almost a decade, will lead the team managing Wu's career on and off the court.
"I am really excited to sign with IMG, a company that has turned so many tennis players into global stars," said Wu, who took up the sport at age 6 in order to lose weight.
"I am looking forward to getting started with my IMG team, writing a new chapter for tennis in China and making a breakthrough for Chinese men's tennis."
Wu will make the multisport IMG Academy in Bradenton, Florida, his training base when he travels on the pro circuit outside of China.
Eisenbud, a senior vice-president of IMG, said the surging sports market in China has made Wu one of the most marketable players of his generation.
IMG has been hugely successful in Asia. Besides Li, the company represents Japan's Kei Nishikori and South Korea's Hyeon Chung, and runs numerous ATP and WTA events in the region.
Wu turned pro in 2017 after a highly successful junior career, capped by a No 1 world ranking. Following his surprising run to lift the 2017 US Open boys' singles and doubles titles, he became the youngest Chinese to win an ATP event at the entry-level Shanghai Challenger last September.
Currently ranked No 334 in the world, Wu showed he belongs in a higher echelon by beating 86th-ranked Russian Evgeny Donskoy in the opening round of the Kunming Open, his latest ATP event, in April.
Wu has been a formidable member of China's Davis Cup team and will represent the country at the Asian Games this summer with an eye on competing at the 2020 Tokyo Olympic Games.
"Hopefully, I can crack the top 100 this year," he said.
"To survive on the highly competitive pro circuit is quite challenging. I won't rush on traveling too much for tournaments. It's important to pick the right event to fit my conditioning."
Unlike the generation of players developed in the traditional State-run training system, Wu and fellow young ace Zhang Zhizhen represent the new breed from a melded Chinese-Western program.
They've forged their careers with financial backing from their families, along with technical and logistical support from the governing body and marketing assistance from professional agencies.
It allows them to compete on a more flexible schedule, sign their own sponsors and solicit foreign expertise.
Citing more professional exposure, better coaching and conditioning, Zhang, 21, envisions a smoother ride en route to establishing a presence on the brutally competitive men's tour.
"I think we are in a better situation than our predecessors in terms of what it takes to become good professionals. Hopefully, we can work out better results," said Zhang, who achieved a career best by reaching the quarterfinal of an ATP 250 event in Shenzhen last September.
Chased hard by the youngsters, Wu Di, who became the country's highest-ranked man ever after reaching world No 140 in April 2016, said he is excited rather than worried about being overtaken by the new generation.
The improvement of Chinese men, highlighted by some impressive performances at home tournaments, has made the world take notice.
During his stay in Shanghai last year to compete at the ATP Rolex Masters, 20-time major champion Roger Federer said he saw a bright future for the likes of Wu and Zhang.
"For him (Wu) to play in a tournament like this, starting to play against the best, is what I did in '98, as well," said the Swiss great.
"I think having big tournaments like the Shanghai Masters will hopefully strengthen the future of Asian tennis," Federer added.
"I have always been a big believer in the talent from this continent."