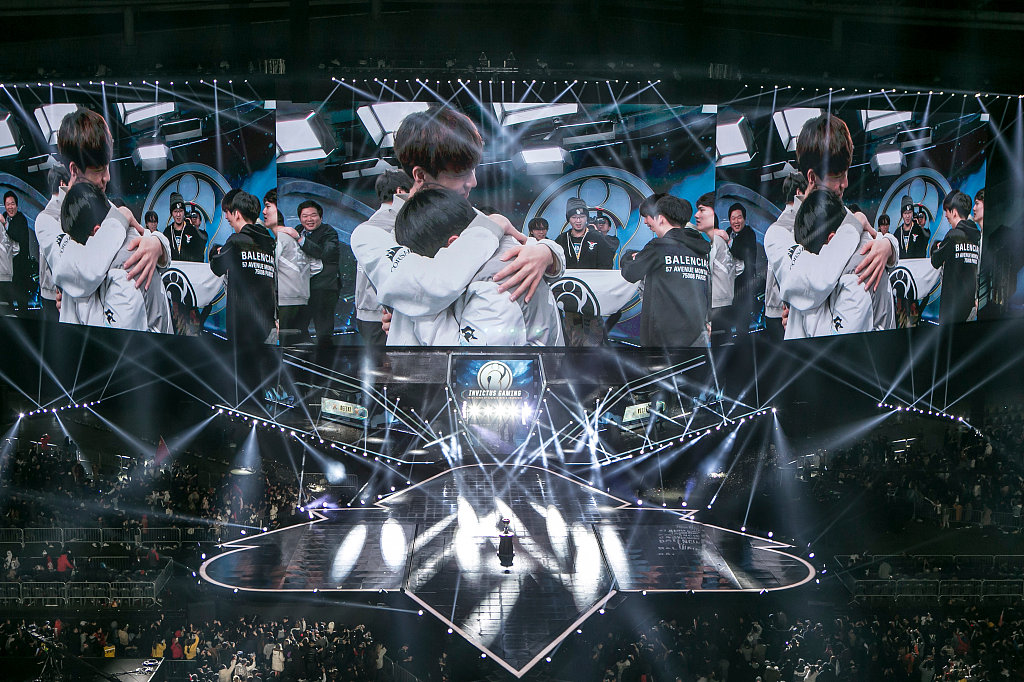 The rise of e-sports continues inexorably, with China positioned firmly at the vanguard of the global gaming revolution.

Indeed, the sector is drawing such staggering viewing figures that organizers of traditional sporting events would be well advised to avoid schedule clashes with major e-sports competitions.
The final of the League of Legends World Championship on Nov 3 in Incheon, South Korea, where China's Invictus Gaming defeated European club Fnatic 3-0 to win the title, became the hottest topic on Chinese social media.
News and discussion of the victory was viewed over 10 billion times on Weibo that evening, while a snapshot of the Twitter-like platform's top-50 trending topics showed 12 were related to the final.
It was the first time a team from China's League of Legends Pro League has won the title in the event's eight-year history, prompting emotional celebrations on stage.
The financial implications of the e-sports explosion are ginormous.
The sector's market value in China reached 5 billion yuan ($750 million) in 2017, according to the China E-sports Development Report, published by tech giant Tencent. It is expected to hit 8.48 billion yuan this year and 20 billion yuan ($3 billion) by 2020.
Last year, there were 250 million Chinese gamers and fans - a figure that is projected to rise to 300 million by 2020.
In 2016, China's e-sports income growth rate hit 56 percent, 4 percent higher than the global average.
Meanwhile, e-sports is becoming an increasingly attractive career choice.
There are an estimated 260,000 vacancies in the industry here, according to a report published by the Communist Youth League of China in May.
The demand, though, is not so much for gamers but for designers, coaches, tournament managers and broadcasters.
According to Tencent's findings, around a third of e-sports users in China would like to work in the industry, while about a quarter of parent players would support their children in finding employment in the sector.
The survey showed that jobs in broadcasting, promotion and game design were all more popular choices than becoming a pro gamer - only about a fifth of respondents chose the latter.
E-sports continues to quickly encroach on the mainstream, with its inclusion at this summer's Asian Games in Indonesia a resounding success.
China returned from Jakarta with two golds (in League of Legends and Arena of Valor) and a silver (in Clash Royale) from the six demonstration events to thrill fans back home.
The very real prospect of e-sports becoming an official medal event for the 2022 Asiad in Hangzhou, Zhejiang province, is one that has organizers, sponsors and fans licking their lips.
Olympic inclusion also appears likely. The International Olympic Committee continues to hint that's the case, with IOC president Thomas Bach this summer vowing to explore ways to work together.
"E-sports is no longer a subculture of kids playing games in basements," said Kenneth Fok, president of the Asian Electronic Sports Federation.
"It is true sport, practiced in a professional, systematic manner. And our athletes require the same physical and mental capacity as athletes in traditional sports.
"Our agenda is to push the Olympic agenda. This is our work. This is our passion, this is what drives us. When? I don't know, and I do not want to predict. It's a very good first step, and we will take down obstacles, step by step."
Professional pride
Nowadays, e-sports is a thoroughly professional industry, with an increasing focus on delivering the best experience for fans.
China's League of Legends Pro League (LPL), for example, has been using cutting-edge technology, such as augmented reality (AR), to enhance its live broadcasts.
The figures speak for themselves, with LPL games viewed over seven billion times during the first half of this year.
And, borrowing an idea from the traditional sporting world, the LPL is in the process of introducing a home-and-away system.
So far, five of the 14 clubs have been assigned a home city, with stadiums often full to capacity and local authorities welcoming the squads with open arms.
The arrival of Team WE to Xi'an, Shaanxi province, was marked by an elaborate ceremony staged by the local government, which offers numerous preferential policies to e-sports clubs and companies.
"We gained the full support of many cities," said Joses Zhu, a senior manager at Interactive Entertainment Group of Tencent, which owns the LPL.
"Now, if there are matches in those home cities, the seat-occupancy rate can easily reach 90 percent.
"The number is usually 100 percent in Chengdu, Sichuan province, which is home to the OMG club.
"Just like the NBA, when you speak of Los Angeles, people think of the Lakers. We want the same. We want e-sports to be the calling card of a city."
Winning hearts
As clubs rise, so do the players, whose popularity can fluctuate wildly based on their performances.
World champion Royal Never Give Up (RNG) is arguably China's most star-studded squad, spearheaded by hotshot Jian Zihao, aka Uzi.
After being revered for helping Team China to gold at the Asian Games and RNG to a breakthrough victory at the League of Legends Mid-Season Invitational in Paris in May, Jian is now being panned on social media because of RNG's quarterfinal exit at the worlds in South Korea.
Meanwhile, RNG is endeavoring to win more hearts through its charity work, with the latest beneficiaries poverty-stricken kids in an impoverished mountain region in Guizhou province thanks to an innovative initiative promoting healthy living.
The club challenged fans to run and use a smartphone app to map a route that looks like the letter 'R'.
In turn, RNG donated books to disadvantaged students, with 20,000 texts and 50 bookshelves sent to schools in the area.
The next plan is to establish permanent donation centers in universities, with several already earmarked for Beijing.
"In some of our charity activities we only had limited staff, but many fans volunteered to help us finish all the work," said Li Jieming, the club's chief marketing officer.
"The players cannot attend every charity event because of their busy schedules, so we were so touched that so many fans supported us."
Anecdotal evidence like that goes some way to debunking the stereotype of gamers as being withdrawn and antisocial.
Whatever the world thinks, however, it's certain that e-sports is here to stay.