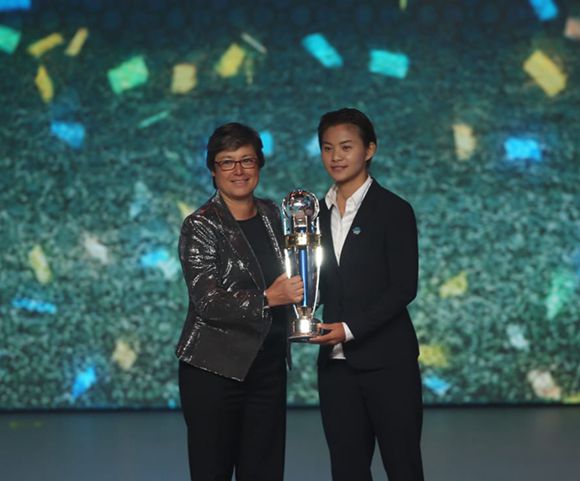 Wang Shuang became the fourth player from China to win the coveted AFC Women's Player of the Year at the AFC Annual Awards 2018 in Muscat, Oman on Wednesday.

Wang Shuang, who plays for Paris Saint-Germain in the Division 1 Féminine, claimed the award for the first time, following an impressive year at both club and international level.
"It is a total honour for me to receive this precious award. I would like to thank the AFC. It has come as a surprise, but this award is inspiration for me to do well next year at the FIFA World Cup in France. I want to thank all my teammates - both from my club and country.

"Of course, this has been a year of great results. To secure a move to PSG, to score in the UEFA Champions League and now to win this great award. But also, this year we played in the Asian Games and personally I do feel some regret that we were not able to do better," said Wang Shuang.

The 23-year-old was part of the China PR team who finished third in the 2018 AFC Women's Asian Cup in Jordan and played a pivotal role for the Steel Roses, scoring six goals at the 2018 Asian Games in Indonesia, where they finished second.
"This is a fresh new start for me playing in Europe and this is just the beginning. I do feel that this award will serve as boost to help succeed at the highest level.

"Football is a sport that stands for equality, I hope that this award will remind girls in Asia that if they have a dream, they should continue to chase that dream and to turn that it into reality."