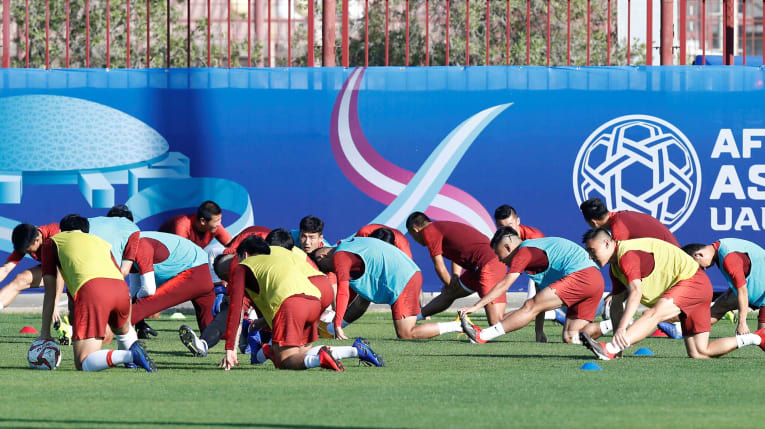 China head coach Marcello Lippi has challenged his team to become the surprise package of AFC Asian Cup UAE 2019, starting with their Group C match against Kyrgyz Republic on Monday.

The richly-experienced boss, who guided his native Italy to FIFA World Cup glory in 2006, acknowledged his side sits outside the group of pre-tournament favourites, but believes they are fully capable of a campaign to remember.
"It's very simple. Our target is to do our best and achieve a good result," said the 70-year-old, who also claimed the AFC Champions League with Guangzhou Evergrande in 2013.
"We know that we have prepared very hard for this competition for nearly 40 days, and we know that in a competition like this there are favourites like Korea (Republic), Japan, (Islamic Republic of) Iran and Australia, but in this kind of competition you always have a surprise team.
"So we really can become the surprise of this tournament, because it's now seven years that I have worked in China and I really want to give this big satisfaction to all the Chinese fans."
China, ranked 76th, are considered favourites to beat the Central Asians at Al Ain's Zayed bin Khalifa Stadium, but at least three players will be unavailable, with captain Zheng Zhi suspended and Lippi revealing the absence of forwards Wei Shihao and Xiao Zhi through injury.
"Unfortunately those two players (Wei and Xiao) will not be available for the opening match. They will be available for the second match," he declared.
"We knew that our captain (Zheng) would be suspended for the first group stage game against Kyrgyz Republic, so we have prepared very well in order to be ready for this without him."
Kyrgyz Republic are one of three sides making their debut in the competition but, despite their recent arrival to Asia's top table, Lippi believes he has all the information he needs on the newcomers.
"I watched many videos of the past six or seven matches they played recently, and I know the qualities of this team, their best players and their qualities, so we are well prepared. We know what to do and what we need to do to face them," he said.
"With today's technology you know everything about the other teams and I'm sure our opponent knows everything about us."
Meanwhile, Kyrgyz Republic head coach Aleksandr Krestinin believes his side are ready as they'll ever be for their first ever AFC Asian Cup Finals fixture.
Despite their lack of previous involvement at this level, the 40-year-old said four wins in six matches since September had given his side the best possible preparation.
"No one is born with experience, and we are gaining it step by step," he said.
"We had a quality preparation for the tournament, which started last spring as soon as we qualified for the Asian Cup."
"We had a few controlled friendly matches against very good opponents of a comparable quality with teams in the Asian Cup and, all in all, we are ready."
While the Akshumkar are participating in the Finals for the first time, their opponents are making their 12th consecutive appearance at the continental showpiece.
That, in addition to the presence of Lippi, has led to Kyrgyz Republic being the labelled the underdogs in Monday's clash, but Krestinin issued a reminder that match will be won and lost on the pitch.
"Obviously China has a very experienced coach who is a world champion, but he was not the world champion with China," said the Russian tactician. "We don't remember China winning anything in recent years."
"(Us not being favourites to win) is the opinion of the Chinese media, but the score is currently 0-0 and we will see what happens."
Kyrgyz Republic will be boosted by the return of defensive lynchpin Valerii Kichin, who has recently excelled for Russian Premier League outfit Yenisey Krasnoyarsk, but rarely featured for the national team in recent years.
Kichin admitted he knows little about his first AFC Asian Cup opponents, but insisted his side's fortunes would depend on their own performances.
"All I know about the Chinese team is that they are a strong, well balanced team," he said.
"I don't know any more than that, but we are going to play our game well and we only need to focus on ourselves."
"There are many leaders in this team. There are 11 players on the pitch and we all support each other. We are ready to play at the very highest level."