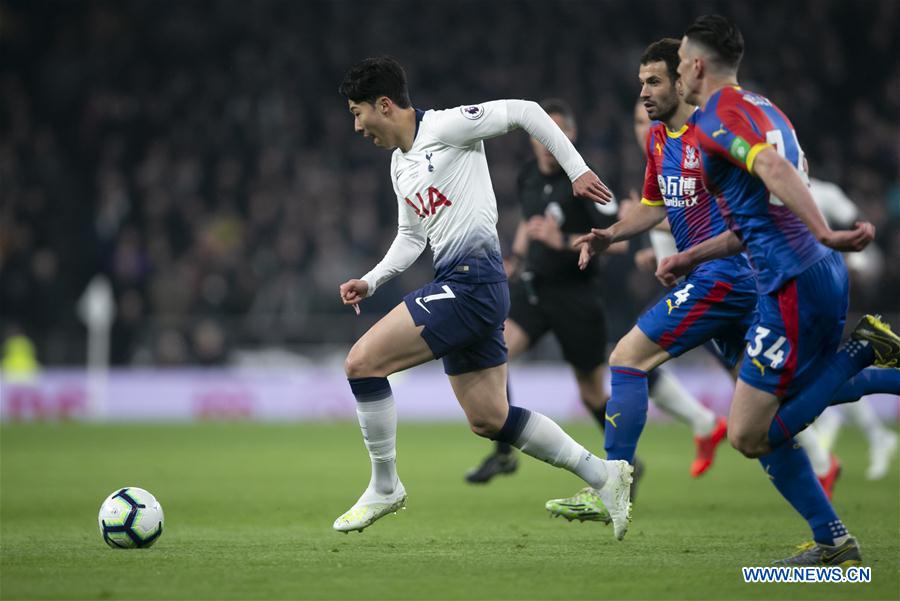 After decades of underachievement, Tottenham Hotspur is a club on the rise.
Last term, the Londoners reached their first Champions League final and secured a fourth straight top-four domestic finish to boot.
In Mauricio Pochettino, Spurs boast one of the most coveted managers in world soccer. Stars like Harry Kane and Son Heung-min have supplied goals and global appeal, while the club's gleaming new stadium stands as a monument to its growing financial clout.
Tottenham, therefore, heads to China in bullish mood for an International Champions Cup preseason clash against Manchester United at Shanghai's Hongkou Stadium on July 25. It's part of a two-stop Asian tour that Spurs view as a way of demonstrating the team's gratitude to its burgeoning fanbase here.
"The trip is an opportunity for us to say thank you to those fans that support us from a distance and so passionately," Tottenham executive director Donna-Maria Cullen told China Daily by phone on Monday.
"We think of Tottenham as a global family, and China loves its football. So we have really found with our success on the pitch and making the Champions League final that our fan numbers have grown exponentially there."
While still shy of the sort of popularity the likes of United or European champion Liverpool enjoy in China, Tottenham has been tenacious in its attempts to engage the public on social media here.
"We were the second Premier League club to launch on Weibo and the first one on short-video platform Douyin," said Cullen.
"We've just launched on Tmall and WeChat and will also launch on Toutiao, so hopefully our fans will have greater access to our merchandise. In total, we have an online community of over 2.3 million in China.
"Our 2019 Chinese New Year campaign was the club's most successful to date, reaching 15 million fans with over 8.5 million video views.
"A new regular Weibo studio show in Shanghai was also launched, while Harry Winks became the club's third player (after Kane and Dele Alli) to launch his own personal Weibo account."
Keeping tabs on China's grassroots soccer scene is another of Tottenham's strategies here. But unlike other European clubs, Spurs aren't convinced establishing academies in China is the best way to go about unearthing the next Wu Lei.
"We don't believe in the franchise model," said Cullen. "If we send coaches out, they are the same coaches that come from our central pool. So they are the same caliber of coach that has worked with a Harry Kane or a Harry Winks when they were at the Spurs academy. That ensures a really high level of tutelage.
"We've worked with the China Youth Football Development Program for several years, so we'll be doing that again this summer, and I think an added element to this tour for us is it's the centennial year of our shirt sponsor, AIA, a company that was founded in Shanghai.
"Together with AIA, we will permanently have three of our top coaches on the ground in Asia."
Having ended its two-season tenancy at Wembley in April, Tottenham can now resume its bid for a first top-flight title since 1961 in the new 62,000-seat, multi-purpose Tottenham Hotspur Stadium, which has opened to rave reviews on the site of its old White Hart Lane home in north London.
"We're looking forward to this season, having been homeless for the last two, so I think the new stadium is going to work for everyone - fans, the club, the staff and, more importantly, the players," said Cullen.
"It was always the third step in our business plan. We said we would invest in the first team, we would build a new training center, which we've done so we can attract the best talent of all ages, and that we'd then go for an increased-capacity stadium.
"You need the increase in match-day revenue to be able to compete in what is a very competitive transfer market and on the pitch, but I think the stadium does the club more than that.
"When we launched it, the launch went around the world. It's not just for football either - we'll see NFL, rugby and concerts played there, but also it's the start of something in the area in terms of regeneration."
And for any Chinese fans thinking of making the pilgrimage, the message is clear: "We'd love to see them here," said Cullen. "We had the Shanghai Supporters Group here last season and they got to meet Mauricio (Pochettino) and enjoy a match. Anyone coming out now is going to be able to take advantage of the fantastic facilities at the stadium and see the heritage that we've dressed it with."
For now, next week's showdown with United is the focus, with Cullen saying fans can expect to see Spurs' "strongest possible squad", including new club-record signing Tanguy Ndombele, who has arrived for 63 million pounds ($79 million) from Lyon.