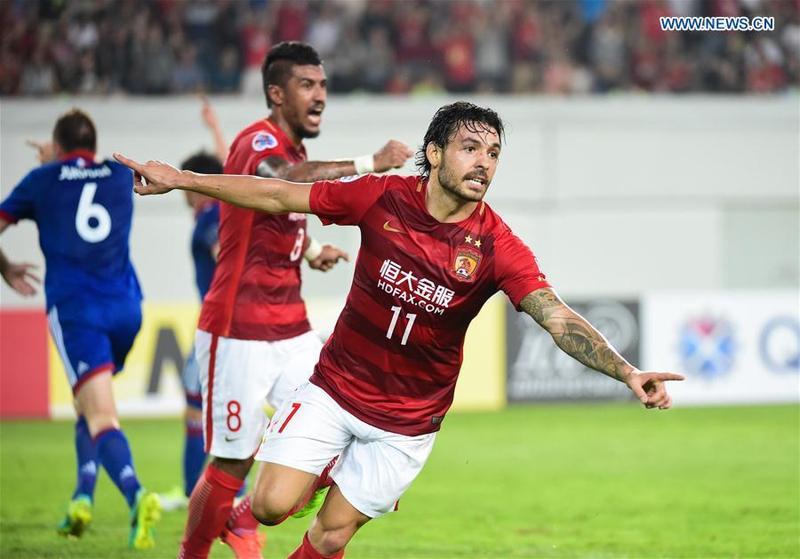 Team China could be ready to add yet another naturalized player to its ranks if the claims of Ricardo Goulart prove correct.

On Monday, the Brazil-born Guangzhou Evergrande star told media that he's ready to join Li Tie's squad, insisting he has already been granted Chinese citizenship.
"I've made all the necessary preparations to join the national team, and I'm waiting for Team China's call," said Goulart. "I may still have to finish some process in the next five months, but I'm waiting to join the national team."
Goulart has flourished in China since arriving at Guangzhou Evergrande in a 2015 transfer from Brazilian club Cruzeiro. The versatile attacker's prolific scoring, clever linkup play and all-round energetic performances have made him one of the most popular and successful imports in the Chinese Super League in recent years.
Now, he's hoping to deliver that flair up front for the struggling national side.
"I will play as a forward, which is an important position. From my perspective, each player of the national team should make contributions to the squad and each man is important to Team China as a whole. So I hope we can make the effort together and make our contribution," said Goulart.
"This is the first time in my life to experience a change of nationality. I'm happy to become Chinese and people here are very nice to me. So I'm enjoying living as a Chinese in this country."
Goulart's first three CSL seasons were nothing short of spectacular, with the Brazilian collecting three championship winner's medals with Evergrande and racking up goal tallies of 19, 19 and 20 across the respective campaigns.
However, a knee injury in 2018 put the brakes on Goulart's impressive run and he returned to Brazil to undergo surgery. The following year he suffered a more serious knee problem while on loan at Brazilian club Palmeiras, a setback which has taken him over a year to recover from.
He returned to China last May and was reportedly granted Chinese citizenship in July. He posted a photo of himself training with his Evergrande teammates on Sunday, accompanied by the message "Goulart is back"-strongly suggesting he is ready to make his long-awaited Evergrande comeback whenever the postponed CSL season is given the green light to start.
Taking to the pitch for Team China, however, may not be quite so straightforward for Goulart.
First and foremost, it remains unclear if Goulart meets FIFA's five-year residency rule in order to be eligible, given that he left China in October 2018 and only returned in May 2019 amid his injury woes.
His eligibility for Team China could also be compromised by a call-up to the Brazilian national squad for a 2014 friendly. It's understood Goulart is awaiting FIFA's ruling on both these matters.
If cleared to play, Goulart could become China's fourth naturalized player-and third of Brazilian origin.
Brazil-born Ai Kesen (aka Elkeson) and England-born Li Ke (aka Nico Yennaris) were added to the squad last year, while Brazil-born Luo Guofu (aka Aloisio) earned his first call-up for a training camp in Shanghai last month. Both Ai Kesen and Luo Guofu are teammates of Goulart at Evergrande.
Luo Guofu's first Team China training stint did not get off to the best of starts after the forward injured himself 29 minutes into a friendly against Shanghai SIPG. That has heightened fears among fans over Goulart's suspect knee, however the player himself insists he's "fully recovered".
"I injured my meniscus last year in the Brazilian league and I went back to China for surgery," said Goulart. "After a long time, I'm now fully recovered. I'm just waiting for the start of the CSL season.
"I looked a little bit fat on TV, but I'm in good shape now. I've been training to keep my body fit and maintain a healthy diet. This is very important for professional players and I'll keep doing so. If I get fat, my performance won't be as good as before."
As things stand, Team China faces a daunting task of qualifying for the 2022 World Cup finals with four more first-round qualifiers to play.
China is eight points adrift of Group A leader Syria and only leads third-place Philippines on goal difference. The eight group winners and four best second-place finishers will enter a second phase of qualifying.
The Asian Football Confederation (AFC) announced earlier this month that its 2022 World Cup qualifiers, which were postponed due to the COVID-19 pandemic, will resume this October and November. China is due to restart its campaign at home to the Maldives on Oct 8.
That leaves head coach Li with ample time to potentially add more naturalized stars, with another Brazil-born Evergrande player, Alan, seemingly in his plans.
"I had intended to include Alan in the training camp too, but sadly he is still in Brazil and could not return," said Li last month. "No matter if you are a naturalized player or a homegrown player, the door of the national team is open to all who want to serve their country."