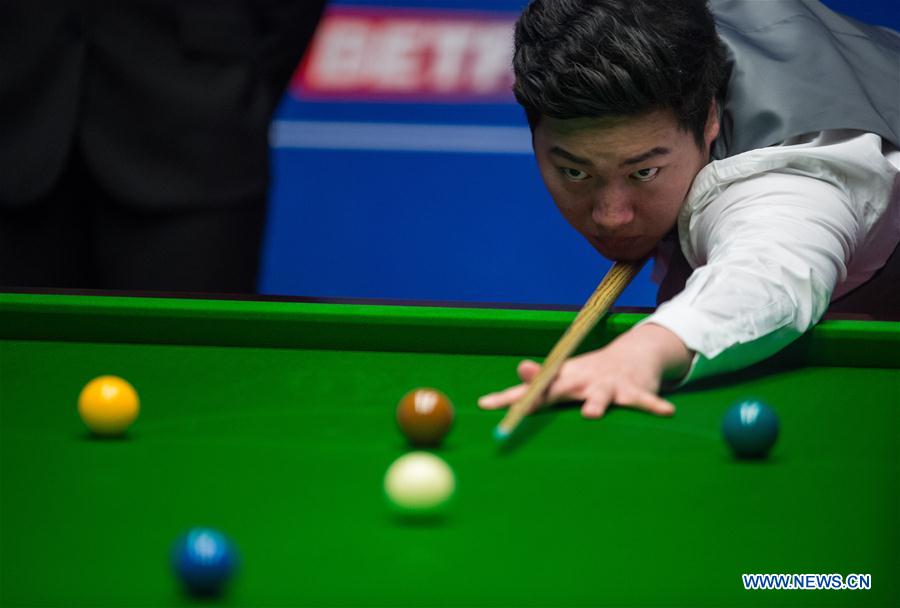 Ding Junhui has been China's undisputed number one snooker player since breaking onto the international scene in 2005, but that tag is now under real threat from 20-year-old prodigy -- Yan Bingtao.
Yan, 20, was crowned the youngest Masters champion since Ronnie O'Sullivan in 1995 at the age of 19, after sinking Scotland's former world champion John Higgins 10-8 in the English town of Milton Keynes.
The Chinese star rose to the occasion to see off the Scot, 25 years his senior, and claim the title in his debut appearance in a top-16-only ranking tournament on Sunday night.
Yan became only the second player from China to win the tournament, after 2011 winner Ding.
A star is born
The past week has seen Yan rapidly emerging as the golden boy of snooker. A 50-1 outsider at the start, Yan was given little chance in his first Triple Crown final, but proved he has strong nerves and great ability by edging three matches by a 6-5 score line on his way to the final.
World number 11 Yan rose to prominence as a 15-year-old, by winning the World Cup for China with teammate Zhou Yuelong.
In 2017, he came close to becoming the youngest winner of a ranking event, but was edged 9-8 in the Northern Ireland Open final by Mark Williams of Wales.
The year of 2019 represented a significant leap forward for Yan's standing in the game as he defeated England's Mark Joyce 5-2 to capture his first ranking title in Riga Masters.
Last year, Yan reached final of the Players Championship - where he was thumped 10-4 by former world champion Judd Trump of England.
What opponents say
Ronnie O'Sullivan:
"This is a very big match for Yan Bingtao, but I also think it is very big for Chinese youngsters. The players that are coming through and watching this, it could really propel them on to seek to emulate what he has done. Ding has been the only one really and we've been waiting for another Chinese youngster, but there are five or six around this age."
John Higgins:
"He was fantastic - he's got such an incredible all-round game. He's a definite world champion without a shadow of a doubt, China's lucky to have him."
Judd Trump:
"He (Yan) is very mature for his age and he doesn't go in for anything stupid. He takes his time and he has certainly got a chance of being world champion in the future."