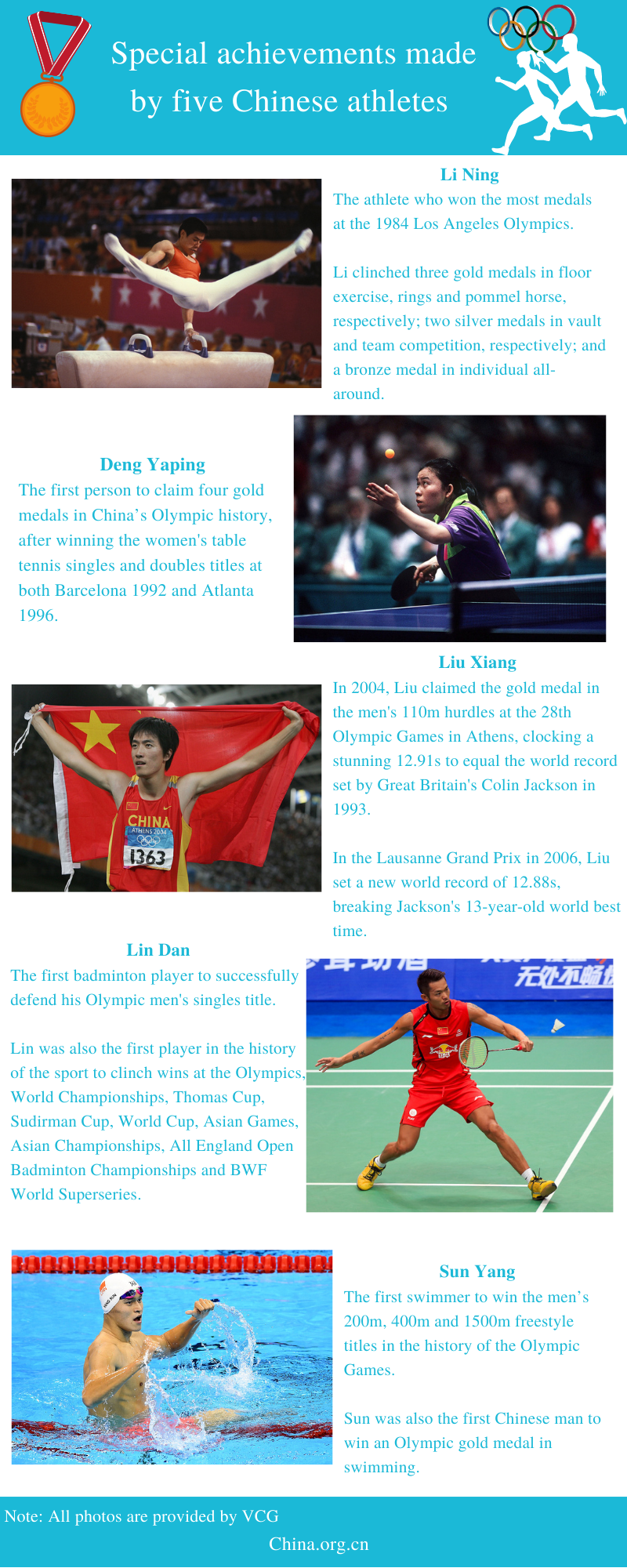 Editor's note: Over 400 Chinese athletes are competing at the Tokyo Olympics, which opened on July 23. While China's Olympians are showing the best of themselves, let's take a look at some of the special achievements made by five Chinese athletes at previous Games.

Li Ning:
The athlete who won the most medals at the 1984 Los Angeles Olympics.
Li clinched three gold medals in floor exercise, rings and pommel horse, respectively; two silver medals in vault and team competition, respectively; and a bronze medal in individual all-around.
Deng Yaping:
The first person to claim four gold medals in China's Olympic history, after winning the women's table tennis singles and doubles titles at both Barcelona 1992 and Atlanta 1996.
Liu Xiang:
In 2004, Liu claimed the gold medal in the men's 110m hurdles at the 28th Olympic Games in Athens, clocking a stunning 12.91s to equal the world record set by Great Britain's Colin Jackson in 1993.
In the Lausanne Grand Prix in 2006, Liu set a new world record of 12.88s, breaking Jackson's 13-year-old world best time.
Lin Dan:
The first badminton player to successfully defend his Olympic men's singles title.
Lin was also the first player in the history of the sport to clinch wins at the Olympics, World Championships, Thomas Cup, Sudirman Cup, World Cup, Asian Games, Asian Championships, All England Open Badminton Championships and BWF World Superseries.
Sun Yang:
The first swimmer to win the men's 200m, 400m and 1500m freestyle titles in the history of the Olympic Games.
Sun was also the first Chinese man to win an Olympic gold medal in swimming.
Note: All photos are provided by VCG.