Aug. 8 marks China's 13th National Fitness Day, a tradition that began in 2008 when China hosted the Beijing Summer Olympics and Paralympic Games. Fittingly, this year's theme not only promotes national fitness but also supporting the upcoming 2022 Winter Games in Beijing.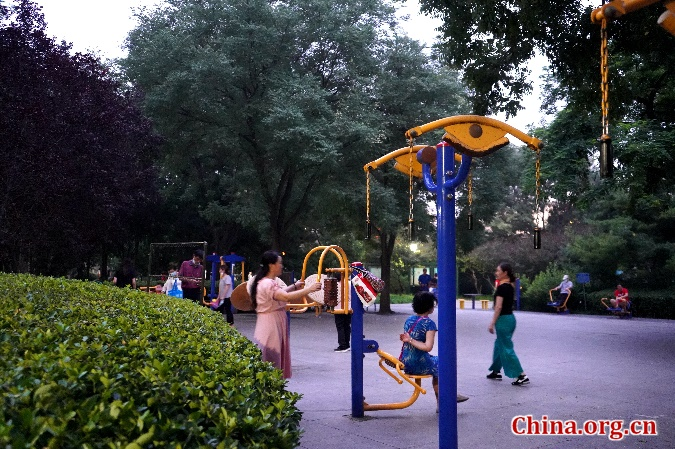 Due to concerns over a recent rise in COVID-19 cases, Beijing was forced to cancel or postpone all in-person public events celebrating National Fitness Day. However, there has been a number of races and fitness classes conducted online.
For instance, on Aug. 1, sign-ups for a virtual race opened through a WeChat platform, which participants can use to track the miles they run.
The last virtual race, which was held from March to July, attracted competitors to take part some 390,000 times along with 440 teams, China.org.cn learned from the Beijing Social Sports Administration Center on Aug. 5.
Likewise, a series of fitness classes were livestreamed between Aug. 6 and 8, covering a range of topics including the upcoming Winter Olympics, Health Qigong, yoga and dance, garnering around 4.6 million views.
With an eye toward fitness and the science that underpins it, an official from the center explained that National Fitness Day serves to encourage people to engage with scientific physical activity and improve their overall health and fitness.
Shortly before National Fitness Day, on Aug. 3, the State Council released a circular further promoting sports and exercise as part of the country's 14th Five-Year Plan (2021-2025).
According to the circular, by 2035, China plans to increase the percentage of people who regularly exercise to 38.5%, up from 37.2% in 2020.
It listed eight objectives, including advancing the guidance of fitness and hosting more public sports games and competitions, among others.
The circular also proposed improving public service systems for national fitness and ensuring that there's an average of 2.16 sports instructors for every 1,000 people.
According to the Beijing Social Sports Administration Center, by the end of 2020, the total number of social sports instructors in Beijing had reached 61,000.
Such instructors are responsible for providing the public with exercise and fitness guidance, teaching popular forms of exercise such as tai chi, tai chi rouliqiu, square dancing, and Health Qigong, while also sharing knowledge about ice and snow sports in the run-up to the Beijing 2022 Winter Olympics.
They've also been filming workout tutorials and conducting online classes during the COVID-19 pandemic.
Apart from online events, the Beijing Social Sports Administration Center said that while adopting coronavirus control measures, it will hold more sports competitions for the public and training sessions for social sports instructors, including football, basketball, volleyball, table tennis, badminton, swimming, cycling, skating and skiing later this year.