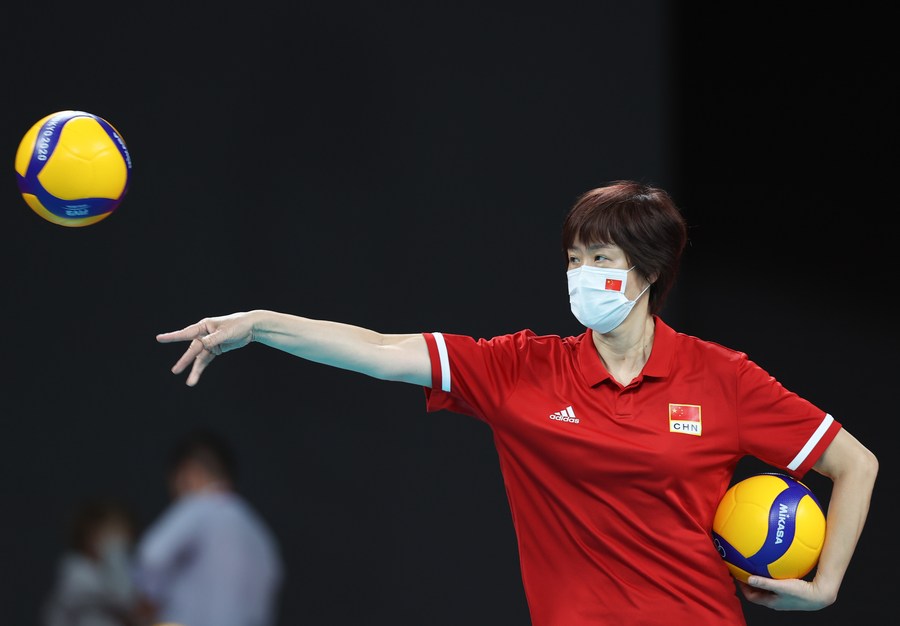 Lang Ping said Wednesday that she has stepped down as head coach of the Chinese women's volleyball team following its disappointing Tokyo Olympics campaign.
Chinese women's volleyball team concluded Tokyo 2020 campaign with two wins and three defeats, failing to make it into the quarterfinals, their worst Olympic record since making debut in 1984.
Lang apologized to the Chinese audience and reveled her willingness to quit on July 31 when the Chinese team salvaged their reputation with a 3-0 win over Italy.
Since 2013, the 60-year-old legendary coach has led China to win the Rio Olympics gold, two World Cup championships, one World Championships silver and one bronze.
"I had a lot of happiness over the years, although I am not satisfied this time, but regret is also part of life and a kind of experience that we have to face."
Lang underlined her enthusiasm for volleyball, but said it is not possible for her to coach the Chinese team forever.
"For so many years I couldn't spend some quality time with my family, I want make it up and enjoy the happiness from my family. Otherwise, it will be too late," she said.
Lang, one of the most famous Chinese volleyball players in the 1980s known for her fierce spikes, came back as head coach of the Chinese team again in 2013. The first time she took the post was in 1995.
"Relatively, we are not a strong side back to 2013, but through those years, through ups and downs, I've seen the growth of my players," said Lang, noting the once rookies but now pillars of the Chinese team, such as Zhu Ting, Yuan Xinyue and Zhang Changning, are all world-class players.
"Since then, every bit of our efforts has been rewarded -- We've been crowned in almost all of the important events, except the World Championships.
"Only this time (Tokyo Games), our efforts have gone unrewarded. It's not usual," she stressed, adding that she is still trying to figure out the reasons for their flop in Tokyo.
For Lang, Tokyo may see the end of her Olympic story, but for her team, it begins a journey to Paris 2024, which is expected to be a new high in their careers.
"They are still young, I've told them before our last match that this is your restart point for Paris," she said.
"What happened in Tokyo is a precious experience for those young players. I told them don't forget this. They need to remember the failure and find out how to recover when they encounter difficulties in the next Olympics."