And then there were eight... Croatia, Brazil, the Netherlands, Argentina, Morocco, Portugal, France and England remain from the 32 teams that kicked off the World Cup. The group stage and last 16 served up entertainment and drama in abundance, but the quarterfinals are where the real work starts. Here's a look at the mouth-watering matchups that await.
Croatia vs Brazil
Brazil let loose in a last-16 dismantling of South Korea to remind everyone why it was installed as the pre-tournament favorite. For anyone who bet on Tite's side, just as reassuring as Neymar's smooth return from injury was the team's ability to thrive without the services of Arsenal ace Gabriel Jesus, who will miss the remainder of the tournament with a knee injury. In a throwback to vintage Brazil sides, Tite's smiling assassins sliced their way through the Koreans with joyous precision, and then twisted the knife with some celebratory samba routines. Friday's clash against a street-smart Croatia team — the 2018 runner-up — is likely to be more chess than dance moves. "We still have many celebrations left, and hopefully we can keep scoring and dancing like this until the final," said Real Madrid star Vinicius Junior. Croatia midfielder Mateo Kovacic indicated his team will attempt to muscle Brazil out of their rhythm. "We are accustomed to very tough physical games in the Premier League and that's something that we want to show against Brazil," the Chelsea player said. "We want to show our technical quality too but we want to show our physical quality in every duel and in possession." That's easier said than done, however, and in Neymar, Richarlison, Raphinha and Vinicius Junior, the Selecao boast more than enough invention to crack the Croats, whose overreliance on the majestic Luka Modric grows more glaring by the match.
Netherlands vs Argentina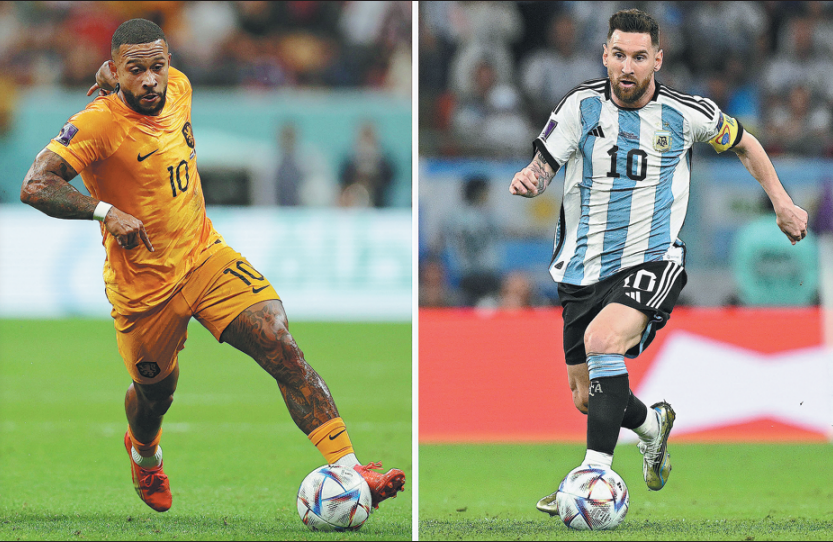 After battling cancer, Louis van Gaal is back to his belligerent best. Watching the stroppy Dutchman outwit media and opponents has been one of the unexpected joys of this tournament. "Write down that it's boring and that you're going home tomorrow because you couldn't care less," growled Van Gaal at one brave journalist. "I'm here until the final," responded the hack, before Louis had the last laugh: "Excellent, I'll see you there." Pure bravado or pure belief? The way the Dutch expertly picked off an albeit naive US team, one has to surmise the latter. Allowing the opponent to have the ball and playing on the counterattack against Argentina, however, is an altogether different proposition. How Van Gaal will try to minimize the threat of Lionel Messi and, at the other end of the pitch, maximize the talents of breakout star Cody Gapko makes this a fascinating encounter. Netherlands defender Virgil van Dijk was keen to debunk the perception that Argentina is a one-man team. "Argentina has many good footballers who can make a difference. They are players we must watch. That's what we're going to do," Van Dijk insisted. The Liverpool man was likely to referring to Julian Alvarez and Enzo Fernandez. The late injury withdrawal of Giovanni Lo Celso before the tournament had deprived Argentina of a key midfield cog, however the promotion off the bench of Fernandez following the shock opening defeat to Saudi Arabia has oiled the wheels again, thereby enabling Messi to weave his magic. If the 'Little Maestro' can dispatch the Dutch, then a possible blockbuster final showdown with Cristiano Ronaldo's Portugal draws enticingly closer.
Morocco vs Portugal
The Portuguese proved that the Cristiano Ronaldo soap opera can't cramp their style in the 6-1 annihilation of Switzerland. With the stifling presence of the 'Incredible Sulk' now banished to the bench, the shackles are off for the likes of Joao Felix, Bernardo Silva, Bruno Fernandes, Rafael Leao and Ronaldo's hat-trick hero replacement, Goncalo Ramos. Portugal's sumptuous brand of football against the Swiss was up there with Brazil's swashbuckling best. Portugal somehow rarely figured in people's pre-tournament predictions, which is all the more odd considering it probably boasts the best central defensive pairing at the tournament — Manchester City's Ruben Dias and Pepe, now of Porto. The 39-year-old Pepe is a veteran of four World Cups and Portugal's championship-winning team at Euro 2016, but his age-defying excellence is usually overshadowed by the Ronaldo roadshow. Portugal will need all Pepe's know-how to negotiate bigger tests that almost certainly lie ahead in Qatar. After outlasting an uninspired Spain in the last 16, Morocco deserves all the plaudits for its fairytale run. Paris Saint-Germain's Achraf Hakimi netted the Atlas Lions' winning penalty against Spain. As one of the finest rightbacks in the world right now, the rampaging Hakimi will no doubt spearhead another lionhearted effort against Portugal, but knocking out a second Iberian country seems a bridge too far for the north Africans. Just don't tell that to Morocco head coach Walid Regragui, who said: "No one is giving up. Everyone's playing with bandages, everyone is trying to raise their level of play and mentality. We succeeded in creating a family, and we feel there's a whole country behind us."
England vs France
Stopping or, more realistically, limiting the damage Kylian Mbappe inflicts is key to England's chances of reaching a third consecutive tournament semifinal. Mbappe looks to be on a mission in Qatar, topping the Golden Boot standings with five goals and generally lighting up the tournament with his turbo-charged attacks. Pacy England rightback Kyle Walker is being billed by the English press as the man to put the brakes on Mbappe, and the Manchester City defender has bullishly — and probably foolishly — called out the superstar in the prematch buildup. "I am not going to roll out a red carpet for him and tell him to go and score," said Walker. "I'm representing my country at the quarterfinal in a World Cup, it's do or die really. If we lose, we go home. He's not going to stand in my way of winning a World Cup for my country." Rather than relying on Walker's intervention, England will hope to deprive Mbappe of service from midfield, where the Three Lions match up very favorably against Les Bleus. Without the injured Paul Pogba and N'Golo Kante — two stalwarts of the 2018 World Cup triumph in Russia — Aurelien Tchouameni has been France's most solid midfield performer so far, and the Real Madrid star is now set for an intriguing battle with Jude Bellingham. The 19-year-old Bellingham is possibly the most gifted player to pull on an England shirt since Paul Gascoigne. And, judging by his post-match interviews, the Borussia Dortmund prospect appears better equipped mentally to handle the pressures of stardom than the troubled Gazza. Bellingham completely ran proceedings against Iran and Senegal, and if he can manage a repeat performance against France, then the likes of Bukayo Saka, Harry Kane and Marcus Rashford might just have enough guile up front to dethrone the defending champion.