Winter sports enthusiasts are enjoying some of the top-flight venues used at the Beijing 2022 Olympic Winter Games, thanks to rapid rail services and the recent optimization of COVID-19 management measures.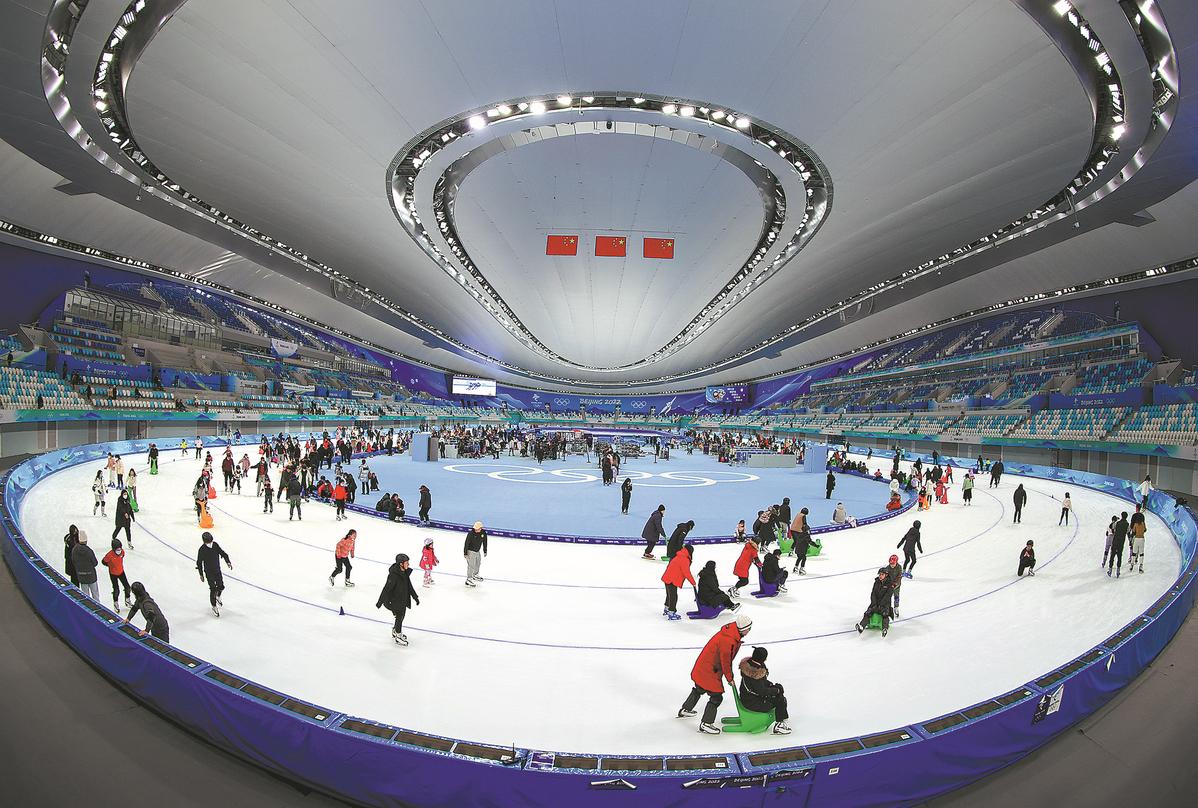 Saturday marks the first anniversary of the opening of the 2022 Beijing Winter Olympics. The Games' popularity made Chinese people more familiar with ice and snow sports and they have discovered their own passion for such sports.
The high-speed railway line, with a top speed of 350 kilometers per hour, linking Beijing and Zhangjiakou in neighboring Hebei province, has helped enthusiasts access winter sports venues.
Zhangjiakou, which co-hosted the Beijing 2022 Games, held most of the freestyle skiing and snowboarding events at the Winter Olympics. Yanqing district in Beijing's northern suburbs was also a major competition zone.
Passengers can take the bullet train from downtown Beijing to Yanqing in half an hour and to Zhangjiakou in just over an hour.
Since the start of the year, several packed bullet trains have left downtown Beijing daily for ski resorts in Taizicheng and Chongli in Zhangjiakou.
From Jan 1 to Jan 27, the Beijing-Zhangjiakou High-Speed Railway recorded about 80,000 passenger trips from the capital to Taizicheng and Chongli, according to China Railway Beijing Group, the regional railway operator.
A traveler, surnamed Hu, from Guangzhou, Guangdong province was one of the frequent passengers. On Jan 25, he took the bullet train from Beijing to a ski resort in Chongli.
"I took the bullet train between Beijing and Zhangjiakou to ski about four to five times. It takes about an hour to get there. It is also very convenient to check the ski equipment at the station and collect it upon arrival," he said.
An increasing number of passengers have taken bullet trains from Beijing to Zhangjiakou since the beginning of the year, especially during weekends, according to the company.
During the 40-day Spring Festival travel rush from Jan 7 to Feb 15, railway stations in Beijing had a peak-time schedule to meet the surge in passenger demand, the company said. "Our station not only serves skiers from Beijing, but also accommodates winter sports enthusiasts from all over the country, including Shanghai, Shenzhen (Guangdong province) and Harbin (Heilongjiang province)," said Wang Xiaoyong, head of Qinghe Railway Station in downtown Beijing, adding that more bullet trains are in service to meet the rising the number of passengers.