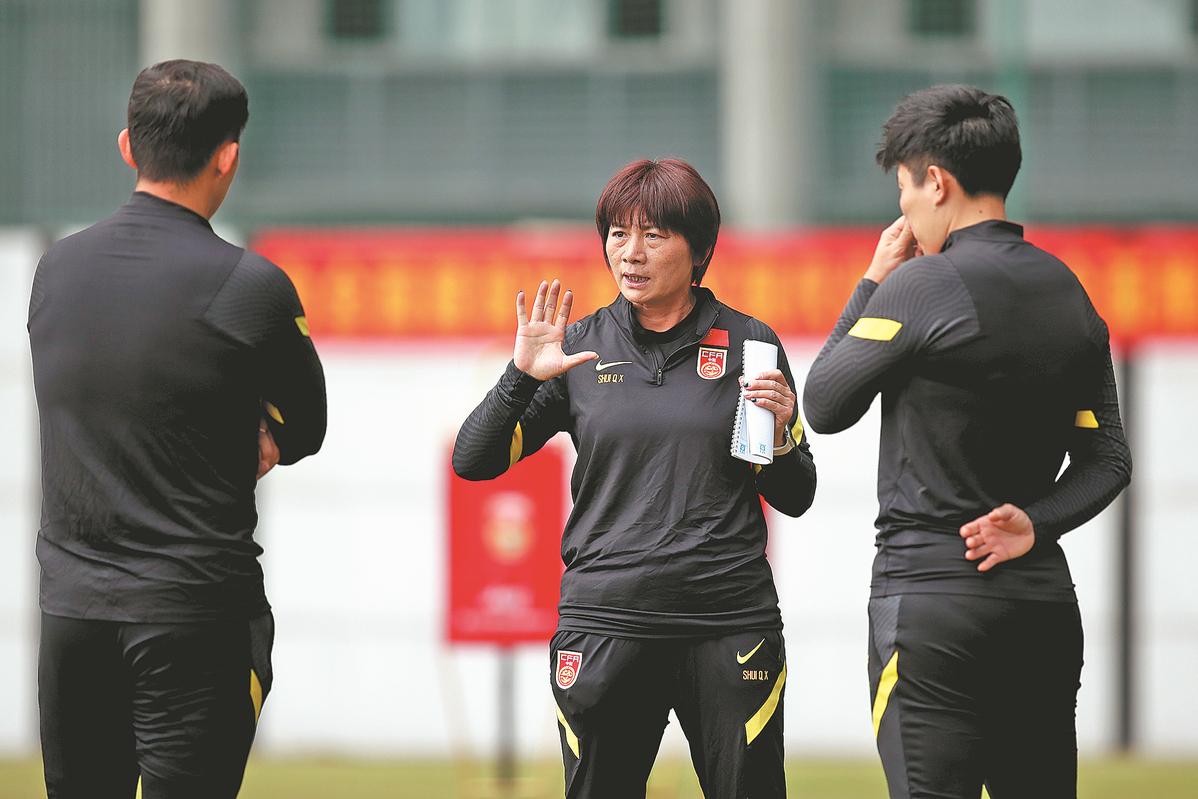 China's women's soccer team is looking forward to making its mark at the 2023 FIFA Women's World Cup this summer in Australia and New Zealand, but the Steel Roses are well-aware of the challenges ahead.

The squad's head coach Shui Qingxia hopes the squad will find "its place" among the world's elite.
"I also hope friends from the media and our fans understand Team China's current position in the world. Being a top team in Asia doesn't mean we are strong enough to beat the world's top teams, but we are certainly capable of delivering a surprise result," Shui told Xinhua.
"The victory at the Asian Cup last year only proved that, with hard work, we give ourselves a better chance of victory. But, generally speaking, we are not among the world top teams. It is a long process of growth. There will be successes and there will be defeats. The most important thing for us, however, is to see the gap and move forward."
Team China started its training camp late last year. After a short break during the Spring Festival in January, the team regrouped in Guangzhou before leaving last weekend to play a series of friendly matches in Spain.
The Steel Roses won their first friendly 2-1 against Real Betis on Tuesday, after which they will play the Swedish national side on Friday, Sporting de Huelva on Sunday and the Republic of Ireland next week.
"We haven't played many international matches in the past year due to the pandemic. This is the first time for me, as the head coach of the Chinese team, to face European teams. Through these high-quality matches, we can find out if our preparations are sufficient enough for the World Cup and identify areas where we can improve. That is very important," said Shui.
Shui took over the coaching role for the Steel Roses in 2021, following the team's disappointing group-stage elimination from the Tokyo Olympics. The 56-year-old made an immediate impact, by steering the team to Asian Cup glory last February, which ended a 16-year wait, and then to victory at the East Asian Football Championship five months later.
Team China's best result at the World Cup was as runner-up in 1999.However, with the rapid development of women's soccer, especially in Europe, China's team is no longer a dominant force on the world stage.
The Steel Roses' last-16 finish at the 2019 FIFA Women's World Cup in France showed just how far Chinese women's soccer has fallen behind the game's elite nations. Some tough challenges await Shui's squad in the coming World Cup, as its Group D rivals include current European champion England and a highly rated Denmark team.
"This time we are certainly hoping for a better performance. We set a higher goal of reaching the last eight, as it will give us more motivation. There will be no easy game. We will have to give it our all in every game, no matter the opponent," Shui added.
A key focus of Shui's coaching team over the past few months has been improving the team's physical strength, in a bid to give her players a better chance against their streetwise European rivals.
"We watched many matches of the recent European Championship and previous World Cup. Our players' sprint ability on the pitch is weaker than our European rivals, as well as our players' strength. Our players are smaller and we have no advantage in physical contact," Shui told China Central Television.
"We have had some training in these aspects, but it is far from enough. At the very start of winter training, it's normal for the players to have a hard time during training. Our job is to give them guidance and encourage them.
"They will be happy and have more confidence when they realize that their legs are stronger and they have greater physicality... I still remember the first day when our fitness coach arrived at the training camp, and he instantly pointed out that our players were not strong enough and that there was a lot of room for improvement. Some of our players weighed just over 40 kilograms."
An effective way to facilitate the growth of the women's game in China is to encourage more young talent to play in more competitive foreign leagues. Currently, a total of 14 Chinese women's players are plying their trade in foreign leagues, and for this week's friendlies, five of them reunited with Team China. The priority for the head coach is to make sure that all the players cooperate well, and as quickly as possible.
"Some of our players, due to travel and club procedures, have not had systematical training recently. I do worry about their condition. It's a test for us whether or not they can fit into the team and be a positive influence," said Shui.
"However, I have no regrets in encouraging them to go and play abroad. This is what I believe is right and it will benefit the sport's development in the future."
Another area of focus for Shui is using the friendlies to assess the potential of the younger players in the squad.
"Certain young players excelled in the practice, but they need to overcome the anxiety caused by the upcoming matches. If they can perform well, these youngsters will have a chance to go to the World Cup. I hope that we have more young faces in the squad when we go to Australia, it will be good for the team," Shui added.