After almost a three-year standstill due to the pandemic, China's road-running sector is picking up speed again with event organizers and athletics' national governing body primed for a robust recovery.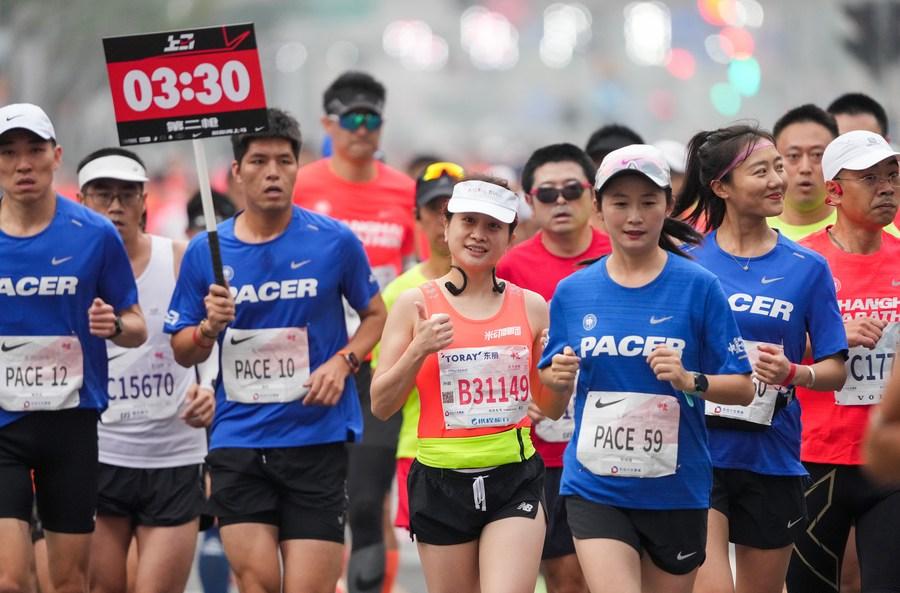 With races back on schedule, runners lacing up and travel restrictions eased, China's long-distance running community is finally emerging from the shadow of the COVID-19 pandemic, which took a heavy toll on the booming marathon industry in the country over the past three years.
Since last week with the return of the Shenzhen Marathon in southern China's Guangdong province, at least 43 road-running events, including full-length 42-kilometer marathons, half marathons and mini races, have been scheduled through April 30, according to the Chinese Athletics Association's calendar released on Feb 10 — an encouraging sign of a strong recovery from the hiatus.
"As it gets warmer, spring is coming back and so is enthusiasm for running events across the country," Shui Tao, deputy secretary-general of the CAA, said on Wednesday during a media conference in Beijing to launch the 2023 Fairy Coast Haiyang Marathon.
"The adjustment of the pandemic control policies as part of a national strategy is a major boost that has been anticipated for so long.
"Yet we had a very tight deadline for event registration for the first half of this year since the policy change happened last month.
"For the second half of this year, we are expecting a huge increase in the number of events and the entire industry is set to boom with a fast pace for sure," he said.
The bustling scenes of over 20,000 runners jogging, smiling and celebrating at Sunday's Shenzhen Marathon in the southern metropolis showed Shui's optimism is well-founded and was a far cry from not so long ago when races were delayed or canceled as the country tightened policies to avoid mass gatherings and minimize travel.
The pandemic hit China's burgeoning road-running sector at its all-time high, underlined by a record total of 1,828 long-distance races held in the Chinese mainland in 2019. Over the next three seasons, event operators and promoters saw the majority of their revenue streams — from registration fees to sponsorship and government funding — all dry up.
The business restart has met surging public demand for well-organized races that cater to large fields after enthusiasts had to turn to individually engaged online versions for so long.
After a three-year hiatus, Wuhan Marathon is scheduled to return to the Hubei provincial capital with a 26,000-strong field on April 16.Within three days of online registration opening, over 91,000 sign-ups were filed, leaving applicants with an approximately one-in-three chance of grabbing a race spot in a lottery.
"It's been so long since we could run in large groups and compete against each other on city streets. The demand for decent marathon races is really high and we cannot wait to hit the course as soon as possible," Wu Qianyi, a running enthusiast, said at the launch of the Haiyang Marathon.
The Haiyang race, first organized in 2016, will return to the coastal city in Shandong province on May 21 with a 10,000-strong field after being put on hold for four years.
With stunning coastal views along its almost completely flat course, the Haiyang race offers runners a great opportunity to push for personal bests, while the event's generous plan to reward 20 percent of all participants with cash prizes adds to its appeal.
"We hope to make a strong return by providing runners with comprehensive and attentive services and safety measures, allowing them to enjoy running on our fairy coast so that they'll want to come back right away," said Jiang Dan, mayor of Haiyang.
Encouraged by a national guideline on stimulating domestic consumption to boost the economic rebound, more second- and third-tier cities across the country are keen on taking advantage of the marathon revival to promote local attractions at a time when domestic tourism is projected to witness a surge, according to experts.
"The sports industry is expected to be one of the consumption sectors to recover strongly after the peak of the pandemic, and the marathon is an event that takes the lead," said Wang Yuxiong, director of the sports industry development research center at the Central University of Finance and Economics.
"The resumption of races will also boost consumption in relevant business sectors, such as sports gear sales, training and accommodation," he told 21st Century Business Herald last week.