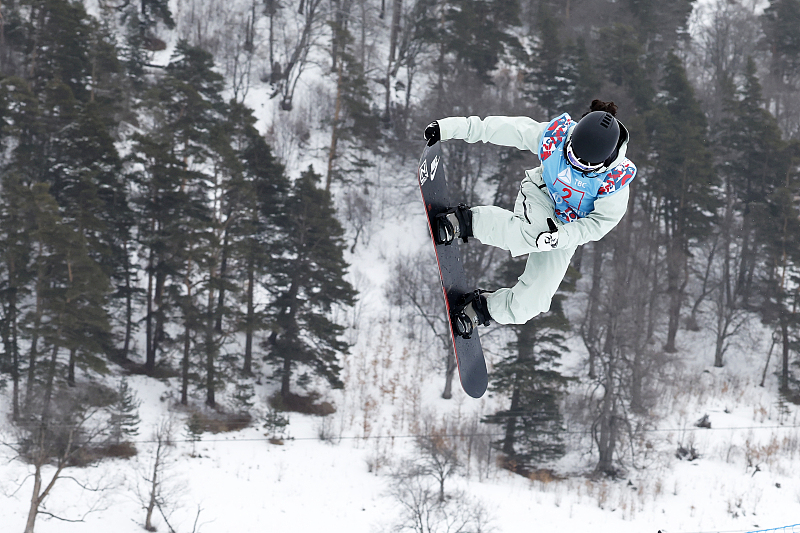 Xuetong Cai wins the gold medal during the FIS Snowboard World Championships Men's and Women's Halfpipe in Bakuriani, Georgia, on March 3, 2023. [Photo/cfp.cn]

China's veteran snowboarder Cai Xuetong proved her longevity on the sport's highest level on Friday after becoming a halfpipe world champion six years since her last win on the same stage.
Cai, a four-time Winter Olympian, stomped five high-flying jumps with quality on her first run in the final to score 90.50 points, which proved too good to match for the rest of the field, and secured her third title in the discipline at her sixth appearance at the world championships at Bakuriani, Georgia.
Canada's Elizabeth Hosking finished second with 85.5 points while Japan's Mitsuki Ono settled with bronze with 83 points in the final, where each of the eight qualifiers took three runs with the highest-scored one counted.
"It's quite a challenging condition for the practice, but I just moved forward and got it done. I'm so happy," said the 29-year-old Cai, who had won twice at the worlds in 2015 and 2017 before this year's edition in the eastern European country.
Cai's younger teammates Yang Lu and Wu Shaotong finished fifth and sixth respectively in the final, demonstrating China's collective strength in the discipline, which involves riders performing aerials tricks after launching themselves skyward off a long semicircular ramp. Judges score performances based on trick execution, variety, amplitude and creativity.
It was Cai's third podium finish so far this season after she opened her 2022-23 campaign with a bronze medal at the Winter X Games in Aspen, Colorado, in January, followed by a runner-up finish at the World Cup series' Mammoth Mountain leg in California last month.
As one of the medal favorites at her home Olympics last year, Cai finished fourth in the final to mark her best result at the Games at Beijing 2022, yet she revealed after her fourth Olympic journey that she's not done yet chasing her dream to win an Olympic medal.