With roughly six months to go until the 19th Asian Games in Hangzhou, Chinese athletes are seizing every second in their preparations for the sporting showpiece.
For China's all-conquering table tennis squad, anything but repeating its haul of five titles at the 2018 Asian Games in Jakarta, Indonesia, will be considered a failure.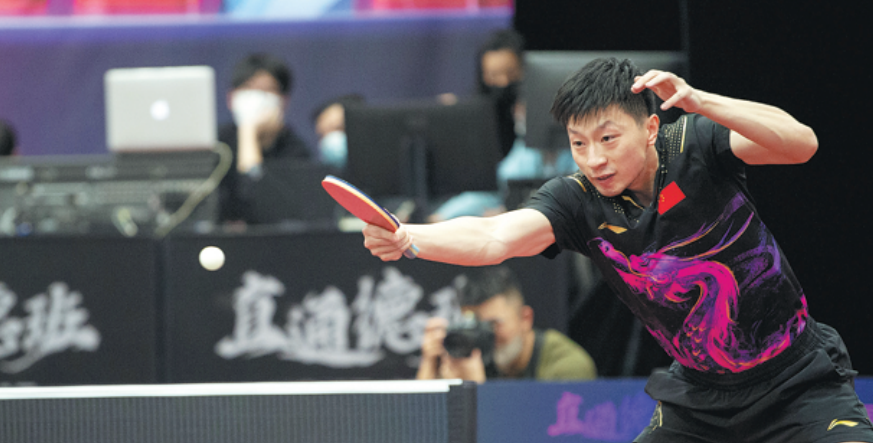 Prior to the Asian Games, which take place from Sept 23-Oct 8, Chinese paddlers face another tough test — the World Table Tennis Championships Finals, from May 20-28 in Durban, South Africa.
"The two major tournaments this year offer us opportunities to observe and select suitable players for our Paris 2024 campaign," said Liu Guoliang, president of the Chinese Table Tennis Association.
China has won 32 out of a possible 37 gold medals since table tennis debuted at the Olympic Games in 1988.
The legendary Liu, a multiple Olympic and world champion in his playing days, said that China is strongly in contention for another golden clean sweep next year in Paris, although admitted the challenge is huge.
"The key is to select the strongest squad and players that can handle the pressure," said Liu.
The Chinese diving squad, another perennial dominant force on the Olympic stage, held a test competition at the end of February to fine-tune athletes' form ahead of the new season.
"Hopefully there will be more competitions and I can win more titles in the new season," said Olympic and world champion Chen Yuxi, who triumphed in the women's 10m platform competition at the test event.
In addition to the World Aquatics Diving World Cups in Xi'an, Montreal and Berlin, Chinese divers will also compete at the World Aquatics Championships in Fukuoka, Japan in July and the Hangzhou Asian Games.
"Due to the tight schedule, mentally we need to make comprehensive preparations and adjust our athletes to the atmosphere of major tournaments," said team manager Zhou Jihong.
Building momentum
Several Chinese athletes who compete overseas have also produced performances that bode well for the forthcoming major championships.
At the International Gymnastics Federation's World Cup in Doha this month, Olympic champion Liu Yang grabbed gold in the men's rings discipline after recovering from injury.
"My main target this year is the Asian Games, where I hope to win the team and rings gold medals," said Liu, who had not taken part in any international competitions since the Tokyo Olympics.
For rising tennis star Wu Yibing, who was born and raised in Hangzhou, the will to win Asian Games gold appears to be even stronger.
Wu shot to fame in February when he claimed the Dallas Open title, becoming the first Chinese player to lift a singles trophy at an ATP Tour tournament.
"Since I'm a Hangzhou native, I hope to win the gold at home," said the 23-year-old, who finished runner-up at the 2018 edition of the Asian Games.
Equestrian rider Alex Hua Tian, who is set to make his third Asian Games appearance in Hangzhou, savored a "big win to start a big year" after topping the podium at a CCI level-4 event last month in Montelibretti, Italy.
"There is a lot to do this year with individual and team Olympic qualification as well as the Asian Games and it is a huge relief that all of my own, my horses' and team's hard work over the winter is paying off," said the 33-year-old.
"This is just the beginning of the season, there is still a lot to do. The most important thing is to take heart but stay composed and keep working hard."
Liu Qingyi, who pocketed silver at the 2022 WDSF World Breaking Championships last October, continued her fine form with a resounding victory at the Breaking for Gold World Series 2023 in Japan, the sport's first Olympic points event this year.
The 17-year-old beat home favorite and world champion Ami Yuasa in a tense final in Kitakyushu.
Liu's target this year is qualification for the Paris Olympics, but she's already dreaming of a podium finish at the Asian Games.
"I hope I can secure an Olympic berth as early as possible this year so I can prepare some 'secret weapons' for the Games," she said.
With China's first-ever long jump world title under his belt, Wang Jianan hopes to build on his feats last year to deliver his best at the Asian Games, while women's javelin Olympic champion Liu Shiying is aiming for a similar trajectory.
Hoop dreams
On the basketball court and on the soccer pitch, China's women's teams are both looking forward to their 2023 campaigns.
China won a silver medal at the FIBA Women's World Cup in 2022, equaling its best result in the global hoops showpiece, with Zheng Wei named the tournament's best coach.
With the Women's Asia Cup and the Asian Games looming, Zheng cautioned against overconfidence despite her squad's encouraging recent progress.
"We have already set a new goal for the team after the World Cup. We are not a strong side despite winning silver at the World Cup," Zheng told Xinhua.
"Everything will start from scratch when we step off the podium. We need to have this mentality at every major tournament in the future, and hopefully we can make it happen in Paris," she added.
Things are also looking up for China's 'Steel Roses' soccer team, who last year won its ninth AFC Women's Asian Cup after a 16-year wait.
Head coach Shui Qingxia is targeting a run to the last eight at the 2023 FIFA Women's World Cup in Australia and New Zealand. The quadrennial tournament is the first of three major competitions for China this year, with the Asian Games and Olympic qualifiers to follow.
Like Zheng, Shui is keeping her players grounded, yet still hungry for more glory.
"Winning the AFC Women's Asian Cup doesn't necessarily mean that we are a powerhouse in women's soccer," said Shui. "Physically speaking, we are still lagging behind the top European teams. Despite the challenges, we never give up chasing our dreams."