Building on the success of Beijing 2022, China's new sports minister has pledged to take winter sports' popularity to the next level by tapping into potential in schools and the mass fitness sector.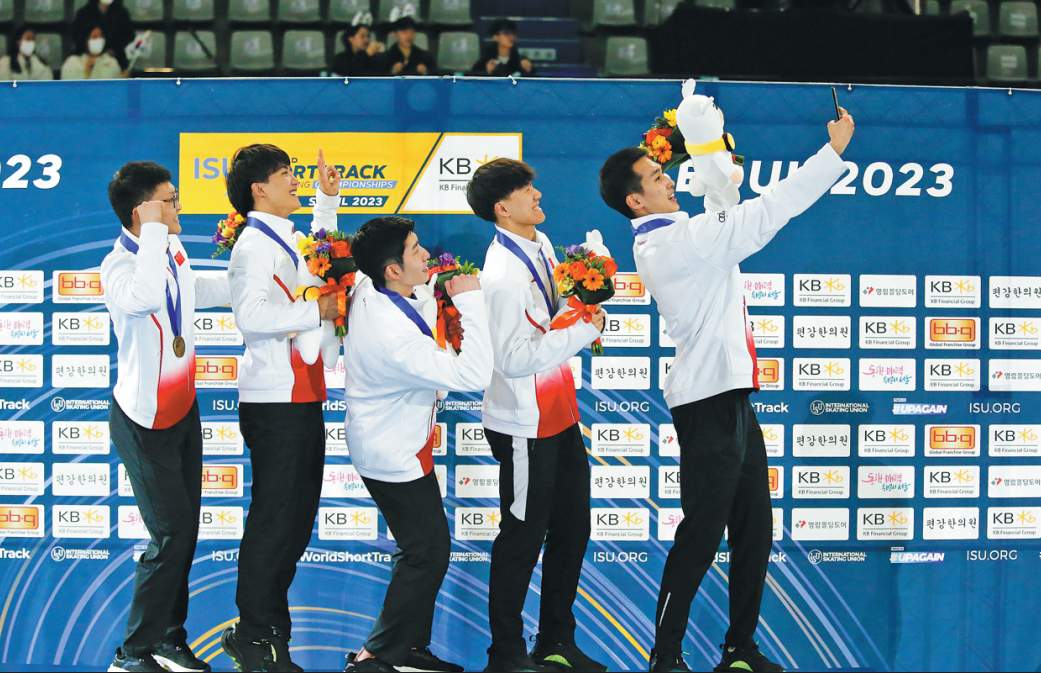 With winter sports' profile already at an all-time high in China thanks to the boom triggered by the home Olympics, the country's central sports governing body is still pushing for greater participation in ice and snow activities by taking full advantage of Beijing 2022's rich legacy.
"In the post-Games era, we have to continue to carry out the project of winter sports promotion, especially in the southern and eastern provinces, to cement Beijing 2022's impact of already involving 300 million people," Gao Zhidan, director of the General Administration of Sport of China, said on Sunday at the first session of the 14th National People's Congress.
"Even though it has already yielded rich dividends, Beijing 2022's legacy could be further exploited to cover a wider section of the population. By doing so, we need to organize more diversified winter sports events in a more accessible way," said Gao, an NPC deputy who was appointed chief of the top sports body in September last year.
Inspired by their home team's record medal haul of nine golds at Beijing 2022, sports enthusiasts in China have embraced ice and snow events as fashionable pursuits, highlighted by the bustling scenes at skating rinks, ski resorts and winter sports carnivals across the country during the Spring Festival holidays.
Official Beijing 2022 competition venues, such as the National Speed Skating Oval in downtown Beijing and Genting Ski Resort in co-host city Zhangjiakou, Hebei province, have become tourist hot spots. The Olympic-standard rinks and slopes that impressed the world's best athletes are now serving the Chinese public for fitness and fun.
According to GASC statistics, 346 million Chinese people participated in winter sports and related activities at least once by the time Beijing 2022 opened last year.
Sports authorities and promotors won't rest on their laurels, though, Gao stressed.
"We will continue to pool the resources of local governments to introduce policies and measures to support the development of winter sports and spur domestic consumption for the industry," he said.
"We'll strive to let the general public reap the benefits of the rapid growth of winter sports, which will in turn boost the country's economic and social development."
The next move, according to Gao's proposal, will be collaborating with the country's education authority to add more winter sports fundamentals to physical education curricula in schools and recruit more retired athletes and coaches to campuses as full-time PE teachers.
The GASC will also keep working with the Ministry of Finance to provide subsidies totaling 1.08 billion yuan (about $157 million) to support about 2,500 public sports venues, including winter sports facilities, this year. These subsidies will allow venues to open to the public frequently for free or at a low cost, according to Gao.
"It's critical to make facilities accessible to sports enthusiasts to experience winter sports as conveniently as possible — the closer to their doorsteps the better," he said.
Joining Gao's call for more thrills and chills on campus during the NPC session was Olympic champion short-track speed skater Ren Ziwei, who also attended the top legislature's annual meeting as a deputy, representing his native Heilongjiang province.
Having first started skating training at the age of 8 on an outdoor rink, Ren had to sacrifice a lot of his academic studies to focus on athletic pursuits, similar to most of his peers developed in China's State-run sports system.
"I hope kids nowadays can develop their interest in winter sports on campus, not necessarily having to seek professional coaching elsewhere," said Ren, who helped the host team win the 2,000m mixed relay at Beijing 2022 on Feb 5 before claiming his first individual Olympic gold medal in men's 1,000m two days later.
"Schools in northern provinces could work with nearby resorts or skating centers to take PE classes on ice and snow. We as athletes are eager to get more involved in campus-based winter sports promotional events as well," added Ren, who is taking a season off from international competition following his Olympic exertions.
As Ren was making his voice heard last week on the political stage, his teammates were busy carrying on the winning momentum to do their country proud on the international stage.
Relying mainly on a young, inexperienced roster, the Chinese men's team of Li Wenlong, Lin Xiaojun, Liu Guanyi and Zhong Yuchen closed out its 2023 world championships campaign in fine style. The quartet fended off surging rivals from Italy, Canada and host South Korea to win the men's 5,000m relay final on Sunday in Seoul.
Although there was only one more medal for Team China (silver in the 2,000m mixed relay), the squad took plenty of positives from the worlds.
"I can see that they (the young skaters) are improving," said Zhang Jing, head coach of Team China.
"The gap between our youngsters and the world's top skaters remains a big one but they are on the right track to close it out."
With the 2022-23 winter sports season coming to an end, Gao lauded the national teams' performances at major international events, especially in sports where China previously had limited experience.
"We've joined the center stage of winter sports globally on the highest level and have achieved some breakthroughs in events we used to lag far behind in," said Gao.
"We should keep pushing ahead with confidence and motivation from what's been done and try to make more progress in the new Olympic cycle leading up to the 2026 Winter Games in Italy."
As highlights of Team China's efforts to expand its prowess to new events, bobsled pilot Ying Qing finished third in the women's monobob at the 2022-23 World Cup series' Latvia leg in Sigulda on Feb 18 to earn China's first-ever World Cup podium finish in the sport.
With a close 8-7 win over host Germany earlier this month, the Chinese men's team topped the podium for the first time at the world junior curling championships.