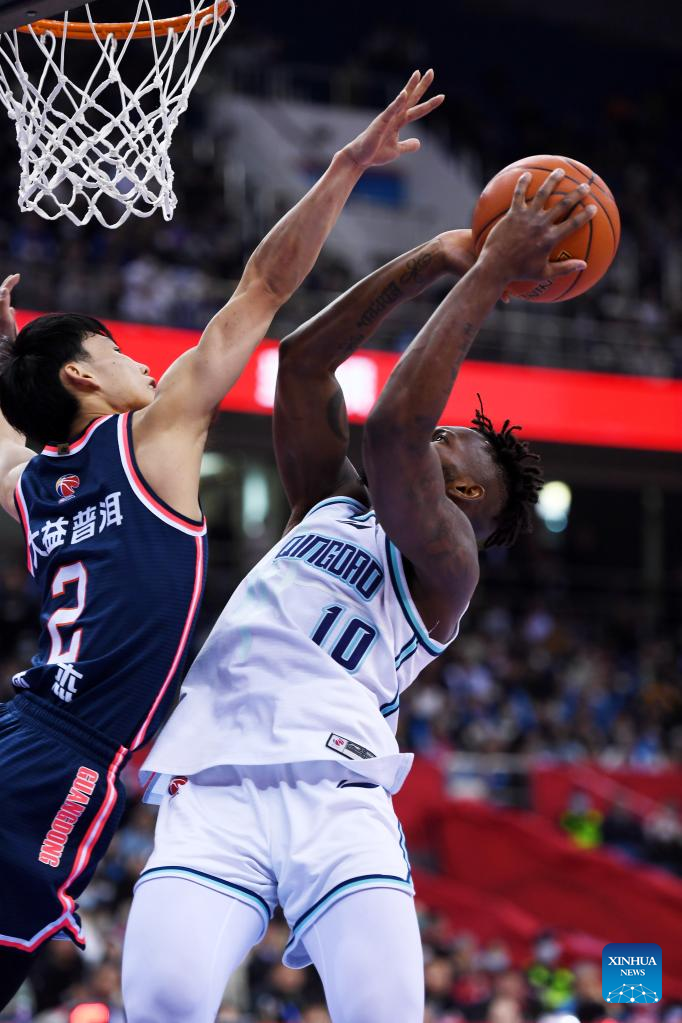 Upsets dominated Wednesday night as the Qingdao Eagles stunned the CBA powerhouse Guangdong Southern Tigers 76-66, and the Shanghai Sharks overcame the defending champions Liaoning Flying Leopards 109-105 in the 35th round of the 2022-23 Chinese Basketball Association (CBA) league regular season.

Qingdao pleased their home fans as the Eagles pulled out a 24-8 third quarter after trailing 41-36 by the interval. Ji Zhuo, Duop Reath and Wang Zerui combined to engineer a 14-0 run, giving the hosts a 50-41 lead by the middle phase of the third quarter.
The advantage was further extended to 58-49 before the final 12 minutes, during which the hosts managed to hold off a comeback from Guangdong.
Qingdao's surprising win also ended Guangdong's four-game winning streak. The 11-time champions only made 19 out of their 62 attempts and committed 20 turnovers during the whole game.
Reath led Qingdao with 19 points. Eugene German and Wang Zerui added 18 and 14 respectively.
Elsewhere, Shanghai took the lead for most of the last quarter, while Liaoning remained consistent until the end. Guo Ailun's layup and a three-pointer from Eric Moreland cut down the deficit for Liaoning to 107-105 with 13 seconds left on the clock. Following two free throws from Shanghai's Melo Trimble, Zhang Zhenlin missed Liaoning's last attempt from downtown, and Liaoning had to settle with an away loss which snapped their three-game winning streak.
Trimble put up a game-high 41 points, while four of his teammates scored double-digits.
In other action, the Zhejiang Golden Bulls beat the Jiangsu Dragons 121-80, and the Guangzhou Loong Lions defeated the Tianjin Pioneers 113-84.