After winning a historic superpipe silver medal on the Winter Dew Tour in the United States last month, 11-year-old Chinese prodigy Patti Zhou Yizhu has quickly become the talk of snowboarding.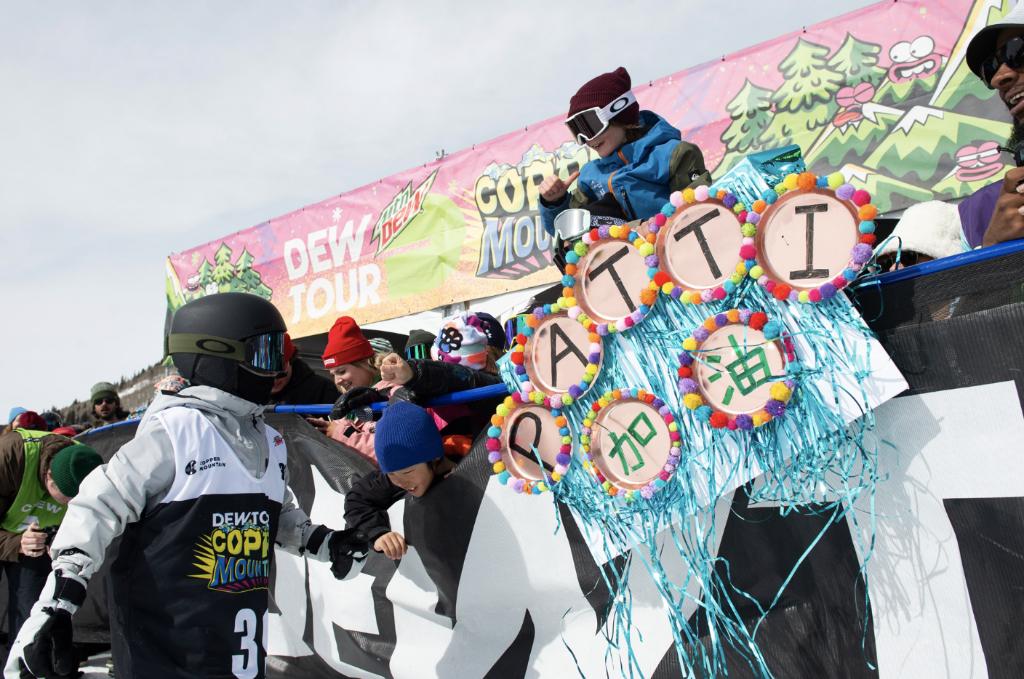 But her breakthrough result at Copper Mountain, Colorado, is just the start for the ambitious young star, whose long-term goal is to become a Winter Olympian and eventually win gold for her nation.
"It will be an honor for me to compete for my own country. And I'll just be so grateful to become an Olympian. I love my own country, I just know how great it is. I will totally compete for it!" Zhou told China Daily online show On Your Marks.
Beijing-born Zhou is the youngest-ever medal winner on the Winter Dew Tour, leading many to predict she will become a snowboard superstar.
She attributes her early success to confidence, a strong desire to win and pure passion for her sport.
"I don't have any nervousness. At the start line of the Winter Dew Tour, I was just grateful to be there and to have such a good pipe to ride in," said Zhou.
"I was not stressed. I was just like, this is normal. I just wanna get on the top. I was like, I'm just gonna do my best along with the other girls and show everybody how great I am."
Zhou's confidence, though, is balanced by her grounded outlook. She says the most memorable part of her Copper Mountain experience was "being able to meet so many great people gathered in one place, and I could learn so much from them", adding: "And I just loved the spirit of the audience who kept me so energetic through it."
She says competing on the tour at such a young age did not surprise her opponents, but admits that the attention she received after winning was a little overwhelming.
"We (the superpipe field) know each other for a very long time. They were like, Patti is supposed to be here. But outside the competition when we're done, everybody was like swarming around me. They go like, 'Can I have a picture with you?' or 'Can we have an interview with you?' After the competition, I couldn't get out of that place."
Zhou's sudden popularity has extended far beyond the cheering crowds at Copper Mountain, with her stunning performance and endearing post-competition interview making global headlines.
The Associated Press hailed Zhou as "the next big thing in snowboarding", while Chinese online outlet ThePaper.cn commented that "unlimited possibilities await Zhou Yizhu".
But in the eyes of the 11-year-old, her growing popularity and trophy haul are just natural outcomes of her love for snowboarding.
"After winning the silver, I gave the trophy to my friends. I didn't know where it was. After six hours, my friends gave it back to me. My trophy went to take a ride around the world," said Zhou.
"With the prize money I earned, I bought a box of tequila for my coach, and Starbucks gift cards for another coach. And then for my mom and dad, just love, all my love and all my gratefulness. I gave them hugs and kisses. And for my little sister, I gave her some donuts."
Last year's Beijing Winter Olympics were an inspiration for Zhou, in particular the performances of teenage sensation Su Yiming, who won China's first Olympic gold in the men's snowboard Big Air, as well as a slope-style silver.
"I just loved the energy at the Beijing Winter Olympics, and I love how it showed how great China is. The highlight for me was when Su Yiming won gold," recalled Zhou, who watched the action on TV.
"I was shocked. He (Su Yiming) was so young to win the Olympic gold. He was only 18. And he's like, when you watch, you can't forget his techniques. I worship him. He is awesome! I met him once. I ate dinner with him, which is pretty cool."
Another big role model for Zhou is her father. According to Zhou, her parents sold their house to fund her training, and now one of her motivations is to "win the house back".
"My dad taught me a lot. He always told me everybody has 24 hours a day, and everybody has legs and arms, and there's not a big difference between us. We just need what we can do with it," said Zhou.
"I remember during my first training season, on the first day, my dad broke his ankle. Even though it was swollen like this big, he still didn't want me to stop training because of him. He still rode with me every single day. He couldn't even walk by himself.
"I can't imagine how much it hurt when he was riding with me. So I'm just really grateful for my dad, who keeps following me and keeps helping me progress.
"I just love my dad, I just love him teaching me. He gives me the power. He is like my role model. He is such a resilient person. I want to be as resilient and as determined as him. Thank you, dad!"
Her parents also help in striking the right balance between study time and time on the slopes, where Zhou trains three to four hours a day, not to mention work in the gym.
"I use school time as training time, so I need to sacrifice my free time for study time. I'm very busy, but I just like a busy life. I like keeping my mind smart and fast," the youngster added.
Apart from snowboarding, Zhou also enjoys boxing, jujitsu and surfing. She believes these sports can improve her reflexes and stamina — all useful attributes in pursuing her dreams on the slopes.
"My ultimate snowboard dream is to be able to travel around the world with my snowboard and surfboard and meet all the great people," said Zhou.