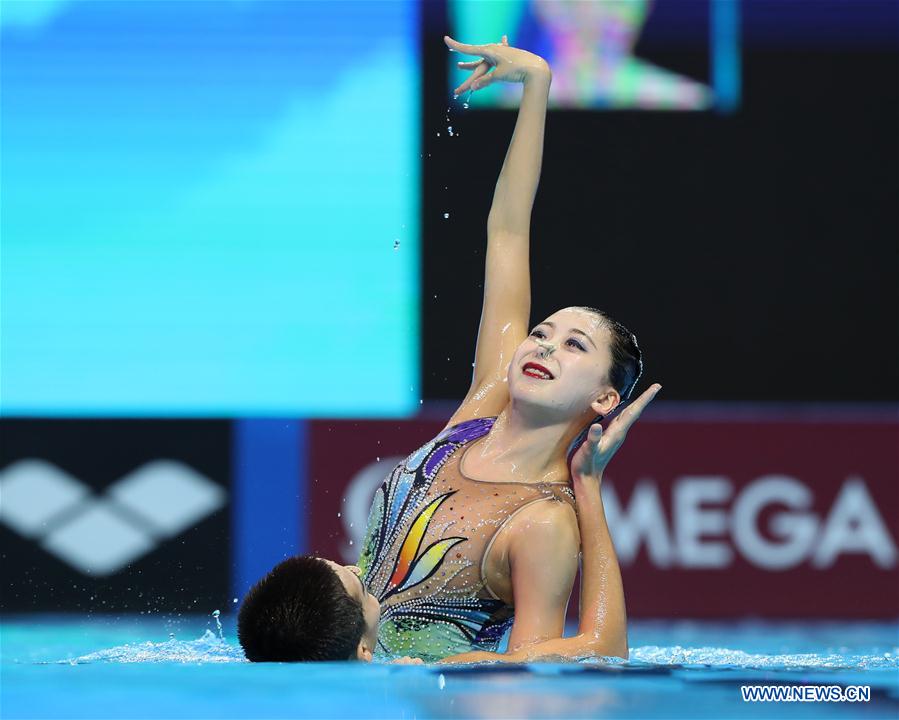 Getting their hands on World Cup gold over the weekend was a dream come true for Chinese artistic swimmers Shi Haoyu and Cheng Wentao. However, the ultimate goal for the mixed duet pair is next year's Paris Olympics.

With a performance themed "Unstoppable", Shi and Cheng made history by winning the mixed duet technical gold at the World Aquatics Artistic Swimming World Cup in Markham, Canada on Saturday.
The Chinese pair's stunning performance earned a total of 236.2292 points — over 40 points more than silver medalists Judith Calvo Requena and Dennis Gonzalez Boneu of Spain.
"We improved a lot during this year's winter training. With the news rules in our sport, we've had a lot of overall improvements to work on. So we've made very impressive progress over the past few months," said Shi, the male swimmer of the pair.
"The hardest part is staying in sync with my teammate. We're not perfect, so we need to become stronger in the future."
The International Olympic Committee announced last year that men could compete in the team competition of artistic swimming at the Paris Olympics, with a maximum of two male competitors per team. While artistic swimming has been an Olympic sport since 1984, until now it has always been a female-only sport.
Energized by last year's announcement, Shi has been training hard and is now aiming for Olympic glory. He's not the only male Chinese hopeful for the Paris 2024 Games, with a number of youngsters also joining the team to create a healthy competitive environment in the squad.
"I have been waiting for this opportunity for a very long time. We must cherish it and seize the chance. I will try my best to show the charm of our sport to more people," Shi added.
"The arrival of more male swimmers brings pressure but is also a motivation for me. The new Olympic program is a great motivation to all male swimmers. I hope more male swimmers will join us, so that we can improve together to spring more surprises."
The breakthrough result is a big confidence boost for the entire Chinese artistic swimming team, but head coach Zhang Xiaohuan cautioned that more challenges await en route to the Paris Games.
"With the new disciplines and new rules in our sport, we face a lot of uncertainties. There are so many details to be refined and it's clear that many foreign teams are also making fast progress. We have no reason to be complacent. I believe we have great potential, and we will keep growing," said Zhang.
"We have gained so much throughout the competition despite the new rules, and we earned the recognition of the judges. This is a great start for us to better understand the rules and future trends of the new disciplines.
"And this breakthrough medal is a direct result of the great winter training we had. Our swimmers keep pushing their limits and making breakthroughs. In the future, we need to be braver and more creative to try even tougher routines. We need to keep digging our swimmers' potential."