Driven by the honor of competing at their home Asian Games, a group of veteran swimmers are making a big splash at China's domestic trials as they shake off the rust to embrace new challenges.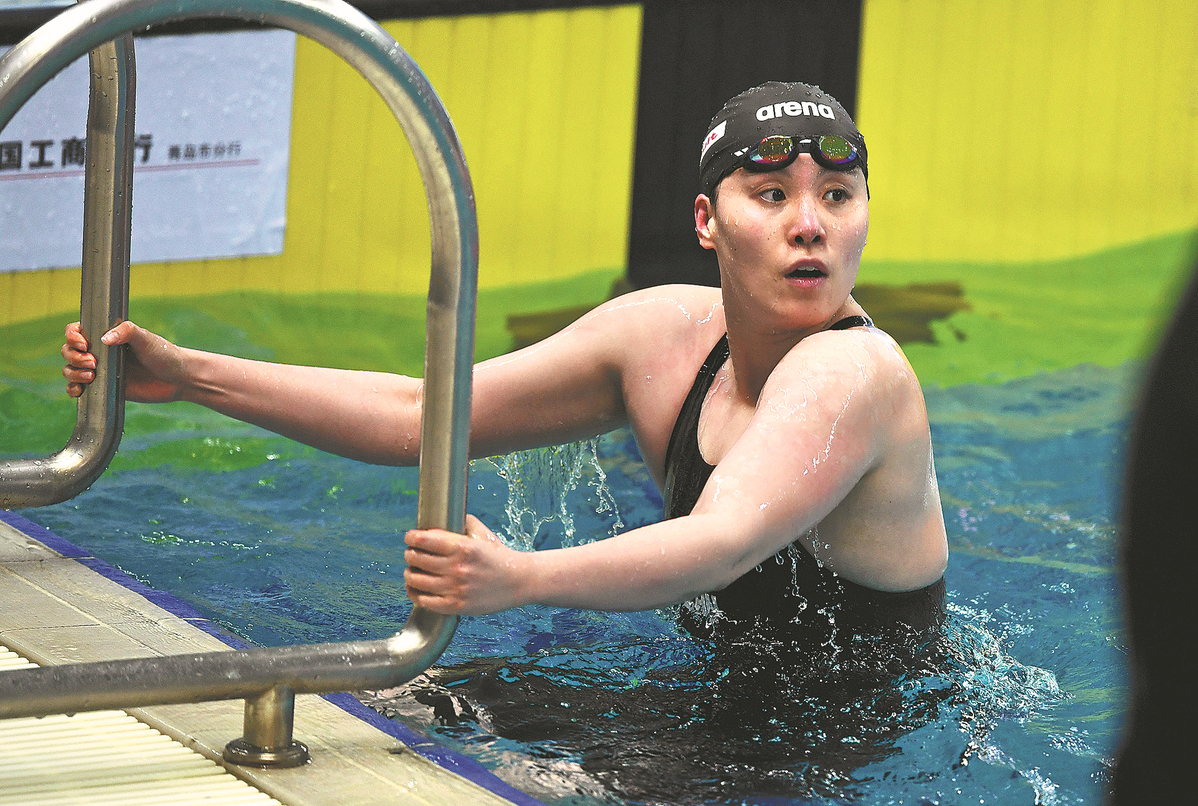 Beaming with vigor and kicking as hard as he could in the water, 36-year-old Wu Peng looked like his younger self again in the pool this week at China's spring national championships, where he returned from a 10-year retirement to try to qualify for this year's Asian Games in his home city of Hangzhou.
In Monday morning's 50m freestyle heat at the Qingdao meet, Wu reminded fans of the powerful start that once helped him beat the world. With age no longer on his side, he narrowly failed to make the final but his time of 23.81 seconds was enough to qualify for the second round of trials in May. He will also swim the heats of the 50m and 100m butterfly, his strongest stroke, on Wednesday and Thursday respectively.
Wu is well aware that making up for a 10-year absence from competition is a big ask, but he's not giving up on his dream just yet.
"To race again at the Asian Games, where my career took off, in the home pool motivated me to come back," said Wu, who as a 15-year-old won three gold medals at the 2002 Asiad in South Korea.
"It's a chance too appealing to pass by. I have always had this urge to come back since Hangzhou was named host. I really want to give it a try," added Wu, who retired in 2013 after winning his fourth world championship medal — a bronze in the 200m fly in Barcelona.
An exceptional butterfly specialist with world-class dolphin kick and stroke efficiency, Wu counts the legendary Michael Phelps among opponents he has outpaced.
Wu memorably beat the 23-time Olympic champion in April 2011 in the 200m fly final at the Michigan Grand Prix to end the superstar's nine-year, 60-race winning streak in that discipline. He followed up that feat with another win over the all-time great a month later at another US meet in Charlotte, North Carolina.
To get back in shape, Wu returned to the States last fall to start fitness and conditioning training in California, and tested his progress by racing the 100m fly at a Pro Swim Series meet in Knoxville, Tennessee in January.
"I lost about 6 or 7 kilograms in weight but it was clearly not enough," said Wu, who opened a junior swimming academy during retirement and serves as a guest TV commentator for major races.
"My result in 50m free was not as good as I expected, but fortunately, the time was good enough to qualify for the national championships. I have two more months to work on my stamina and endurance."
Women's duo impress
Also making impressive returns in Qingdao were two-time women's individual medley Olympic champion Ye Shiwen and backstroke star Fu Yuanhui. Like Wu, both are Hangzhou natives and both are targeting spots on China's Asian Games roster.
Ye, the winner of the 200 and 400m IM at the London 2012 Games, proved she still has plenty left in the tank by finishing second in the 200m IM in 2:10.55, 0.59 seconds behind 17-year-old winner Yu Yiting. Yu was competing in her first official race since the 2021 National Games.
Ye's gradual return to the pool while studying full-time at Tsinghua University over the past two years has helped her rekindle her passion for the sport after seeing her career slump following her sensational breakout in London at just 16.
Attributing a wiser, more mature outlook on swimming to her college life, Ye said she handles pressure and expectations much better at 27 than she did as a teenager.
"The experience of just being a college student really helped me better understand the sport and cope with everything that comes along with it better," said Ye, who is still working on her graduation thesis at Tsinghua's School of Law.
"The biggest change is that I've learned to enjoy swimming itself, rather than caring too much about the results."
"I returned to training less than two months ago, but I improved my backstroke most of the time. I was satisfied with my results and feel I have a chance to qualify for the Asian Games," added Ye, who will compete in the 200m breaststroke on Thursday.
In another notable comeback effort in Qingdao, former world champion Fu Yuanhui won a bronze medal in the women's 50m backstroke in 27.87 sec on Monday, giving her return from an injury-plagued break a boost.
"I came back for the Asian Games despite suffering from multiple injuries over the past two years," said Fu, who won the 50m back at the 2015 worlds and became a household name in China after winning bronze at Rio 2016 to become the first Chinese woman to finish on the Olympic podium in the sprint event.
"The Asian Games competition pool is just 10 minutes from my home. I really want to be there for this once-in-a-lifetime opportunity," said the 27-year-old national record holder.