Kelvin Kiptum of Kenya finished the London Marathon men's race first on Sunday with a winning time of 2:01:25, the second quickest time in history.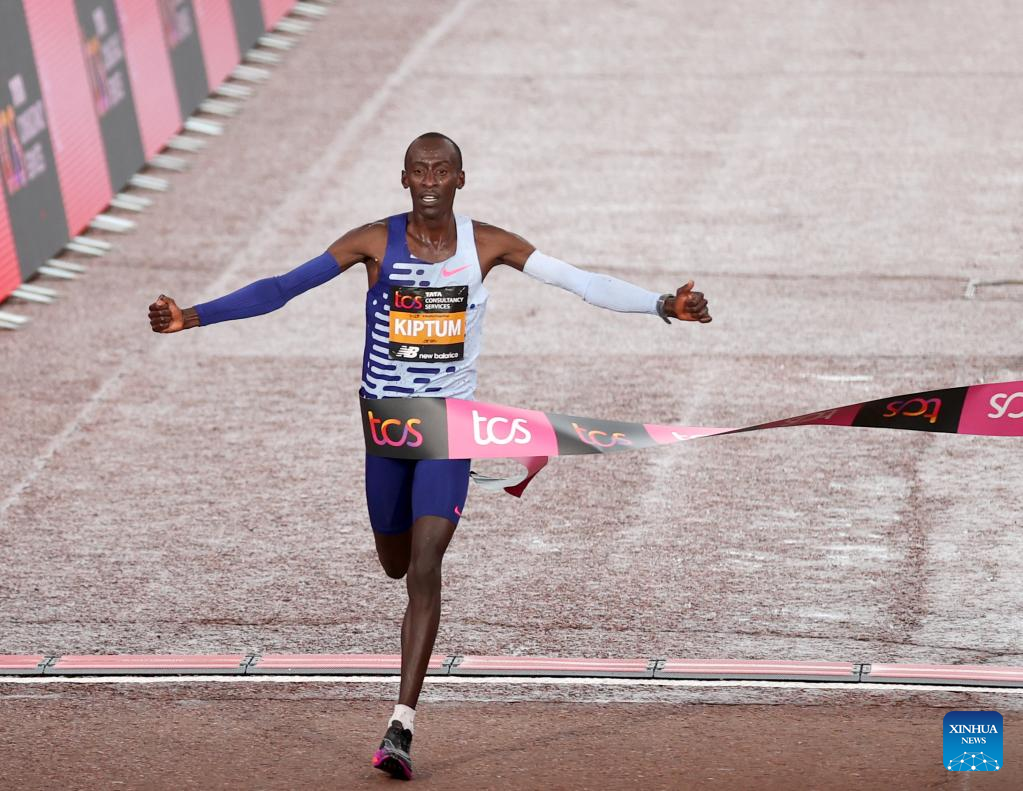 Kiptum, 23, pushed himself forward and dominated the race after 30km, improving his personal best to just 16 seconds behind his compatriot Eliud Kipchoge's world record of 2:01:09.
"I am so happy with the result, I don't know what to say right now, I am just grateful," said Kiptum, who collapsed to the ground right after finishing his race.
The Kenyan burst onto the scene at the end of last year as he set the fourth-fastest time on the world all-time list of 2:01:53 in his marathon debut in Valencia, Spain.
Four month later, he showed his huge potential again in London where the 38-year-old Kipchoge showed up as the official starter for the men's race.
Geoffrey Kamworor, also from Kenya, finished second in 2:04:23, almost three minutes behind Kiptum. Ethiopia's reigning world champion Tamirat Tola was third in 2:04:59.
British legend Mo Farah, who was running the last marathon of his career, finished eighth in 2:10:28. The 40-year-old four-time Olympic champion confirmed later that the Great North Run in September will be the final race of his career.
In the women's elite race, the 5,000m and 10,000 Olympic champion Sifan Hassan of the Netherlands won her marathon debut in style by clocking in 2:18:33.
"I enjoyed it so much. They said the marathon would hurt but I felt really good, even after 5km and 15km! When I saw the finish line, I thought, is that really it?" said Hassan.
Hassan's victory surprised many as she was bothered by hip problems in the early stages and had to stop running to stretch her left leg.
But the 30-year-old held her nerve to follow the leading group tightly before joining the top four runners in the last minutes and breaking out to beat Ethiopian ace Alemu Megertu and Kenya's reigning Olympic champion Peres Jepchirchir with a phenomenal dash with 500m to go.
Megertu finished second in 2:18:37 while Jepchirchir trailed behind in 2:18:38. World record holder Brigid Kosgei of Kenya limped out of the race after just three minutes.