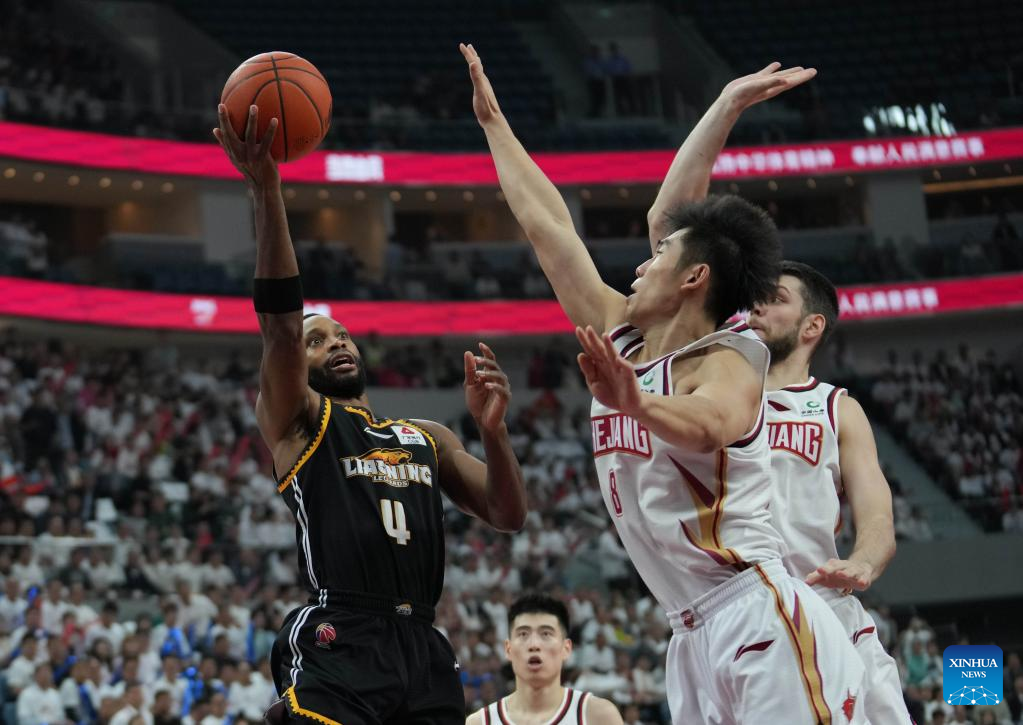 Kyle Fogg (L) of Liaoning Flying Leopards competes during the first round final match between Liaoning Flying Leopards and Zhejiang Golden Bulls at the Chinese Basketball Association (CBA) league 2022-2023 season playoffs, in Hangzhou, east China's Zhejiang Province, May 8, 2023. (Xinhua/Meng Yongmin)

Zhao Jiwei scored a game-high 29 points to help the Liaoning Flying Leopards nose out the Zhejiang Golden Bulls 107-99 and take a 1-0 lead in the Chinese Basketball Association (CBA) Finals on Monday.
Hangzhou Olympic Sports Center Gymnasium, the basketball venue for the Hangzhou Asian Games, had its maiden appearance in the CBA league as the Golden Bulls' home arena for the Finals.
In the support of more than 13,000 spectators, two teams staged a smooth and fast-paced first quarter, combining 40 attempts but only three free throws. The game kept its high quality on both ends until Zhao made his ninth 3-pointer of the game with 1:25 on the clock to seize the win for the Flying Leopards.
Kyle Fogg added 26 points, meaning Liaoning's lethal backcourt was not much affected by the absence of Guo Ailun.
Center Han Dejun was another decider for Liaoning. Despite having slack games in the previous rounds, the 35-year-old looked different on the Finals' court, making eight from 12 in the paint to pocket 20 points along with 11 rebounds. Third-year forward Zhang Zhenlin contributed a triple-double of 13 points, 10 rebounds and 10 assists.
Liaoning coach Yang Ming praised his players' tenacity in the post-game press conference. "We have never expected an easy game in the Finals, we executed our tactics well. But it was just the first game, we haven't finished it yet," he said.
Zhejiang coach Wang Shilong said he was accountable for losing the team's Finals debut. "My players went all out, it was their first CBA Finals appearance and it was a good experience," Wang added.
Cheng Shuaipeng, who made a buzzer-beating 3-pointer and a crucial layup in the last two games of the semifinals, showed his importance to Zhejiang again, contributing 21 points and 10 assists in 42 minutes of action.
As star guard Wu Qian's barrel jammed, Wang Yibo stepped up as the Golden Bulls' engine starter, scoring 12 points and igniting most of the team's fast breaks. Jarmar Gulley, who played only two minutes in the semifinals through injury, was named in the roster but sat out the game.
Both sides will stay in Hangzhou for their Game 2 clash on Wednesday.