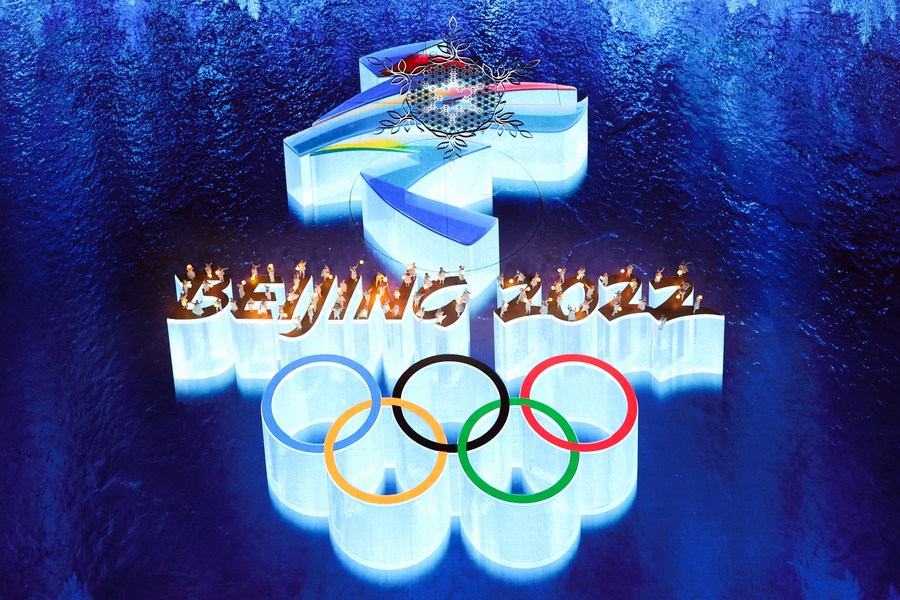 This photo taken on Feb 20, 2022 shows the closing ceremony of the Beijing 2022 Olympic Winter Games at the National Stadium. [Photo/Xinhua]

The Beijing Organizing Committee for the Olympic Games made a 350-million-yuan profit ($52 million) after hosting the Beijing 2022 Winter Olympics, according to a BOCOG financial report released on Saturday.
Having hosted what the report called a "simple, safe and splendid "Beijing 2022, the BOCOG revealed revenues of 15.39 billion yuan and expenditures of 15.04 billion yuan.
International Olympic Committee president Thomas Bach, who is in Beijing on a five-day visit, announced that the IOC will contribute its share of the surplus of $10.4 million to the Chinese Olympic Committee and that this share is intended to support the development of sport in China.
"The truly exceptional Olympic Winter Games Beijing 2022 were a showcase for incredible sporting performances, they broke ground as the most gender-balanced Olympic Winter Games in history, and attracted record audiences," said Bach.
"They gave a huge boost to international winter sports by engaging 346 million Chinese people, all of this despite a pandemic. Congratulations to the organizing committee of the Olympic Winter Games Beijing 2022 for this success and for delivering these Games with a profit even under extremely difficult circumstances.
"In recognition of all these achievements, I am pleased to announce that the IOC will contribute its share of the surplus to support the legacy of the Olympic Winter Games Beijing 2022. Young people engaging in winter sports will greatly benefit from this contribution," he added.
According to the report, revenue mainly came from four sources, including 3.78 billion yuan provided by the IOC, 11.13 billion yuan from market development revenue and additional revenues of 480 million yuan that came from interest, rate cards and asset disposal.
Since the organizing committee did not sell tickets in order to protect the health and safety of Olympic personnel and spectators, it received no ticket revenues, the report added.
As for expenditure, there were eight aspects, including 1.33 billion yuan on sports competitions, 1.87 billion yuan on venues and facilities and 2.36 billion yuan on services.