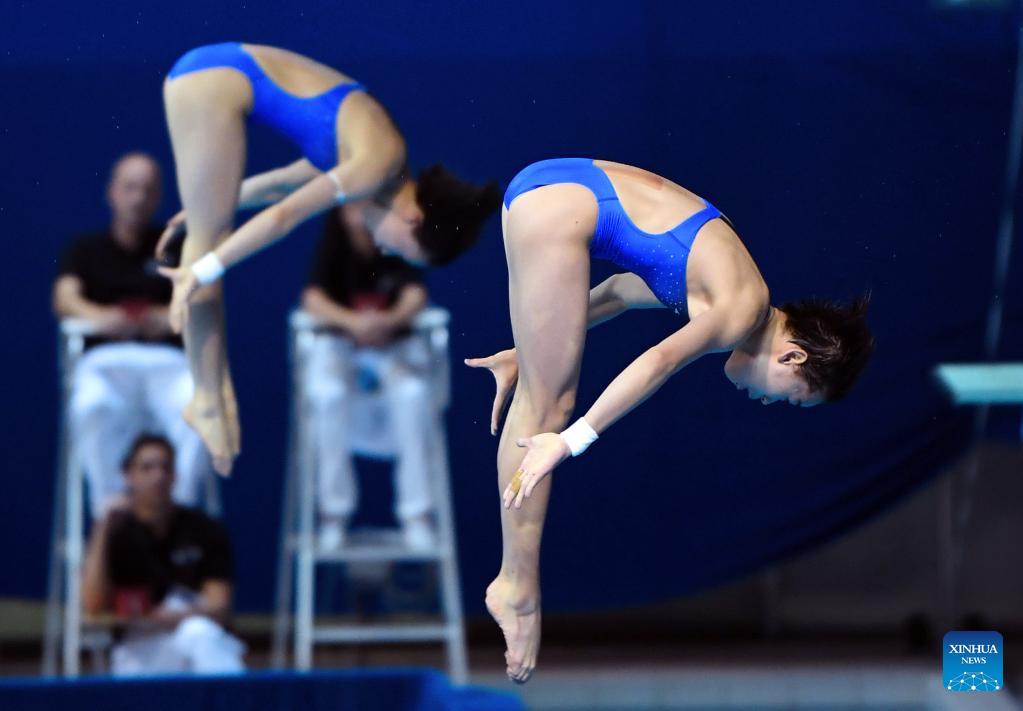 Chen Yuxi/Quan Hongchan (R) of China compete during the women's synchronized 10m platform final at the FINA Diving World Cup in Berlin, Germany, Oct. 21, 2022. (Xinhua/Ren Pengfei)

Chinese diving sensations Quan Hongchan and Chen Yuxi continued their near-perfect form this season by adding to their fast-growing collection of World Cup gold medals — boosting their already massive profile back home in the process.
The pair last week stormed to the women's 10m synchronized title at the second stop of the World Aquatics Diving World Cup, in Montreal, Canada, with an astonishing score of 378.60 — a whopping 62 points ahead of second-placed Lois Toulson and Andrea Spendolini Sirieix of Britain.
In the women's 10m platform, Quan pocketed gold (458.20) ahead of Chen Yuxi (438.90), with their Montreal medal haul quickly becoming trending topics on Chinese social media. The hashtags "Quan Hongchan and Chen Yuxi win gold" and "Quan Hongchan wins with huge margin" attracted a combined 100 million-plus views on Weibo.
"I actually did not care too much about my scores. I just wanted to do my best here," said 16-year-old Quan. "I just want to make sure I finish my training and don't think too much about other things."
Quan and Chen Yuxi's stunning performances capped a dominant weekend for Team China, who swept the nine gold medals on offer to easily top the medal table.
Chen Yiwen was another double champion in Montreal — winning the women's 3m springboard and, along with Chang Yani, the women's 3m synchronized.
Olympic champion Wang Zongyun paired with Long Daoyi to win the men's 3m synchronized, while Wang also triumphed in the men's 3m springboard.
Yang Hao was the runaway victor in the men's 10m platform, over 66 points ahead of second-placed Rikuto Tamai of Japan. Yang teamed with Lian Junjie to win the men's 10m synchronized competition.
Team China also emerged victorious in the 3m and 10m mixed team event.
The Montreal meet mirrored last month's opening leg of the World Cup series in Xi'an, Shaanxi province, where China also claimed all nine golds and Quan and Chen Yuxi enjoyed another huge winning margin of over 60 points (373.20).
In Xi'an, however, Chen Yuxi (431.20) edged Quan (423.50) to gold in the 10m platform.
The two have quickly established themselves as the stars of the series, with fans eagerly awaiting their future contests.
Complacency, it seems, will not be an issue for either diver.
"I'm not 100 percent satisfied with my performance. Irrespective of the gold medals, I care more about executing my moves beautifully. As athletes, we should always demand more of ourselves," Chen Yuxi said after her victories in Xi'an.
"If we are not moving forward, that means we are moving backward. In training we finesse the details, and we still have a number of little errors to fix."
The two teenagers are showing commendable maturity to deal with the paradox of being both rivals and partners in competition.
A touching moment captured by the TV cameras during the national diving championships in March in Shanghai illuminated their close bond. After an error cost Quan her chance of 10m platform gold, Chen Yuxi gave her sobbing teammate tissues to wipe away the tears.
Quan later revealed that Chen Yuxi continued to console her over dinner in the canteen that evening.
"We can all make mistakes in competition, and that's not always a bad thing. I just hope Quan will bounce back in future competitions," said Chen Yuxi.
"We are lucky to have this healthy competition between us. We help each other and we improve together. That's the reason for our victories. Without each other, it would be more difficult for us to improve and we would never reach this level."
Quan and Chen Yuxi shot to stardom at the Tokyo Olympics in 2021 when Quan led the way in a Chinese 1-2 in the 10m platform. As well as their exceptional athletic feats, the teenagers' endearing interviews in front of the cameras ensured they became household names.
Their popularity continues to soar as they embrace their newfound status as role models.
A recent Xinhua commentary summed up their phenomenal appeal: "Throughout the history of the Chinese diving team, there have been many inspirational stories and moments. Now for Quan Hongchan and Chen Yuxi, they are the closest of teammates and toughest of rivals."