For the first time in history, the world's premier mixed martial arts promotion could be about to witness an all-Chinese world-title fight.
Following her ferocious first-round knockout over former division champion Jessica Andrade, Chinese striker Yan Xiaonan has punched her way back into title contention in the Ultimate Fighting Championship's strawweight class, setting herself on a collision course to face compatriot and reigning 115-pound (52-kg) queen Zhang Weili.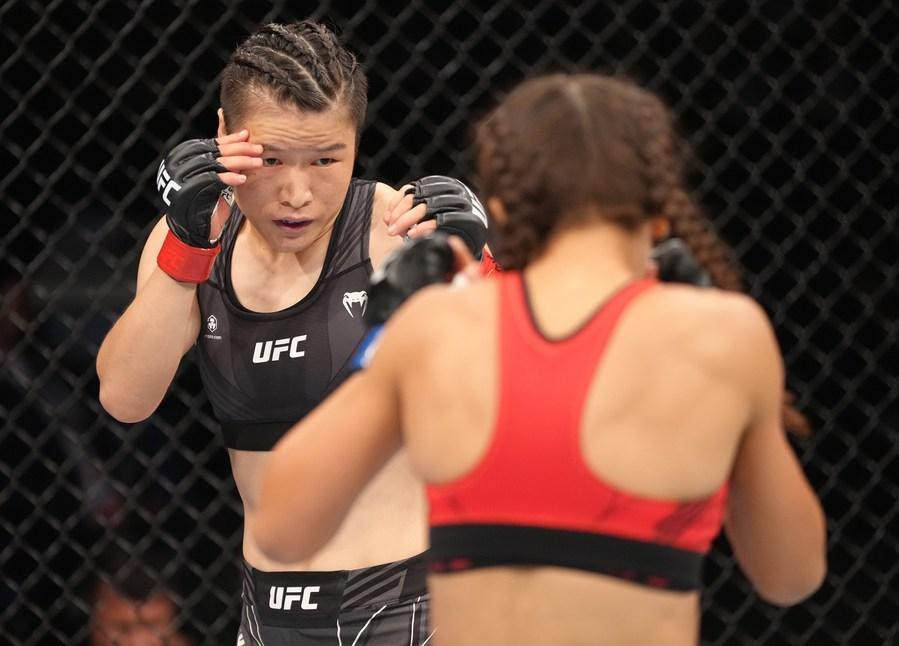 Chinese mixed martial arts starZhang Weili defeats Joanna Jedrzejczyk of Poland with a second-round knockout at UFC275 on June 12, 2022. (Courtesy of UFC/Xinhua)

"I don't know what the plan is on (Zhang) Weili's side … but if they give me the chance, I can definitely fight for the belt, because when I step in the Octagon my only goal is the championship," Yan said after her stoppage win over Brazil's Andrade at UFC 288 in New Jersey on Saturday.
"I hope Dana (White) can make this fight happen," added the 33-year-old, who improved to an 8-2 win-loss record since her UFC debut in November 2017.
Although nothing official has yet been discussed, it appears that UFC president White is open to the idea of a Yan-Zhang matchup, possibly in China.
A "Chinese derby" would be a highly lucrative option for the UFC, which last visited China in 2019 with a Fight Night event, where Zhang dethroned Andrade to capture the belt for the first time in Shenzhen, Guangdong province.
"I don't know what we're gonna do with Yan, where she's gonna go. But I'm definitely gonna look at China…I'm looking at that right now," White said at Saturday's post-fight news conference.
If those comments weren't promising enough, Yan told online show The MMA Hour that White strongly indicated to her that the fight will happen in China.
"I met Dana in the locker room after the fight, and he said let's do it in China. 'So if we can make the UFC China event happen, let's do it,' he said …I think it's possible, probably some point at the end of this year," Yan said through an interpreter during the interview.
Entering the main event on Saturday night as the division's sixth-ranked contender, Yan took less than three minutes to prove that she's more of a threat than her ranking would suggest.
After opening the bout with a few botched attacks, Andrade, a wrestling specialist, upped her aggression with a flurry of hooks. However, she ran into a massive counter punch as Yan sent the Brazilian crashing to the canvas.
Yan followed up with a few hammerfists before the referee stopped the fight at the 2:20 mark.
The victory, the first KO of Yan's career in the Octagon, triggered a rousing reaction from her fellow Chinese fighters who were watching the action on TV.
"I told you!" UFC bantamweight Song Yadong roared as he clenched both fists in front of the camera.
"Yan's stronger and better in every regard to her (Andrade) now. Let's go!" enthused Song, the current No 7 contender at bantamweight and currently China's best male hope for a UFC title fight.
By dominating one of the division's former champions, Yan pocketed a $50,000 bonus from White for putting on the "performance of the night", while further elevating her profile in a division currently controlled by Zhang.
Since reclaiming the strawweight title from Carla Esparza with a second-round submission in November, Zhang, who first wrested the belt from Andrade and then lost it to Rose Namajunas in April 2021, has yet to arrange a title defense. However, the UFC had earlier pitched another Brazilian, Amanda Lemos, as the next in line to challenge the 32-year-old Chinese "Magnum".
Yan is confident she has forced a change of heart over the challenger.
"The UFC hasn't announced anything for Weili so I think they were waiting for this fight to see who deserves the title shot more, me or Lemos," Yan said. "I think I did better than her and I deserve the title shot more than her."
Since Zhang's first championship win in 2019, the Las Vegas-based UFC has been making steady inroads into the Chinese market. It opened its second Performance Institute in Shanghai in the same year and has developed a competitive roster of local fighters, led by Zhang and Yan in the women's ranks and Song on the men's side.
A showdown between China's two best fighters in the post-pandemic era would be a blockbuster bout for MMA, Yan reckoned.
"It's going to be a historic moment. Nothing is going to be bigger than that, if me and Weili fight for the title in China. Right now, Weili is the only UFC champion from Asia, so if me and her, both fighters from Asia, fight for the UFC championship, it means we represent the highest level of this sport and we would also show the world the development of MMA in Asia."