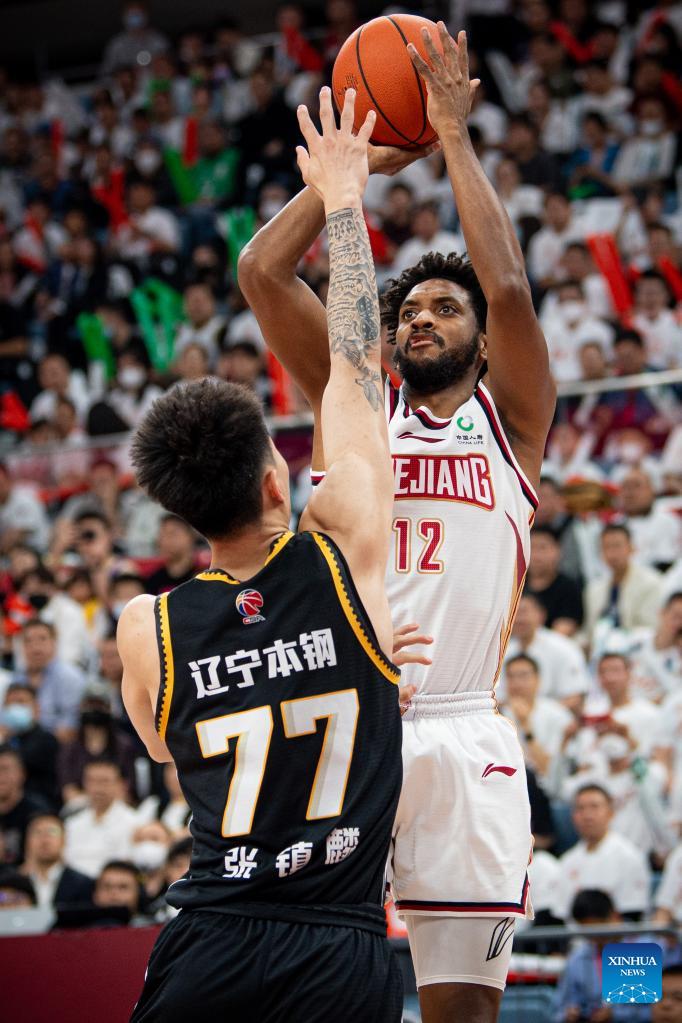 Jarmar Gulley (R) of Zhejiang Golden bulls shoots during the second round final match between Zhejiang Golden Bulls and Liaoning Flying Leopards at the Chinese Basketball Association (CBA) league 2022-2023 season playoffs, in Hangzhou, east China's Zhejiang Province, May 10, 2023. (Xinhua/Jiang Han)

The Liaoning Flying Leopards thrashed the Zhejiang Golden Bulls 111-93 to take a 2-0 lead in the Chinese Basketball Association (CBA) Finals on Wednesday.
Liaoning claimed two victories at Hangzhou Olympic Sports Center Gymnasium to return home, making Zhejiang's home-court advantage void. Backcourt duo Kyle Fogg and Zhao Jiwei kept pouring in 3-pointers as usual, scoring 25 and 21 points respectively. Eric Moreland took 14 points and grabbed 13 rebounds, and Zhang Zhenlin added 19 points.
On the Zhejiang side, Jarmar Gulley, who was obviously still affected by injury, scored eight points and suffered five turnovers in his comeback. Moses Wright had a team-high 17 points, and Yu Jiahao added 15.
Rebounds were a key factor in Liaoning's victory. Although the Golden Bulls put 2.21m-tall center Yu on the court for 31 minutes to enhance their height in the paint, the Flying Leopards dominated rebounds 51-34, including 17 offensive ones. 36-year-old Han Dejun and 32-year-old Li Xiaoxu combined for 20 rebounds.
With ample ammo supply from tall guys, Zhao and Fogg felt relaxed to bomb Zhejiang's rim. Zhao, who shot seven from 10 attempts, was on fire in the first half, including a turnaround catch-and-shoot 3-pointer to beat the buzzer. Fogg saved his energy for the second half, nailing three crucial 3-pointers when Zhejiang tried to cut the deficit.
Zhejiang fans had a horrifying night as Cheng Shuaipeng, Wu Qian and Gulley all had to sit courtside after body contacts, but these turned out to be false alarms.
Cheng distributed more energy to defense but was still a threat offensively, scoring 14 points and dishing out six assists. Like in the semifinals and Game 1 of the Finals, sharpshooter Wu was completely constrained by Liaoning as he only made three out of 11 attempts.
The Finals debutant will head to Shenyang, Liaoning's home court for the next two games in the best-of-seven series on May 13 and 15.