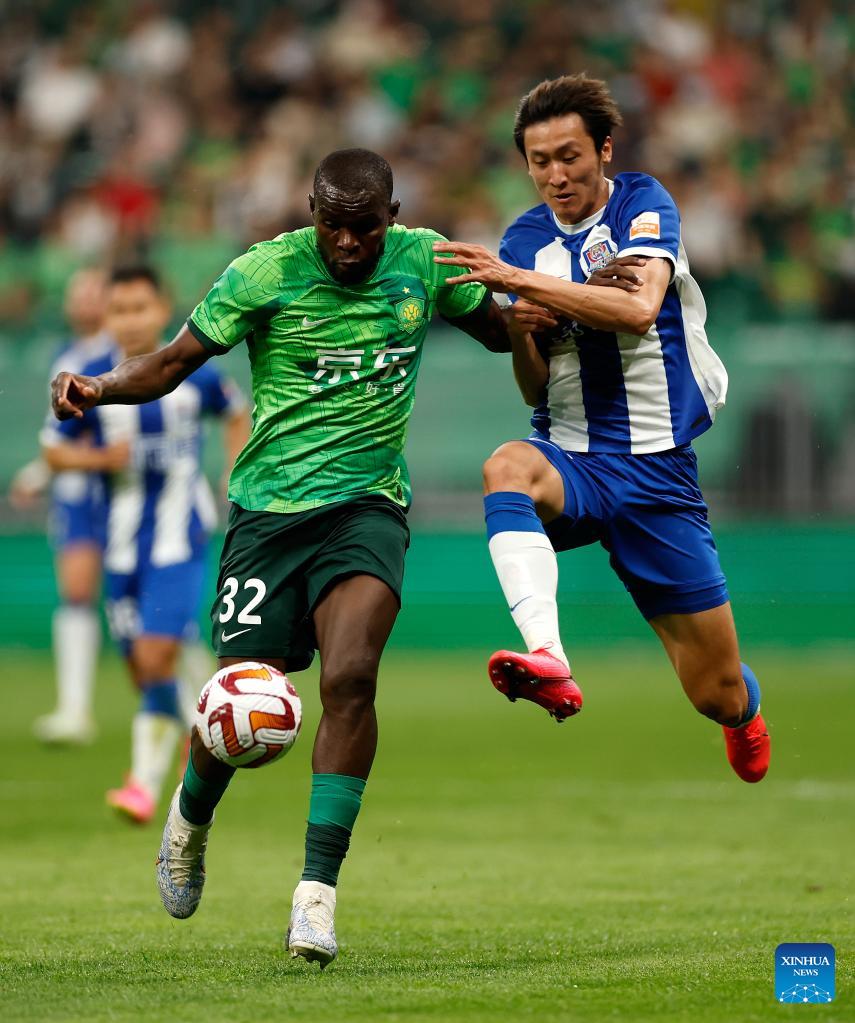 Michael Ngadeu (L, front) of Beijing Guoan competes during a 2023 season Chinese Football Association Super League (CSL) 6th round match between Beijing Guoan and Tianjin Jinmen Tigers at the Worker's Stadium in Beijing, capital of China, May 10, 2023. (Xinhua/Wang Lili)

Marouane Fellaini's 91st-minute header earned Shandong Taishan a 2-2 draw with Chengdu Rongcheng, while Gao Di's brace helped Zhejiang FC beat Nantong Zhiyun 2-1 to take its first win of the season in the sixth round of 2023 Chinese Super League (CSL) season on Wednesday.
Chengdu was second in the standings with three wins and two draws before entering Wednesday's match, while Shandong had just one victory so far.
Fellaini put Shandong ahead in the 50th minute as he headed home a left-side cross from Liu Binbin over two defenders.
Chengdu leveled the score just three minutes later with Kim Min-woo's low strike after meeting Romulo's cross at the far post. Chengdu took the lead in the 81st minute when Romulo's free kick found Zhou Dingyang inside the box before the latter hammered home.
When Chengdu fans thought they would have taken three points, Fellaini scored his second header of the game in the first minute of injury time on a Moises corner.
After the draw, Chengdu dropped to third in the standings, four points behind league leader Shanghai Shenhua.
In other fixtures on Wednesday, Shanghai Port secured a 2-1 home victory over Qingdao Hainiu, Changchun Yatai lost 4-2 to Meizhou Hakka, and Beijing Guoan was held 1-1 at home by Tianjin Jinmen Tigers.